Injuries are a part of life, and most certainly a part of sports. There is no doubt that if Buffalo Sabres fabled sniper Rick Martin had not sustained a career-ending injury he would have been inducted into the Hockey Hall of Fame long ago. Martin would likely have played at least five more years in the NHL. He also would have easily attained the shoo-in induction numbers of 500 goals and 1,000 points.
Martin was a Paul Bunyan-esque player, at least in terms of his explosive shot. There are tales in Buffalo of Bernie Parent's eyes growing as big as saucers at the sight of a Martin slap shot. Gilles Meloche suffered cracked ribs after stopping one. There was even talk of a Martin howitzer beating a goalie and ripping out the back of the net so fast that it was missed by everyone including the goal judge. These aren't tall tales, Martin was a legendary player when he played and was nearly unstoppable.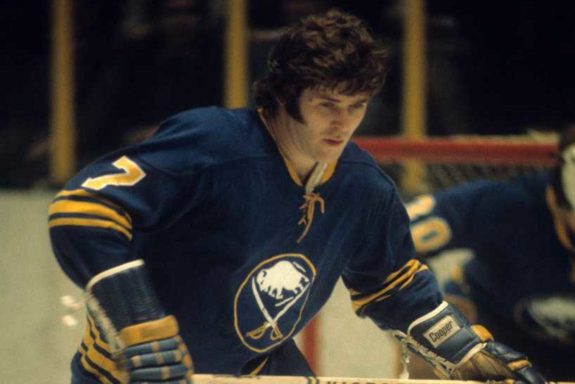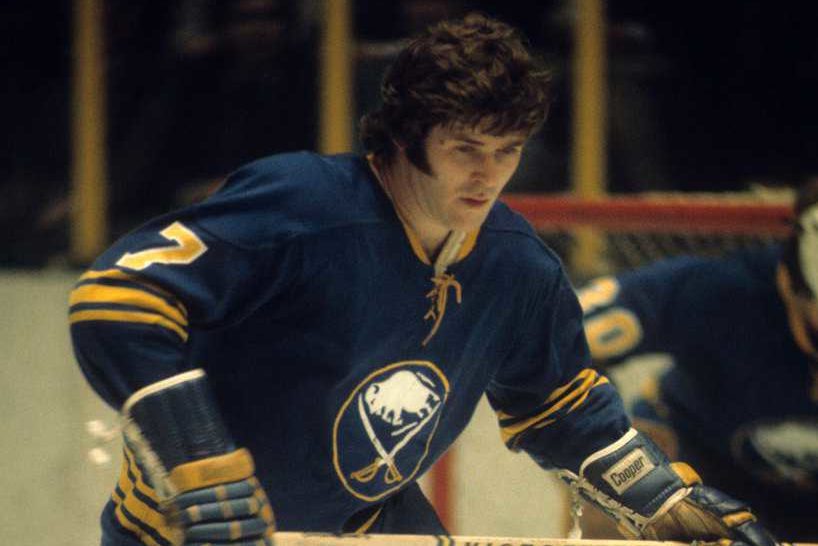 But injuries do happen and Martin sustained a devastating one during a November 8, 1980 game against the Washington Capitals. A collision with Caps' goalie Mike Palmateer, in which Palmateer kicked Martin's knee, caused the leftwinger to suffer severe cartilage damage. The injury all but ended Martin's career, and led to a lawsuit in which then Sabres' coach Scotty Bowman and the team's physician were both named.
His injury is the reason why Martin is not yet in the Hockey Hall of Fame, but it is the only one. On the contrary, there are numerous reasons for his induction that we shall discuss, and possibly right a wrong by garnering enough attention.
Rick Martin – A Remarkable Rookie Season
The Sabres made Rick Martin the fifth overall selection in the 1971 draft. Guy Lafleur, Marcel Dionne, Jocelyn Guevremont, and Gene Carr were the only players chosen ahead of him. Obviously, Martin forged a greater career than at least two of those players.
In his rookie 1971-72 season, Martin was better than a point per game player. With 74 points in 73 games, he tied with eventual "French Connection" linemate Gilbert Perreault for most points on the team though Martin achieved it in three less games. The year prior, the sleek center, Perreault, had set the NHL record for goals in a season by a rookie with 38. Martin broke that record when he notched 44 tallies.
More importantly, Martin quickly established himself as one of the premier goal scorers in the NHL in only his first year. Those 44 markers placed him sixth in the league, beating out established scorers such as Hall of Famers Frank Mahovlich, Johnny Bucyk, Stan Mikita and Rod Gilbert as well as other proven vets like Mickey Redmond, Dennis Hull and Bill Goldsworthy.
Martin finished second to Canadiens star goaltender Ken Dryden in Calder Trophy voting as the league's top rookie. In retrospect, the argument could have been made that the 1971-72 Calder should have been Martin's. While Dryden was still technically a rookie in regards to games played, he had already showcased his immense talent the year prior when he backstopped Montreal to a Stanley Cup title.
A Scoring Machine With "The French Connection"
In March of Martin's rookie season, the Sabres traded colorful veteran Eddie Shack to the Pittsburgh Penguins in exchange for right winger Rene Robert. With the trade, the Sabres had assembled the pieces of what would be the most dominant forward line of the 1970s.
Although we won't focus on the trio but will specifically stick to discussing Martin and his accomplishments, it should be noted that "The French Connection" have all had their jerseys retired by the Sabres, and hockey fans are well aware of their dominance. Martin's performance individually may oftentimes be overlooked due to the trio's success as a unit.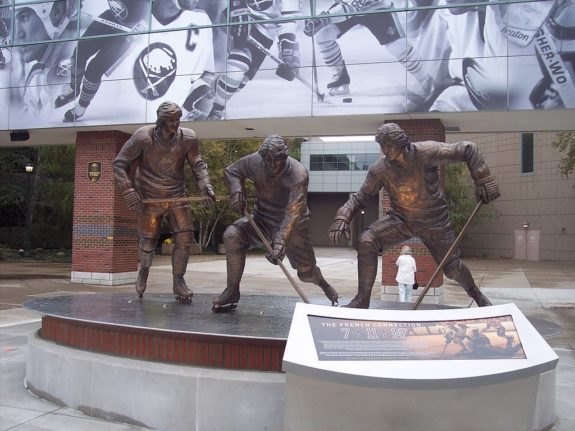 Martin became the premier left winger throughout much of the 1970s. Five times between 1971 and 1980 Martin surpassed the 40-goal mark. Within that span, he found the back of the net 375 times in the regular season. He nearly had three straight seasons of 50 goals: 52 in 1973-74 and 1974-75 and 49 goals in 1975-76.
He still has the Sabres' record for most hat tricks in a career with 21, ranked third all-time among left-wingers of the modern era. Because of his immense production, Martin was named a First Team All-Star in 1974 and 1975. Then, a Second Team All-Star in 1976 and 1977. He also played in seven straight All-Star Games from 1972 to 1978.
No left winger was more dominant. Don't believe it?
Comparing Martin to Other Left Wingers
Martin scored 384 career goals, but we will focus on the 375 from 1971 to 1980, mainly because this total came before his injury. Once Martin sustained the knee injury, his production was still there (more on that shortly) but he couldn't play regularly.
Two of Martin's contemporaries on the left side who have received Hall of Fame induction are former Philadelphia Flyers great Bill Barber and Canadiens great Steve Shutt. Both Barber and Shutt are often thought of as the best players at their position during their careers, and overshadow Martin in most discussions but they weren't more productive.
#7 Rick Martin……….32 days………#Sabres pic.twitter.com/PcUIp6XoXD

— General Eichel (@GeneralEichel) September 3, 2017
While Martin's rookie season was in 1971-72, Barber and Shutt first played in 1972-73. To be fair, we will look at their production through 1980-81 in order to give the same time frame for comparison. Looking at those years, Barber scored 326 goals—49 less than Martin – and had one 50-goal season as opposed to Martin's two. Shutt scored exactly the same number of goals as Barber in that span—326. While Shutt had a 60-goal season, it was the only time that he would score above 50 in a year.
It is shocking to see it spelled out that way.
Martin's Astounding Goals per Game
The most telling number of Martin's career is the rate at which he scored per game. He scored 384 times in only 685 games. It is astounding that Martin's 0.561 goals scored per game is the eleventh highest in NHL history. His rate of goal production is better than each of these Hall of Famers: Phil Esposito, Maurice Richard, Marcel Dionne, Cam Neely, Pat LaFontaine, Guy Lafleur, Howie Morenz, Mike Gartner, Teemu Selanne… need we go on?
Martin left the game with such a high number intact because he still managed to produce after his injury. Bowman traded him to the Los Angeles Kings on March 10, 1981, in exchange for draft picks. Still nagged by a knee that regularly filled with fluid, Martin still played four games with the Kings and in those four games, he scored two goals and four assists.
A Posthumous Induction for Martin
Martin did not win a Stanley Cup. Some would argue that is why Barber and Shutt are in the Hall, but he is not. He came close in 1975 as Buffalo lost in the Finals to the Flyers. He tied with Perreault in playoff scoring during the Sabres' Cup run, each with 15 points in 17 games and he was the Sabres' leading scorer in the Final. In six games against Bernie Parent and the Flyers, he had two goals and four assists.
While there is no Stanley Cup championship to his name, Martin should be in the Hall of Fame from his play alone. His production, the regularity at which he did it, and the depth of his numbers still stand. He belongs.
Sadly, if and when Rick Martin is inducted into the Hockey Hall of Fame, it will be done posthumously. Martin passed away in March 2011 from a heart attack while he was driving. It would have been a great tribute for him to have witnessed and taken part in his own induction. However, it would be most meaningful now for his family to see an honor bestowed upon him just the same. One he should have received long ago.
General Manager of the Buffalo Beauts (NWHL). Hockey history writer "The Hockey Writers". Credentialed media for the NHL Combine and 2018 IIHF World Junior Championships in Buffalo, NY, USA. Born and raised in Buffalo, NY. Lifelong hockey fan for over 40 years. Proponent of the women's game.