The Game: 30th Anniversary Edition
, by Ken Dryden. (2013, Chicago: Triumph Books. Trade Paper. Pp. 320. $19.95. ISBN: 9781600789618)
If you pick up the 30th anniversary edition of Ken Dryden's classic hockey book The Game, across the top of the cover you'll see an endorsement by The Quill and Quire indicating that the book you're holding is "the greatest hockey book ever written", which is as close to a consensus opinion among critics as you'll find.
If you haven't read it, don't believe it. Read it first, then decide. As the author himself writes:
Nothing is as good as it used to be, and it never was.
The Game is an incredible sports book and a top-shelf hockey book. It offers rare and extraordinary insight into the life of the modern professional athlete, and presents amazing profiles of some of the biggest names in pro hockey during the 1970's, including Scotty Bowman, Guy LaFleur and Larry Robinson, to name a few (in fact his extended profile of Bowman is absolutely riveting).
It's a unique book, a strange book. It is probably the most intelligently written hockey book you'll ever read, while also managing to be infinitely quotable. Ken Dryden can turn a phrase as well as or better than many seasoned sports journalists.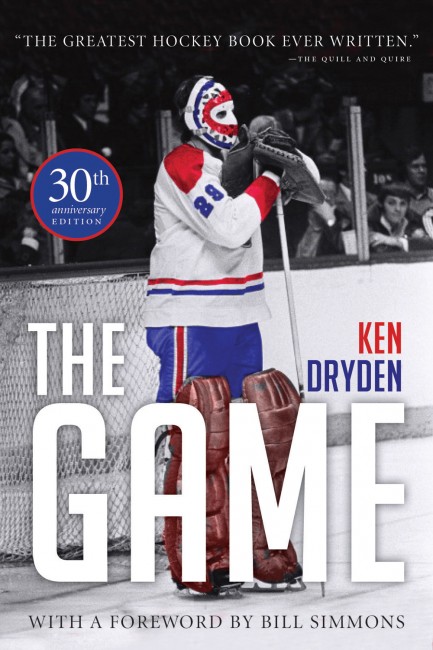 For all its power, The Game is a quiet book; Dryden's voice as a writer has a very Canadian and respectful hush to it. Yet in waves and rolls, he lays bare the kind of view into the human mind reserved for a very few. In some ways, The Game is too smart for its own good, too worldly and insightful for the sport on which it is based. But that may be the author's problem, not the subject's.
Ken Dryden the Goaltender
Only Ken Dryden could have written this book. At once icon and iconoclast, he is practically the goaltender of record for the 1970's, earning a staggering six Stanley Cups in Montreal, five Vezinas, one Calder Trophy and a Conn Smythe.
Dryden has a stat line you can read like a prizefighter: Standing at 6′ 4″ and weighing in at 205 lbs, he retired in 1979 age 31 with a regular season record of 258-57, including 46 wins by Shut-Out. He never lost more than 10 games in any season.
As a goalie Dryden played psychological games. That famous stance of his, featured on the cover? He's trying to convey to his opponents that they bore him, that their shots on goal are a joke. And if one gets by him, he's telling everyone in the arena, including his own teammates, that it doesn't phase him. Early in his career he would make a glove save and then flip the puck out of his glove as though he's disgusted with the effort. It's unlikely that Dryden understands the complex role of the goalie better than any other pro goalie before or since; he is just able to express it in a way few others ever have.
Ken Dryden the Recalcitrant Hockey Player

After leading Montreal to their second Stanley Cup of the decade in 1972-73, and having compiled all of 125 regular season NHL games and 43 playoff games, before the start of the 1973-74 season Dryden did what many of his contemporaries did: He didn't report for training camp, insisting he was worth more than what Canadiens GM Sam Pollock was offering.
By the late 1960's this practice of holding out for more money (though not a 'holdout' as we understand the term today) had become commonplace in hockey, as attested to in a 1968 article in the Quebec Chronicle-Telegraph:
This has been a year of strikes, and hockey players are more and more following the trend. The most notable striker, Bobby Hull, has finally fallen into line, as practically everybody knew he would … Very few hockey players are in a position to quit the game and they have no other choice should they persist.

Yet unlike virtually everyone else, Dryden didn't 'fall into line'. Instead, he sat out the season, finishing his law degree at McGill and taking a job paying around $7,500 in salary to work as a law clerk in the law offices of Osler, Hoskin and Harcourt in Toronto. He also did some color commentary for the World Hockey Association's Toronto Toros. In his absence, his own team clawed into the playoffs and exited in the first round, and the team for which he cannot hide his disgust, the Philadelphia Flyers, won the first of two consecutive Cups.
So many aspects of Ken Dryden made him different from most of the other players in the NHL– his prosperous middle-class upbringing, his education at Cornell, his high intelligence– but none stand out like his decision to sit out a season. Whereas the average player sees that he only has so many years in hockey to cash in on the game that he has spent his life playing, the only thing he knows how to do, Dryden can afford the luxury of missing a season, of losing that income, because he has what few others do: a safety net. A back-up plan. A skill to fall back on if he needs it. This gives him what, prior to the arrival of the WHA, no player in the NHL had: negotiating leverage.
Ken Dryden the Elitist
One of the book's major themes is how the passage of time affects perspective and opinion regarding ideas and events that themselves have not changed. I wholeheartedly agree. When I first read this book ten years ago it blew me away. The book I re-read this month is the same book, but the effect it had on me is much different. The author—who a decade ago seemed so extraordinarily level-headed, honest, and unafraid to go to the difficult places—is no longer so sympathetic.
To repeat, only Dryden could have written this book. He has the profound intelligence, the educational background in history, the credibility of a decorated former player. But in so many ways, his arrival and domination in Montreal appear like an aberration. He writes insightful profiles of his teammates, but the one thing that ties those profiles together is that he is nothing like them. Consider:
Réjean Houle
About Réjean Houle's father, who worked in the mines until poor health forced him to retire at 42, Dryden asks Houle if his father "had ever made his experience in the mine a lesson to him," as though Dryden takes it as gospel that such work was impossible to enjoy. Houle tells him no, that in fact his father liked being a miner.
Superstitions
Of superstitions, so prevalent in hockey yet surely knowing that superstitions are statistically dubious and moreso, (to borrow from Emerson) the hobgoblins of little minds, Dryden 'admits' to having them but quickly says that he tells no one and that he's "not proud I have them." He tries to re-cast one of them as a habit; and elsewhere he writes that he is "helpless to do anything about" his superstitions and then, a paragraph later, explains that he actually "uses superstition" as a way to focus his fear. Instead of being a slave to them, Dryden puts them to work for him. It is as clever as it is incredulous.
Big Money
On how money influences players who had never had any before, he writes this general profile of the player's experiences:
The kid who never seemed too smart is suddenly a business man .. for the first time in his life feeling like more than a jock … listening to smart people use words that never made sense but that coming from their mouths almost do (though trying to explain them later to his wife he will become angry at her when he can't quite do it).
Who is he writing about here? He can't possibly be relating his own experiences. The player described finds identity and self-respect in money. The player described has trouble expressing himself, and has lousy control over his emotions. And he's boorish. Dryden's pedigree betrays this profile, and for the first time he almost begins to sound like he doesn't quite like the stock hockey player all that much. Increasingly, he will dislike being regarded as one of them as well.
Alan Eagleson
In his profile of former NHLPA director Alan Eagleson, he writes that over time Eagleson stopped identifying with the players and began identifying with the owners. As a self-made man who fought his own battles, Eagleson saw more in common with the owners. As for the players, he lost respect for them, because they were too needy. Eagleson himself didn't need an Alan Eagleson to represent him, why should the players?
You don't need to be one of the huddled masses to voice their yearning to be free. But you do need to respect them and to empathize with why they are the way they are. Yet whereas every other player profiled by Dryden appears to embrace places like the locker room and feel fortunate for having reached the pinnacle of their profession, he paints himself as someone who doesn't fit in in the locker room and who is thoroughly bored with the tedium of the hockey season–tedium that doesn't seem like tedium to anyone else–and whose primary struggle eventually seeps up from the pages as a desire to escape these knuckleheads and take up company with his own peers—lawyers, academics, politicians, intellectuals.
Trades
In discussing trades in pro hockey, he says that if he were to be traded, he wouldn't go:
It has never seemed right to me that someone should have that power over me, or over anyone. That someone can simply call me up and tell me that if I wish to continue in my profession, I will have to pack up my family and move …if I were ever traded […] I couldn't accept the helpless, shabby sense of manipulation I would feel, and would retire.
We have seen players traded who instead choose retirement, but never at an age when retirement isn't a realistic option. On top of that, what Dryden calls a trade most of us know as a transfer or relocation, and economics typically drive the decision. It is a phenomenal expression of Dryden's disconnect, to presuppose that feeling helpless or manipulated is rare enough in life that when confronted, it can simply be ignored without any consequences. While Dryden and the Canadiens were winning Stanley Cups in Montreal, for instance, my father was being transferred to new company offices every two years. For him the choice wasn't whether or not he wanted to continue in his profession, it was whether he wanted to remain solvent and support a family, or quit and look for a new job with a different company.
Game Day
Dryden spends a lot of time breaking down the nearly unendurable minutiae of game day. It's clear he despises game day (which he describes beautifully as "a day when nothing matters until the day is nearly complete") because in order to be effective he has to put enormous amounts of energy towards clearing his mind, all day. He says that almost anything that kills time during game day is appreciated because it gets the player that much closer to game time, but as the book goes forward, the 'need' of clearing one's mind and wasting a day thinking and doing nothing becomes a source of frustration—less an annoyance and more an affront to his intellectual ambitions.
Ken Dryden the Historian
I believe many readers will learn more about the development of hockey over the past century from this book than they will from any other, and this is certainly one of the book's great gifts to posterity. Furthermore, if Dryden's examination of, say, the fraudulent notions of celebrity, fails to strike a nerve with his readers, his descriptions of the epic Saturday hockey battles in his family backyard (which are also indirectly the subject of this edition's added chapter) will not. It is there, in those recollections, that the book transcends hockey and becomes The Game.
Still, Dryden's book is not too famous so as to escape the notice of plenty of fans. So it's not inconceivable to imagine some future time when a hockey fan is at a friend's house with a free moment and picks up a copy of The Game from the bookshelf. He or she will likely be startled to read about hockey's big problems as outlined by Dryden in the 1970's: hockey as big business, the NHL's pandering to the American fan, the disturbing uptick in on-ice violence.
"We're still bitching about these same things!" the fan might say.
And if they continue to read, they'll reach a section where Dryden relates visiting a friend's house, and in a free moment picking up a book off a coffee table called The Hockey Book, written by journalist Bill Roche in 1953. They will read as Dryden relates hockey's big problems—as Roche and his contemporaries saw them: hockey as big business, the NHL's pandering to the American fan, the disturbing uptick in on-ice violence.
"All themes," says Dryden, "we had been led to believe had begun with our generation."
This is where we find Dryden's ultimate meaning behind the book's title. Contrary to perception, 'hockey' and 'the game' are not synonymous. Hockey will change, he tells us, but 'the game'—all the small things that surround the sport, its culture, its appeal, its demands on families, the tournaments, the comraderie, the memories, the common heritage of everyone who has ever played not just hockey but any sport—will not. And for Dryden, retiring from hockey isn't the hard part– the hard part is no longer being so involved in 'the game.'
Although to me the author of the "greatest hockey book ever written" is not at all representative of the overwhelming majority of hockey players and seems to enjoy the sport of hockey far less than most players, his love of the game and his appreciation for its role in shaping the character and identity of a nation elevates The Game into the small constellation of classic sports books. I don't know that it's still "the greatest hockey book" but neither can I name a successor.
Maybe that will change. Ask me again ten years from now.
Ross Bonander is a freelance health writer and book editor. He is the editor of 13 quotation collections– six of them hockey-related, including his most recent, Modern Hockey Quotations. His homepage is RossBonander.com.