We are introducing a new summer series called the NHL Needs More. Once a week or thereabouts, we are going to highlight different things that the NHL needs more of to help make today's game better and more exciting. In our first installment, we will tell you why the NHL needs more John Tortorellas behind the bench.
What is the first thing you think of when you hear the name John Tortorella?
Do you think of his fiery tirades that went viral on Youtube? Or maybe you think of the time he made a surprise visit to the Flames' dressing room while with Vancouver. And who could forget the numerous exchanges he had with New York Post Hall of Famer Larry Brooks?
No matter what you think of first, it's usually something memorable which will cause you to have a reaction one way or the other. There's usually no fence riding when it comes to Tortorella. You either love him or despise him.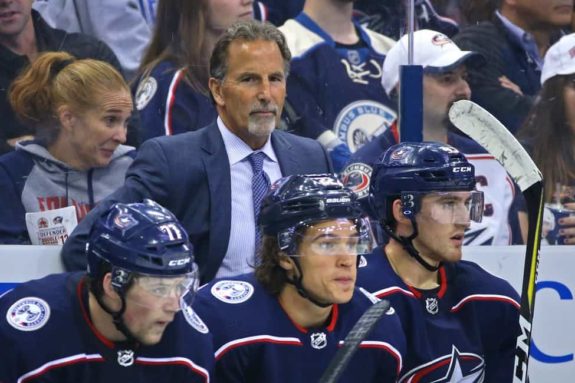 Tortorella once again made major headlines this week when he made some extremely strong comments to the Athletic's Aaron Portzline in response to comments made by both former Blue Jacket Jack Johnson and current Pittsburgh Penguins' GM Jim Rutherford. Let's just say Tortorella's comments were completely uncensored in response to Johnson's "I've been looking to be in a winning culture" comment. (From 'Parting Shots: Blue Jackets' John Tortorella Angered by Comments from Jack Johnson, Penguins GM' by Aaron Portzline, the Athletic, July 1, 2018)
If this situation proved anything to me, it proved that the NHL needs more coaches like Tortorella. Let me honest with you for just a minute. While the state of the league in terms of games, talent and other factors are generally good, many of the media sessions these days are flat out boring. You get mostly the same canned, pre-planned dull response that really doesn't answer your question anyway.
I mean I get it. I get why most coaches choose to keep on the down low. They don't want to say something that will incite a reaction. They just choose to keep it close to the vest. There's very little drama in these situations but it's all too common in today's game. I basically know what most coaches will say in response to many questions.
Enter Tortorella. He is a breath of fresh air that the NHL desperately needs. Why is that the case? It's because unlike most of his coaching counterparts, he is brutally honest and tells you how it is. Even if he doesn't want to tell you how it is, he'll say as much and leave a press conference in less than a minute. This was after Edmonton's 7-2 pounding of the Blue Jackets last season.
Torts could have chosen to be canned and boring and given the same old answers. Nope. He was refreshingly honest and said he wouldn't answer questions. It garnered a reaction wondering if he did the right thing. There is no question in my mind he did the right thing. Had he spoken, he might of said something he'd regret later. The fact that he walked out of a presser after about 30 seconds says everything you need to know about the game the Blue Jackets played that night.
I could go over several examples with you of how refreshingly honest Tortorella is. When you catch him in the right moment, he is as insightful as anyone. It takes asking the right question but it's worth it. Let's look at a couple of examples.
A couple seasons ago, the Blue Jackets had to play a game in St. Louis one night after delivering a 10-0 blowout to the Montreal Canadiens. They played just ok but eventually lost that game. During that postgame, Torts referenced top guys needing to play better. I then asked a very fateful question. This is when Brandon Saad was on the Blue Jackets. I asked if he might be healthy scratched. I'll never forget Tortorella's answer.
"Ah I'm not going to get into that %!%&", Tortorella said and then the presser ended. He is not a fan of the lineup question postgame. But I still appreciated his honesty. Some may find his answer offensive. None was taken on my end.
This past season, the Blue Jackets wanted to get former Washington Capitals' defenseman Taylor Chorney in the lineup. Torts admitted Chorney would enter the lineup against his former team on trade deadline day after all the fireworks were done. That sounded good and all. But there was one slight problem.
The Blue Jackets acquired Ian Cole in a trade earlier in the day. Guess who came out of the lineup? Of course it was Chorney. When we asked Torts who would come out, he admitted "Chorns got screwed." Seriously how many coaches say stuff like that? Very few if any but it's refreshing.
Tortorella said Cole and Letestu are in for CBJ tonight. Torts: "Chorns got screwed." He's out.

— Isabelle Khurshudyan (@ikhurshudyan) February 26, 2018
Torts Here & Now
So back to the Penguins' situation. Tortorella didn't pull any punches. He went to bat for the Blue Jackets and the city of Columbus. They are fighting for respect in this league where it was basically non-existent before. He has helped change the narrative in Columbus thanks to his approach and no nonsense attitude. Not only do many of the Blue Jackets love playing for him, so do many former players based on their admission.
Whether it was hall of famer Martin St. Louis or Vinny Lecavalier, they all rave about Tortorella as a coach and how he handles his players. He can be brutally honest with the media. He's even more honest with his players. Players may not like hearing some of that stuff but they do appreciate it given that it's straight and to the point.
Tortorella wasn't sure if he'd coach again after things in Vancouver didn't work out. He had to change. He did. He got another chance in Columbus. He's thriving now. He's doing so while being real and honest about things on the record.
There is usually nothing boring about Tortorella. If I'm a new fan of hockey and I want to know what's going on with a team, you bet I'd want someone like Tortorella coaching my team. I'm not left wondering what to think. You might not like what he says, but at least you know where he stands.
In a world of boring and mundane answers at almost every press conference, Tortorella is proving you can be real and it's ok. In fact, this should be encouraged more. More people will watch this sport if you get more honesty out of coaches, players and executives.
Let's hope we see more of this in years to come. For now, the NHL needs more John Tortorellas behind the bench. It certainly wouldn't ever be boring, and that's a win for everyone.