It wouldn't be an international tournament if there wasn't a roster controversy with Team USA. This month's World Junior camp roster was surprisingly without significant controversy for the Americans. But here we are. Just two days before the U.S. announces the final roster and controversy has arrived.
USA Hockey has cut Logan Brown (OTT) and the OHL's leading scorer Alex DeBrincat (CHI) from their World Junior roster.
Though it seems unjustified with his impressive OHL marks, DeBrincat has reportedly been lackluster at camp and was close to invisible at August's evaluation camp. On the other hand, even though he's working with Team USA staff in August, that's a week of camp and shouldn't outweigh 30 goals and 60 points in 28 OHL games.
Brown getting cut is an eyebrow raiser too, but he has been dealing with a wrist injury. He missed a good chunk of time after suffering a serious wrist injury on Nov. 12. He hadn't returned to the ice before camp and might have contributed to him being a step behind other players at camp. It's also possible that he simply isn't back to 100 percent.
The U.S. has just one more cut to make before they make the final roster announcement on Dec. 24. It's likely to be one of the teams eight defensemen.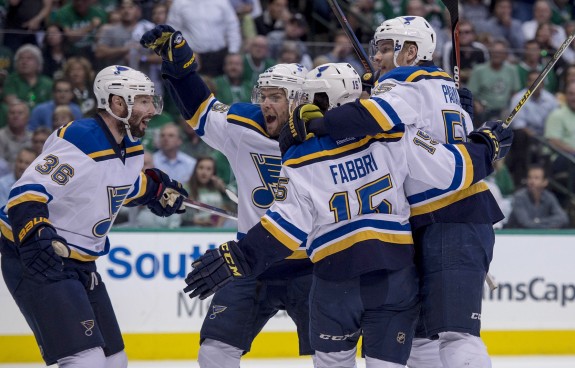 Stastny On the Shelf
The Blues have placed Paul Stastny on injured reserve with an upper-body injury. The designation is simply to free up a roster spot while he's hurt, according to Jeremy Rutherford of the St. Louis Post-Dispatch. The expectation is that the injury is minor and that he'll be back in the lineup on Wednesday, which is the team's first game after the holiday break.
St. Louis has recalled Wade Megan from the AHL's Chicago Wolves in response.
Artem on IR
The Blackhawks have placed forward Artem Anisimov on injured reserve, according to Mark Lazerus of the Chicago Sun-Times. That designation is retroactive to Sunday, which means, if healthy, he's eligible to return to the lineup immediately after the holiday break.
In a corresponding move, the team has recalled Tanner Kero from the AHL's Rockford IceHogs.
Salty Dogs
Things got salty between the Coyotes and Oilers toward the end of Wednesday's contest. With less than a minute remaining in the game Oliver Ekman-Larsson and Matt Hendricks raced for a puck in the Arizona zone and Ekman-Larsson gave Hendricks a hard run into the boards.
Almost immediately afterward Zack Kassian came into the play and cross-checked Ekman-Larsson, who didn't have the puck. A melee ensued. Kassian dropped his gloves before anyone even arrived. It was the third large scrap of the third period and ended with Kassian taking a match penalty and a roughing minor.
With a match penalty in tow, Kassian could be getting a call about this one.
Always a Legend
Hall of Famer and winner of the 1950 Art Ross Trophy Ted Lindsay isn't just a legend for what he did on the ice, the man continues to be a legend for the impact he has on the community. Lindsay has donated a million dollars from the Ted Lindsay Foundation to help children with autism spectrum disorders in the Detroit area.
How incredible is Ted Lindsay? 91 years old, he just donated $1 million to create a 12,000 square foot center to help kids with autism. pic.twitter.com/sAFRwDMuAD

— Brad Galli (@BradGalli) December 22, 2016
http://www.theoaklandpress.com/general-news/20161221/1-million-gift-from-ted-lindsay-foundation-will-benefit-children-with-autism-spectrum-disorders
McKenna Recalled to Florida on Emergency Basis
The Florida Panthers have recalled goaltender Mike McKenna on an emergency basis.
There doesn't appear to be any serious injury to starter Roberto Luongo. He's going to take the night off with James Reimer starting against Boston on Thursday, reports George Richards of the Miami Herald. Luongo is expected to be back in net for Friday's game against Detroit.
If the Panthers win Friday's game with Luongo in net, he'll take sole possession of the fifth most wins in NHL history.
Winter Classic In Progress
The St. Louis Blues are already prepping to host the Winter Classic on Jan. 2 at Busch Stadium. The rink is getting installed and Wednesday they shared our first glimpse at how things are progressing at the home of the St. Louis Cardinals.
These guys sure are fast. #WinterClassic pic.twitter.com/I0t8unrclv

— St. Louis Blues (@StLouisBlues) December 22, 2016
Odds & Ends
– The Devils have placed Jacob Josefson on IR with a concussion. In response, they've recalled defenseman Seth Helgeson.
– The Tampa Bay Lightning have recalled Michael Bournival from the AHL's Syracuse Crunch.
– Rasmus Ristolainen has a pretty nice slapshot.
Anders Nilsson's helmet was fractured by a Ristolainen rocket; so now he's wearing this. pic.twitter.com/A3lvo2n5a7

— Buffalo Sabres (@BuffaloSabres) December 22, 2016
– Also, this.
Nick Bjugstad got the monkey off his back with his first goal of the season – so Jaromir Jagr got him a monkey for Christmas as promised. pic.twitter.com/MckEHujzPw

— George Richards (@GeorgeRichards) December 22, 2016