In theory, the buyout of Antoine Vermette over the offseason made sense for the Arizona Coyotes. So did the team's decision to allow veteran forwards such as Alex Tanguay and Boyd Gordon to become free agents. The Coyotes seemingly no longer needed these players; they had Christian Dvorak and Dylan Strome ready to step in and take on starring roles in the NHL and also returned the dynamic duo of Max Domi and Anthony Duclair, who both appeared poised to become the team's top two scorers of the future.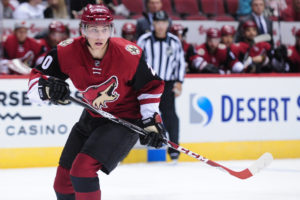 However, in practice, the team's decision to go with a youth-laden roster has backfired significantly. Strome was clearly not ready to play in the NHL this season and was sent back to the OHL after just seven games, while Dvorak has yet to emerge as a legitimate scoring threat on the offensive end of the ice with just three goals through 29 games. Worse yet, Duclair is off to an awful start to the season with a single goal through 30 games, and Domi is out indefinitely with a hand injury.
Compounding matters even further is the fact that many of Arizona's veterans are off to slow starts. Captain Shane Doan is on pace to score just eight goals this season after lighting the lamp 28 times last season, and defenseman Oliver Ekman-Larsson has regressed significantly as well; he's struggled to generate offense both at even-strength and on the power play this season and has also been a liability in his own zone at times as well. In addition, center Brad Richardson went down early in the season with a broken leg, further straining Arizona's depth at the center position.
Coyotes Struggling Down the Middle
The one player in particular that the Coyotes appear to be missing the most this season is center Antoine Vermette. With the struggles of Dvorak and Strome, the injury to Richardson, and the departures of Vermette and Boyd Gordon, the Coyotes are currently extremely thin down the middle.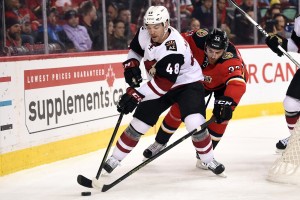 They were forced to acquire veterans Peter Holland and Josh Jooris mid-season in order to shore up their depth and were forced to move Jordan Martinook from the wing to center as well. In addition, Shane Doan, who normally plays right wing, has taken over 100 faceoffs this season and has been largely ineffective while doing so, as he's won just 46.7% of his draws.
As a result, the team has been awful in the faceoff circle this season and has struggled mightily to either suppress opponent's shots or generate any shots of their own. As of this writing, the Coyotes have been outshot in 13 of their last 14 contests and are allowing 35 shots per game, by far the most in the NHL. In addition, the team has dropped into the bottom three in the NHL in team faceoff percentage after finishing with the league's best faceoff percentage last season.
Meanwhile in Anaheim, Vermette has been nothing short of outstanding this season; he's won an eye-popping 65.9% of his faceoffs this season and has also recorded 12 points in limited ice time as well.
Antoine Vermette is 65% on the draw this year? That's something.

— Scott Wheeler (@scottcwheeler) December 20, 2016
There's no doubt that he'd be able to help the Coyotes were he still on the roster, but they've instead been forced to utilize a group of largely ineffective centers this season while still being on the hook for Vermette's salary due to the buyout.
Another player that the Coyotes likely could have used this season is veteran winger Alex Tanguay. Tanguay came over from Colorado at the trade deadline last season and immediately found chemistry with Vermette and Duclair as he racked up 13 points in 18 games with the team.
Vermette and Duclair have combined for nine goals and 23 points since Alex Tanguay suited up for the #Coyotes. https://t.co/xz2BVgoEX6

— azcentral sports (@azcsports) April 6, 2016
After struggling through most of the season in Colorado, it appeared as if the veteran would be able to revive his career in the desert. However, he never received the chance to do so; in a surprising move, the Coyotes elected not to re-sign Tanguay and instead threw all of their eggs into the youth movement basket. This strategy seemed like a good one on paper, but, through 33 games, the results haven't been favorable for general manager John Chayka.
Overall, it looks as if Coyotes fans are in for another long year in the desert. With no semblance of an offense and a crippling inability to keep pucks out of their own net, the team unsurprisingly sits in the cellar in the Pacific Division and is among the worst teams in the entire NHL. And unless the team is able to get better production from their centers, it's unlikely that they'll be able to reverse their fortunes anytime soon.