Anaheim Ducks defenseman Simon Despres looks like he'll miss a little time. He's scheduled to see a specialist after beginning to suffer from symptoms that are often an indication of a head injury in the absence of recent trauma.
Speaking Friday, general manager Bob Murray said, "There's something wrong here and we've got to get to the bottom of it." Murray stopped short of saying that Despres has a concussion at this point, though there's certainly an undertone of concern after Despres missed more than half the season with a concussion.
Despres did suit up for the team's opening night loss to the Dallas Stars, but he didn't take any shifts in the third period. Some of that concern is because it does not appear that Despres fell or took a hit to the head during the game.
Wolski Breaks Neck
Former Colorado Avalanche first-round draft pick and shootout wizard Wojtek Wolski has suffered a harrowing accident playing in the KHL. In a bit of a freak accident, Wolski slid head first into the boards and has been diagnosed with "two broken cervical vertebrae, spinal cord trauma and a concussion."
Wolski will miss the rest of the season, the KHL announced Friday. Barys, the team Wolski was playing against when the accident occurred released a get well statement.
For how terrible the accident looks on replay and on paper, Wolski appears to be in good spirits. Wolski told TSN's Gino Reda via text, "I never thought I'd say I got lucky after breaking my neck. But it really could have been a lot worse. Staying positive and hoping to make a full quick recovery sometime late this season."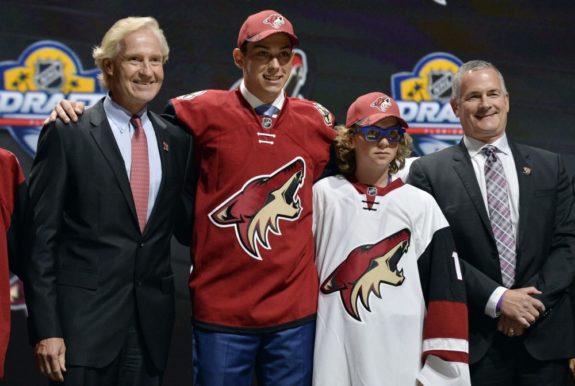 Dylan Strome to Be Scratched for Opener
In a surprising move, the Arizona Coyotes will be scratching star prospect Dylan Strome in their season opener against the Philadelphia Flyers on Saturday. Strome was drafted third overall in 2015 and is the most promising of the team's many prospects.
Coach Dave Tippett tipped his hand Friday announcing that there would be four rookies in the opening night lineup and that Strome isn't likely to be one of them. Strome practiced as their extra forward Friday and won't be joining Jakob Chychrun, Christian Dvorak, Laurent Dauphin and Lawson Crouse, who will all be in the lineup Saturday.
Asked if Strome skating as an extra was a sign that he was going to be scratched, Tippett said, "I would say there's probably a better chance that he'll watch tomorrow's game, but we'll come to that final conclusion in the morning. We've got a lot of young guys here we're going to have to integrate. You can't just throw them all out there to the wolves. We're going to make sure everybody can do their best to play their best."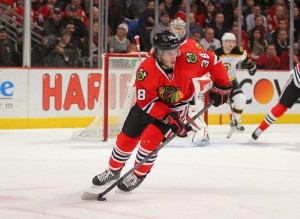 Ryan Hartman Out
Young Chicago Blackhawks forward Ryan Hartman is going to "miss some time," according to head coach Joel Quenneville.
Hartman suited up Friday against Nashville and even contributed an assist on Marcus Krueger's first-period goal (his first regular season goal since the spring of 2015). But Hartman didn't return to the bench after the first intermission.
CSN's Tracey Myers reports that Hartman has a lower-body injury and that he's going to miss more than just a couple games.
Nolan Patrick Injured
Prospective number one overall draft pick at the 2017 draft Nolan Patrick is out with an injury. The big center for the WHL's Brandon Wheat Kings is sidelined with what's being called an upper-body injury.
While the team hasn't revealed details about the injury, it doesn't appear to be too serious. He's listed as day-to-day and the team says he will be reevaluated Saturday. Some reports indicate that the injury may be related to Patrick's offseason hernia surgery.
Through Brandon's first six games Patrick is tied for the team-lead with four goals and five assists.
https://twitter.com/HockeyWebCast/status/784761399151042561
Odds and Ends
– While there's still no timeline for his return from a concussion, Sidney Crosby was again working out on the ice Saturday morning. Hopefully it's an indication that one of the best players in the NHL won't be sidelined for too long.
https://twitter.com/MolinariPG/status/787282274526068736
– In the Nashville Predators season opener, P.K. Subban wasted no time grabbing the first goal of his career in Music City. He scored in the first and the crowd went absolutely bonkers.
https://twitter.com/JeffVeillette/status/787091927820820480
– Connor McDavid is having a pretty decent season so far. Just two games in and he's got six points. Last night, in Edmonton's second win over Calgary in as many games, McDavid showed off his speed with a breakaway goal. Brian Elliott has to be desperate to play just about any other team at this point.
– Shayne Gostisbehere got a nasty cut Saturday. He needed to get a zipper after he caught a skate blade across the face. It's a freak accident, but also a situation where he got lucky. That could have gone much worse.
– The Buffalo Sabres have recalled 21-year-old prospect Nicholas Baptiste from the AHL's Rochester Americans in light of potentially long-term injuries to Jack Eichel and Evander Kane. If Baptiste finds his way into the lineup, it would be his NHL debut.
RECALL: @NickBaptiste has been called up from @AmerksHockey. https://t.co/AknQfHb0Lp pic.twitter.com/Jcbq6mdmwY

— Buffalo Sabres (@BuffaloSabres) October 15, 2016