In today's rumor rundown the head coach everyone would want but no one has room for was spotted  heading towards the New York Islanders, a defensemen or two might be available out of Vancouver, Phil Kessel is cool with being traded but his primary choice seems out of the equation and everyone finally seems on board with the fact that Erik Karlsson is as good as traded.
Tanev In Play for Canucks
Grady Sas of TSN1050Radio tweeted that the Vancouver Canucks have been getting calls on multiple defensemen including Chris Tanev and Alex Edler. He believes teams are currently sending the Canucks lowball offers for Tanev but that the club believes that might change and the hope is that they can create a bidding war for him. Rick Dhaliwal of Sportsnet added that a source has confirmed Tanev is definitely in play and that the Toronto Maple Leafs are still interested. He believes as well that the offers are not great but could improve at the draft.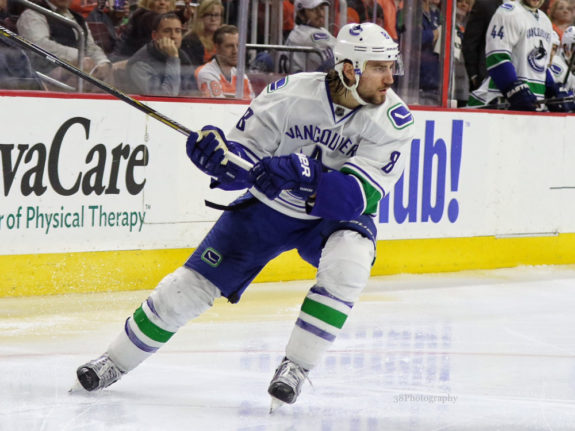 Jason Brough of Halford & Brough on TSN 1040 and Canucks columnist for The Athletic ranked the top suitors for Tanev as Maple Leafs at No. 1, Tampa Bay Lightning at No. 2, and the NY Islanders at No. 3.
Related: NHL Rumors: Trotz, Panarin, The Leafs, More
Consensus on Karlsson
For the first time in potentially this entire drama that is Erik Karlsson and the Ottawa Senators, almost every NHL insider is at the point they believe the Senators are going to trade their star defenseman. Darren Dreger believes that the Senators are listening to trade offers on both Erik Karlsson and Zack Smith but that by the day, Karlsson becomes more likely of a trade piece. Bob McKenzie adds that at the deadline the Senators were merely listening to offers but not trying to trade Karlsson. He believes that's where the team is at again knowing to re-sign their star defender has become "difficult at best." McKenzie says that because the team "should be able to get a haul for Karlsson" it would be hard not to trade him while those offers exist.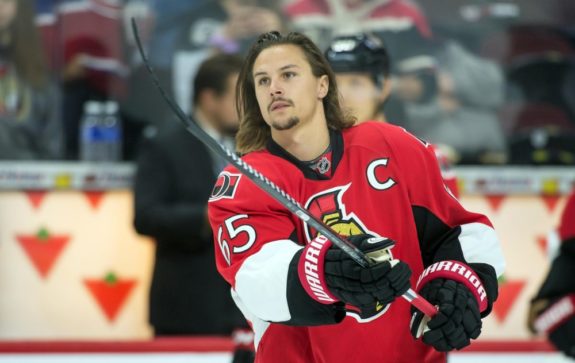 Bob McKenzie also noted that the Senators will make the No. 4 pick this year thus any trade will not include that pick and they'll be sending their 2019 first-round pick to the Colorado Avalanche. It's an interesting choice considering what happens if the Senators do blow up the team, operate at the salary cap floor in 2018-19 and miss a chance at drafting Jack Hughes, a potential generational talent.
Trotz Spotted in Newark
There have been no reports of any candidates formally interviewing for the New York Islanders' head coaching vacancy but one name who is believed to be headed on his way is former Washington Capitals head coach Barry Trotz who was spotted at an airport in Newark on Monday. If all goes well, it is expected Lou Lamoriello and the Islanders will announce Trotz as the new head coach prior to the NHL Entry Draft on Friday.
Just met Barry Trotz at EWR and pleaded with the now ex-coach of #StanleyCup @Capitals to just please don't go to an Eastern Conference team #ALLCAPS pic.twitter.com/JmvQ9MPZl5

— Drew Firment (@drewfirment) June 18, 2018
If Lamoriello can land Trotz, it will be interesting to see how this affects the team's ability to sign John Tavares who many believe is close to staying with the only NHL team he's ever known but might have five teams on his list that he'd like to talk to before he makes his decision.
Related: NHL Rumors: Hayes, Draisaitl, Marner, More
Phil Kessel Ok With Being Traded
Josh Yohe of the Athletic wrote a piece about Phil Kessel of the Pittsburgh Penguins understanding that his name is out there in the rumor mill and while he'd love to stay with the Penguins, he's open to the idea of a trade too. Unfortunately, it looks like where he wants to go isn't offering to take him. Yohe writes:
Multiple​ sources have confirmed​ to​ The​ Athletic​ that Phil Kessel, while​ perfectly willing​ to remain​ with the​ Penguins,​ isn't opposed​​ to a trade that would end his time in Pittsburgh. His preferred destination for a trade, though, appears to be out of the running. Kessel would be willing to play for the Arizona Coyotes because of his relationship with head coach Rick Tocchet. However, the Coyotes have informed the Penguins that such a transaction isn't likely to happen for financial reasons. Kessel is owed $6.8 million per season for four more years — the Maple Leafs are responsible for the other $1.2 million of his contract — and the Coyotes simply aren't willing to take on that kind of money.

(from 'Phil Kessel not opposed to leaving Penguins via trade' Josh Yohe of the Athletic – 6/19/18)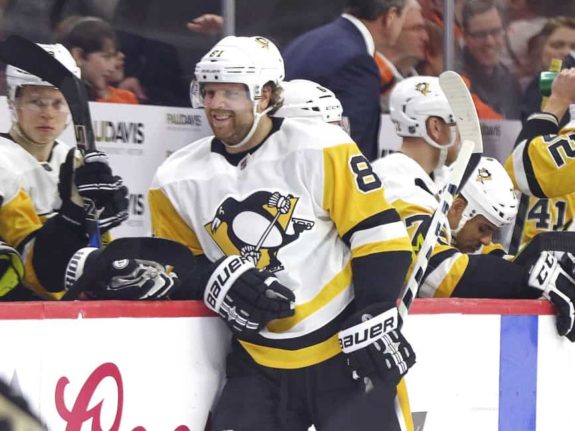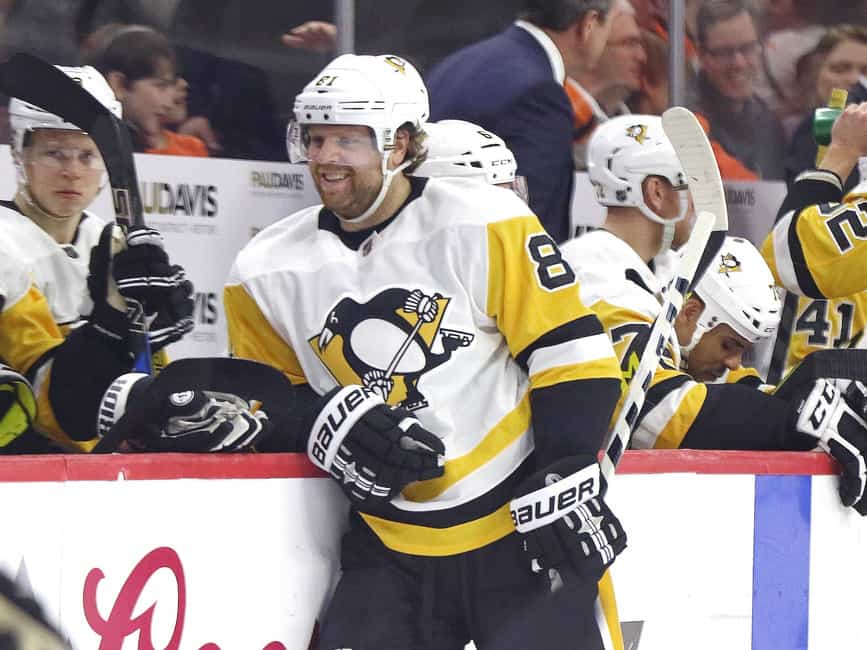 It will be interesting to see how much or how little interest there is in Kessel. Any other player with his point production would be of great appeal to a number of teams, but for some reason, the cloud surrounding Kessel seems to suggest that's not the case here.