In today's NHL rumors rundown, one insider noted that the exit interviews out of Toronto were "blunt" and that players had a lot to say about why the team failed. What exactly does this mean for the roster? Meanwhile, have the "core four" of the Maple Leafs been told they'll be staying together? How serious are the Buffalo Sabres about acquiring Connor Hellebuyck? Are the New York Rangers open to adding a sweetener to trade Barclay Goodrow? Finally, how serious is the injury to Aleksander Barkov?
Maple Leafs Exit Interviews and the "Core Four"
Reports from Elliotte Friedman suggest that the team's exit interviews that followed this past season were far from pleasant. He said, "I heard Toronto's exit interviews were pretty tough, I heard the Toronto players were pretty blunt about what they thought was said and that's something still to work on…he thinks some of the players were really blunt about why it didn't work".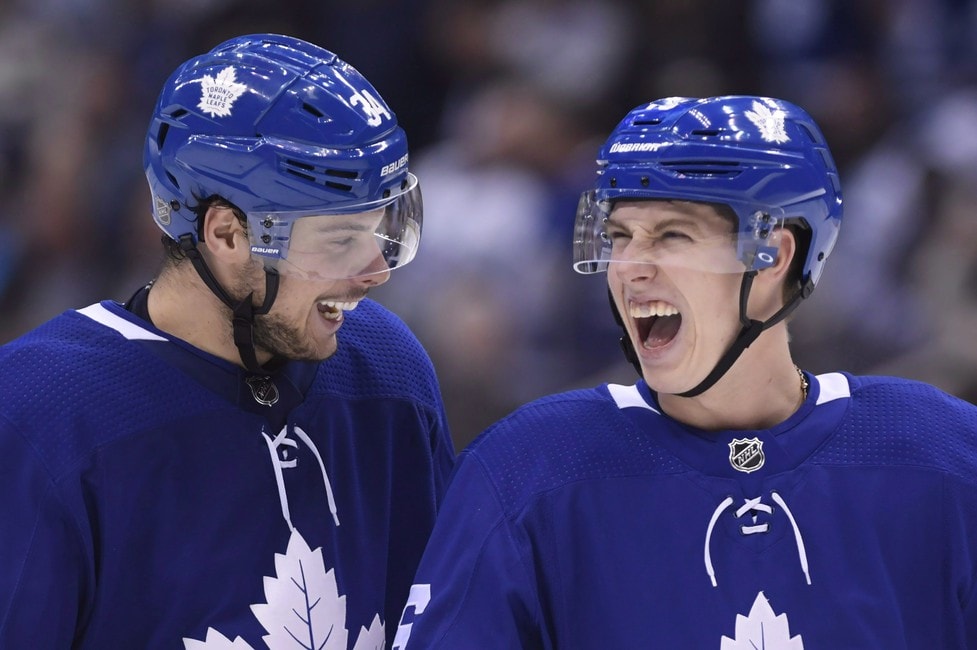 While there were no names dropped, the suggestion here is that some of these players expect change. At the same time, Chris Johnston of TSN and NorthStar Bets writes that "Leafs president Brendan Shanahan personally phoned players to inform them he was cutting ties with former GM Kyle Dubas on Friday, and the feeling coming out of those calls was that Shanahan was inclined to forge ahead with the "Core Four" forwards still in place next season, according to sources."
---
---
The players themselves said in post-season media scrums that they still had faith in their core and now Shanahan has apparently told them he wants to keep that core together. Does that mean roster changes will exist outside of Auston Matthews, Mitch Marner, John Tavares, and William Nylander?
Sabres Going After Connor Hellebuyck?
As per a report from The Athletic's Michael Russo and Eric Duhatschek, the Buffalo Sabres seem to have a legitimate interest in trying to acquire goaltender Connor Hellebuyck via trade. They write:
One thing we've heard early this offseason is that the Sabres have interest in Hellebuyck, with the belief that a genuine No. 1 goaltender could be the last remaining piece in turning them into contenders. Getting one would also allow them to hold off on turning the reins over to Devon Levi until he's proven to be NHL-ready.

source – 'NHL offseason trade board: What we're hearing about Jets stars, Leafs' Core 4 and other targets' – Michael Russo and Eric Duhatschek – The Athletic – 05/15/2023
Related: Potential Buffalo Sabres Trades for Connor Hellebuyck
Lance Lysowski of The Buffalo News isn't against the idea, but he suggests Sabres GM Kevyn Adams do his due diligence and tread carefully here. There is risk in acquiring a player who could potentially become a free agent next summer.
Are the Rangers Ready to Trade Goodrow?
According to Arthur Staple's mailbag comments in a recent article for The Athletic, if the Rangers are open to trading Barclay Goodrow (which they might be), the team is prepared to dump his salary, but probably doesn't want to add a big-time sweetener to do so.
---
Latest News & Highlights
---
He writes:
A Goodrow trade is almost certain to be a straight salary dump; hard to see where you're getting anything of value in return, despite him being a still-useful player. Trading Lafrenière is incredibly tricky, given his current stature — he's not a bust, but he's not exactly a player teams are ready to give up assets for. If Drury finds a taker and the return is something good — a high pick, an under-achieving, cost-controlled player — then maybe you do it. But I don't think you tack him on to a Goodrow trade just because.

source – 'Rangers salary cap constraints, free agent targets, possible roster changes: mailbag, part 3' – Arthur Staple – The Athletic – 05/18/2023
It might cost the Rangers as much as a second or third-round pick to dump him and the $3.64 million by four years remaining on his current contract.
Barkov Injury Not Expected to Be Anything Too Serious
Aleksander Barkov didn't return to Game 3 for the Florida Panthers on Monday night and there was some concern over his injury status moving forward. Head coach Paul Maurice thinks the injury is "not anything too sinister" and he's "more on the optimistic side."
There was a point when the Panthers were hopeful he might return to that game.