Mirtle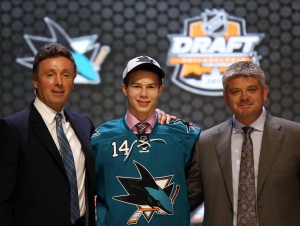 Most of you are probably up to speed by now on this piece by widely respected hockey writer James Mirtle. In it, the Toronto based writer claims Adam Burish first got word of being waived from teammate Joe Pavelski and not from Sharks management. That news was not surprisingly refuted by Doug Wilson, and Burish's agent. That was the more prominently focused on section of Mirtle's article here in the Bay Area. It is interesting to note that Burish chose not to comment, and it is possible his agent may not want to call out an organization that severely overpaid his client. While some Bay Area media are taking Wilson's word that the claim about Burish isn't true, well, what would Wilson get out of admitting the truth? It's not like he has done a great job attracting free agents as it is. Admitting an unprofessional error wouldn't be in his best interest. So maybe he is telling the truth, maybe he it isn't. However, that is not the portion of Mirtle's piece that I want to focus on. The more interesting portion is what he says about Wilson and Sharks head coach Todd McLellan.
In the column Mirtle writes that, "there have rumours all year that McLellan and Wilson aren't getting along and that the coach may be fired at the end of the year." As part of San Jose's media, I certainly haven't heard any such rumors about Wilson and McLellan not seeing eye to eye. This past offseason after the 3-0 collapse to the Kings, Wilson managed to convince majority owner Hasso Plattner to let him keep his job. If Wilson thought a coaching change was needed for his team, chances are he would have made it this offseason. With such an embarrassing playoff loss, and a team searching for answers, why would a GM throw his support behind his coach after the epic collapse, only to give up on him during or after the following season? It really doesn't get any worse for a team and a coach than going up 3-0 in the first round and then losing four straight. McLellan has been Wilson's guy for seven seasons now, which include two other extremely disappointing first round exits. Nobody would have been shocked to see McLellan let go after 2011-12, last season, nor after the Sharks' sluggish 10-10-4 start to this season, yet he is still here.
Arguing over Burish?
So while Mirtle typically writes a terrific column, I'm not buying the tension between Wilson and McLellan. With Wilson backing McLellan after the collapse, it seems odd he would fire him this year. I mean how many of us regular Joes would fire a guy within a year of  defending him to our boss? I don't know about anybody else, but I wouldn't fire a guy shortly after telling my boss that he was a worthy employee. While it is difficult to know just what goes on behind closed doors, methinks a debate between Wilson and McLellan over Burish's playing time is awful petty. That said, petty arguments are what many 49ers fans believe to have been the issue between Jim Harbaugh and Jed York, but I don't see that happening with the Sharks. Wilson signed Burish to a four-year contract worth $7.4 million and in recent years signed Mike Brown and John Scott. Clearly Wilson likes these veteran fourth liners with limited skill. Therefore, even if Wilson wants to go younger, it is hard to imagine McLellan playing the guy Wilson signed to $1.85 million per season as a point of serious contention.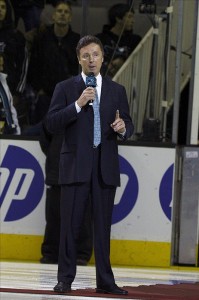 On the other hand, as one of my twitter followers suggested, perhaps there is a disagreement on where to play Brent Burns. It was Wilson who made the announcement about Burns going back to the blue-line during the offseason. Most outsiders agree that decision was driven by the GM in spite of the fact McLellan's move to make him a forward was arguably his best coaching move of his career. In theory though McLellan could make Burns a forward again if he thought it gave his team the best chance to win. If Wilson fires him for doing so, McLellan would be out of a job for maybe five seconds. While yours truly isn't high on the Sharks coach, he is very highly thought of around the league. Wilson, on the other hand, not so sure his stock is as high as it once was. After all we're talking about a guy who referenced P.K. Subban and Drew Doughty in connection with mistake prone Brent Burns as a defenseman. There is no doubt Wilson was one of the best in the business for awhile but this is also a what have you done for me lately type of business. So if Wilson fires McLellan, and then Plattner fires Wilson, not convinced of terrific job prospects for a GM who just fired one of the hottest coaching commodities in the league. Plus with Mirtle's accusation that Wilson mishandled the Burish situation, combined with him signing guys like Burish, Brown, and Scott in the first place and wanting to trade Joe Thornton, well may be it is just my harsh bias, but I could easily see owners around the league being hesitant to make him their next GM. While it is naive to think a GM and coach never ever bump heads, McLellan isn't going anywhere any time soon.
Andrew has been credentialed to cover the Sharks since 2010 and the 49ers since 2012. He graduated with his BA in Broadcast Electronic Communication Arts in 2013 from San Francisco State University.