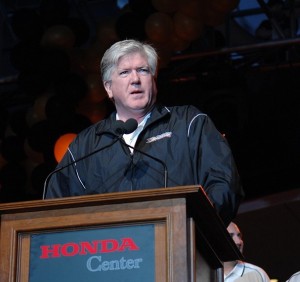 You may recall January 31, 2010. It was the day after the Toronto Maple Leafs had dropped a 5-3 decision to the Vancouver Canucks, their sixth consecutive loss at the time. After that day the Maple Leafs were a brand new hockey team, having brought in the likes of Dion Phaneuf, Keith Aulie and Jean-Sebastien Giguere.
More than two years later the Maple Leafs are in a completely different situation. Eighth in the Eastern Conference and battling to keep possession of the final playoff spot, the Leafs are a much improved team. However, that doesn't mean they aren't struggling; they have dropped five of their last six games.
Fortunately for the Leafs, the Washington Capitals have also struggled mightily as of late. This has given the Maple Leafs a chance to remain in eighth, which they have thanks to their one victory during the aforementioned stretch, a 4-3 decision over the Edmonton Oilers on February 16.
With the trade deadline quickly approaching and now hardly over one week away, trade talk has picked up dramatically, especially around a team that needs some sort of spark if it's going to qualify for the post-season for the first time under the current Collective Bargaining Agreement. Rightfully so, as said team has various holes that need to be filled if they are to contend next season.
Those three reasons alone─battling for playoff position, the need for motivation and holes that must be filled─tell you exactly why now is the time for the Maple Leafs to swing a deal. It doesn't have to be a big one such as Rick Nash joining the team, but change must be made.
The only question is, what will fix the Leafs' current slide and get them back on track?
Various demands include a sizable top-six winger, a centre to play on the first unit with Phil Kessel and Joffrey Lupul and someone to replace Colby Armstrong, who has had a very rough season in 2011-2012, who can move all around the lineup. But there is one position that people have thrown around here and there, only to have it shot down by the team itself: goaltending.
The big-time goal scorer or play maker would certainly be a nice addition to a team that could potentially become lethal offensively, but any transaction involving such a player would be a rather large one that would probably be best for the Entry Draft or some other time in the off-season. For now, the likes of Tyler Bozak, Clarke MacArthur and Mikhail Grabovski are doing just fine with the big guns, Kessel and Lupul.
A goalie, though, is something that the Maple Leafs would be able to chase down without surrendering too much or risking the chance of messing with team chemistry. Perhaps the biggest reason for this is that all the Leafs need between the pipes, or at least backing up, right now is a solid veteran goalie. He doesn't need to have flashy numbers or an expensive contract, but rather the ability to keep his competitor calm both in games and in practice.
Those include Evgeni Nabokov of the New York Islanders, Jason LaBarbera of the Phoenix Coyotes, Mathieu Garon of the Tampa Bay Lightning or, dare it be said, Jean-Sebastien Giguere of the Colorado Avalanche.
Why might this work? Well, there is the reason mentioned above: The Leafs need someone who will be able to calm things down in net when James Reimer and/or Jonas Gustavsson begin to go off track. This is something that we saw when Giguere was with the Maple Leafs.
As well, though, the Maple Leafs are a team that has been terrible defensively for much of the season, but even more so over their last six contests. What this type of move would do is send a message to the defencemen saying that they need to be better, or this team isn't going to make the playoffs yet again.
If anything, acquiring a veteran goalie would be a low-risk, high-reward move by the Maple Leafs. After all, general manager Brian Burke and his staff may be better off to leave the big move(s) until the off-season and deal with the forwards and defencemen that have gotten the team to where it is now.
Twitter: @LukasHardonk | Email: lukas.hardonk@gmail.com | Lukas' archive
For every Leafs article on THW, follow @THW_MapleLeafs on Twitter.