As disappointing as the first forty-one games of the Edmonton Oilers 2014-15 campaign have turned out to be, it has been the group's inability to produce offence with any sort of regularity that continues to perplex hockey fans everywhere.
Oilers: First Half Report Card – Goaltenders and Defencemen
Despite having a lineup that features talented youngsters like Jordan Eberle, Taylor Hall, Ryan Nugent-Hopkins and Nail Yakupov, this team cannot score goals. As difficult as that might be for most to accept, the numbers are there for all to see.
Lots of reasons for an 0-4-1 start for the #Oilers. 0 combined goals for Eberle. Perron, RNH, Pouliot and Draisaitl is one of them

— Bob Stauffer (@Bob_Stauffer) October 18, 2014
For an organization that has gone on ad nauseam about the high-end skill which currently resides in the Alberta capital, the fact this group has scored fewer goals than twenty-seven of the other twenty-nine teams in the league is frankly ridiculous. As of this morning, the only two teams who have scored less are the Buffalo Sabres (80) and Carolina Hurricanes (84).
Edmonton and the Florida Panthers are next with 90 apiece, but the Panthers have reached that total in three fewer games. With the Oilers blueline contributing next to nothing on the offensive side of the equation, this forward group has had to carry much of the load up front and it has not gone well.  There is no question the goaltending and defence need to be better but with all due respect, the forward group is not far behind.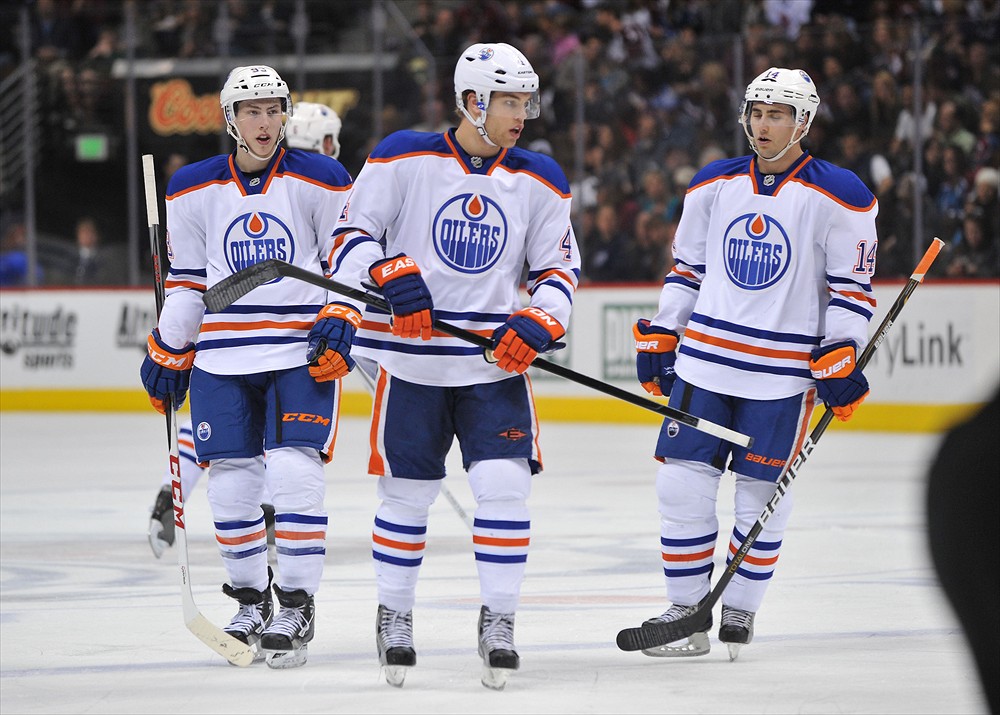 The Core
Anyone who has watched this franchise do-their-thing over the last number of years, know exactly who this team's "core players" are. As of this moment, that group consists of just three names…Eberle, Hall and Nugent-Hopkins. While the former Red Deer Rebels standout has taken a major step forward in his overall game in '14-'15, though his point totals tell a different story, his linemates have taken one in the opposite direction. Oddly enough, all three sit atop the Oilers leading scorers list with twenty-five points, which is not the sort of production a team should expect from their No. 1 line.
After being a top ten scorer in each of the past two seasons, Hall has seen his production drastically drop off over the first half of 2014-15. While part of that has been due to injury and a lack of quality linemates, the former 2010 first overall pick has looked nothing like the player we saw over the last couple of years and especially not since hurting his knee  on November 1st against the Vancouver Canucks.
Oilers' forward Taylor Hall will miss 2-4 weeks recovering from a sprained MCL: http://t.co/tmRiYAXm6p pic.twitter.com/o8PVHu752A — SI NHL (@SI_NHL) November 3, 2014
As far as Eberle goes, this is the second consecutive season in which the Regina native has struggled mightily with his consistency and being an impact player on a nightly basis. While the twenty-four-year-old has been solid of late, scoring four times in his last five games, he has already had four separate runs of five or more games in which he did not score a single goal.
While this trio has played together for a good chunk of the season and continue to face the opposition's top line on a nightly basis, the production has not been good enough and at the end of the day, they are being paid to score goals. Overall Grade: C-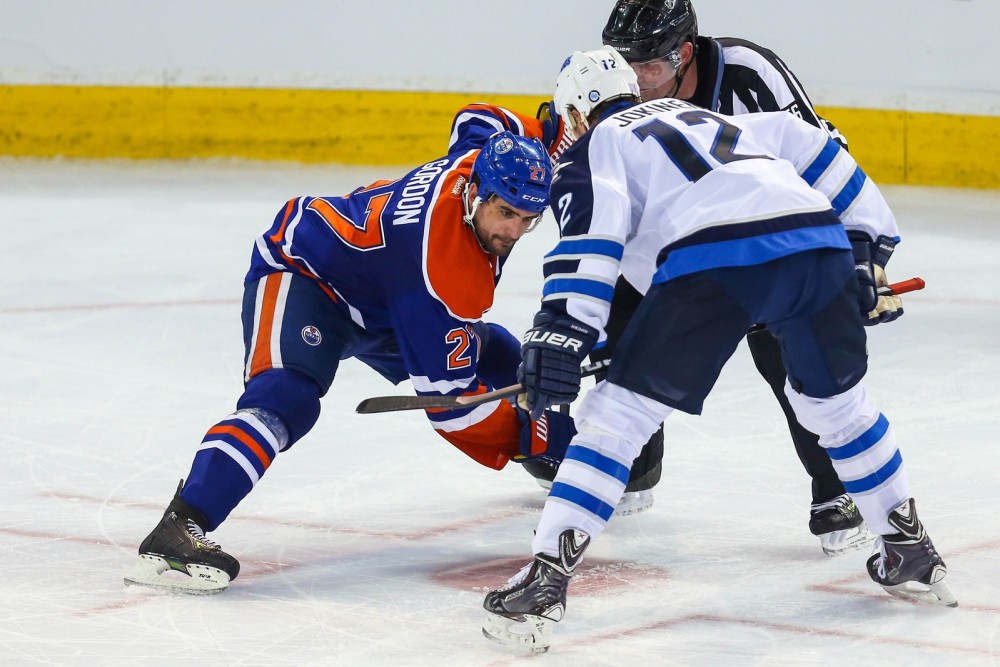 Glue Guys
On a team that is in dire need of experienced National Hockey League bodies, the Oilers have exactly three veteran forwards who bring it on an almost nightly basis but unfortunately, none of the three would be considered a top six forward. Having said that, no one can complain about what we have seen from Boyd Gordon, Matt Hendricks or Benoit Pouliot.
The duo of Gordon and Hendricks picked up right where they left in 2013-14 and continue to give this team quality minutes on the penalty kill and what feels like almost every defensive zone face-off. Heading into the season, many felt the pair would give the Oilers one heck of a fourth line. Problem being, on most nights, they have essentially become this team's No. 2 option at even strength and that has to be a major concern.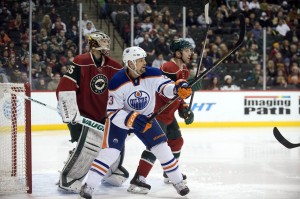 While Pouliot had a night to forget against the Detroit Red Wings on Tuesday night, the former fourth overall pick of the Minnesota Wild has come as advertised. There is no question that Craig MacTavish had to overpay to get him to come to town and to his credit, the twenty-eight-year-old has been non-factor in only a handful of games.
There are certainly those out there who believe his contract means he should produce more offence but in all honesty, that is not who or what he is at this stage of his career. Pouliot has never shown to be anything more than a 15 goal – 30 point player and through his first twenty-three appearances in Orange and Blue, he has scored four times and registered nine points. If you do the math, you will find that works out to thirty-one points over a full eighty-two game schedule.
His size and speed have been a welcome addition to a lineup that has been lacking on both of those fronts for ages and not surprisingly, he has already become a key component in Edmonton and that cannot be overlooked. Now if only the general manager can find a guy who can do the same sort of thing while playing on one of the top two lines, things would be a whole lot better for this group in the here and now.
"Coming back here and playing against all those guys is going to push you a little more." Benoit Pouliot | VIDEO > http://t.co/suphjLHRwp

— Edmonton Oilers (@EdmontonOilers) November 10, 2014
To put things into perspective, Boyd Gordon has arguably been the Oilers MVP over the opening three months of this season and with all due respect to the former first-round pick of the Washington Capitals…that speaks volumes about just how bad this season has gone for this once storied franchise. Overall Grade: B-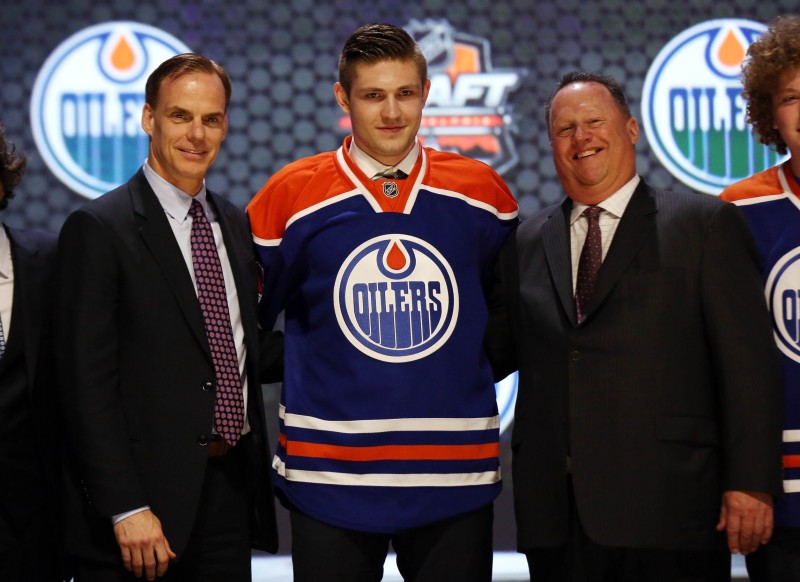 The Rest
This brings us to the "core problem" with this roster. The six names we have already discussed are all solid pieces who at the very least, have contributed something positive to the group in what truly has been a disastrous season. Unfortunately the players who have filled out the remaining six spots have not held up their end of the bargain but to be fair, that is not solely on the players.
Coming into the season, the recently departed trio of Mark Arcobello, Leon Draisaitl and David Perron were all being looked upon as guys who could help carry the load up front and give this team the secondary scoring it has lacked for some time now. All three fell well short of meeting those expectations and with their struggles being what they were, complimentary pieces like Teddy Purcell and Yakupov followed suit and just like that, this roster had no depth.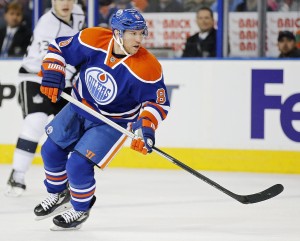 While recent acquisitions Derek Roy and Matt Fraser have produced points during their first few games, expecting either player to produce at the level of a legitimate second line National Hockey League player would be a major stretch. There is no way this group will continue to be as bad as their record may indicate but on the other hand, expecting them to simply right the ship overnight would be just as unrealistic.
With Perron now playing on a line with Sidney Crosby in Pittsburgh and Draisaitl about to embark on what could turn out to be a Memorial Cup winning season with the Kelowna Rockets, Edmonton has now seen their talent level drop significantly when it comes to their bottom six forwards. Not an ideal situation by any means but one you could see coming for quite some time.
Overall Grade: F