As anyone who follows the game of hockey knows, today is all about the NHL Trade Deadline and seeing what potential future pieces teams are willing to part with in order to take a run at winning the Stanley Cup or just making the playoffs.
That is not the case in Edmonton, where the Oilers are focused and tomorrow and Peter Chiarelli did some nice work in signing defenceman Brandon Davidson and Laurent Brossoit to multi-year extensions.
Per @Bob_Stauffer.
The Edmonton Oilers have signed defenceman Brandon Davidson to a 2-year extension worth $2.85 million.

— 630CHED (@630CHED) February 29, 2016
As tough as this season has been on the organization, its players and fan base, the emergence of  Davidson has easily been the biggest and most pleasant surprise. The 24-year old has essentially come out of nowhere to not only secure a spot on Todd McLellan's backend but arguably be the team's best defenceman this season.
While that may not sound like much of an accomplishment, let's not forget this is a blue line that does have an established top four NHL defenceman in Andrej Sekera, as well as highly touted prospects like Oscar Klefbom and Darnell Nurse.
Davidson Deserves All the Credit
In a perfect world, many would have preferred to see Chiarelli add a few more years to this deal but in reality, it was the best case scenario for both parties. As good as Davidson has been, we are still talking about a small sample size and Edmonton would probably be far more comfortable committing to a longer-term and much higher cap number with an extended viewing.
Might it cost them a few more bucks down the road? Probably but something tells me this general manager likes the flexibility that a $1.425 million contract will give him to address this roster in the off-season.
[Related Article: Brandon Davidson and the Edmonton Oilers]
As far as Davidson is concerned, this truly is a win-win situation. For a kid who is currently earning $585, 000, a raise of two and half times on an annual basis and gaining an additional year of security is not exactly insignificant.
If the Alberta native continues down his current path, he is going to get his money and chances are he recognizes the situation for what it is. With the Oilers backend being the tire-fire it is, this is an opportunity that could lead to the former sixth-round pick earning a big-time number in two year's time.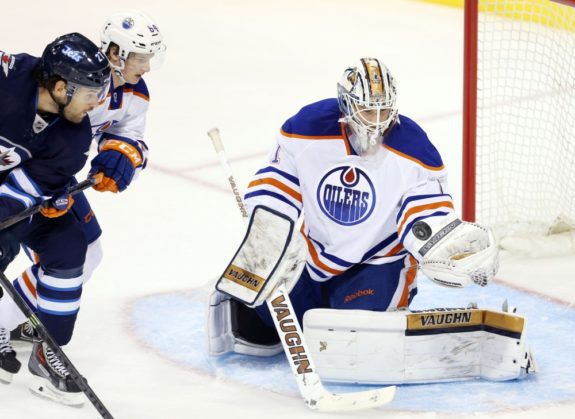 Brossoit Has Earned A Look-See
When the Oilers decided to send Anders Nilsson to the St. Louis Blues over the weekend, it signaled the organization was ready to give Brossoit a shot at being Cam Talbot's backup in 2016-17. With that in mind, no one should have really been surprised to see him offered a one-way deal.
If they still had reservations as to whether or not the former Edmonton Oil Kings backstop was ready to take that next step in his development, Nilsson would still be here and the former sixth-round pick of the Calgary Flames would still be in Bakersfield working on his game.
https://twitter.com/SportsnetSpec/status/704328614028800000
Clearly that is not the case and let's not forget, it is not as if the Oilers have the sort of No. 1 goalie who is going to start upwards of 60-65 a season.
Caddying for a guy like Talbot means you are going to see a reasonable amount of action over the course an 82-game schedule and this management team and coaching staff seem perfectly fine with using Brossoit in such a role. So would it not make sense to save a couple of dollars on the cap and give the kid a chance to see what he can do, instead of coughing up two times that amount on a career back-up?