The Edmonton Oilers are a team that is under a lot of pressure to make a move by the 2022 Trade Deadline to address some glaring holes that have hurt them all season. At the top of that list is goaltending, whether it's a rental to help them make a run this season or someone who will be with the team after this year and help turn things around in net.
Goaltending isn't the only area the Oilers could improve on, as they have a situation at right defence that needs to be addressed and a need for a bit more size and physicality from their bottom six. That's where the New York Islanders come in. They were the first victim of the new head coach Jay Woodcroft when the Oilers defeated them 3-1. That was the start of the teams going in opposite directions over the past week, as the Oilers went 4-1-0 since then and the Islanders have gone 1-2-1, losing to the Buffalo Sabres and Montreal Canadiens in games they should win if they are to climb back into the playoff picture.
The more average the Islanders play, the slimmer the chances of them getting back into the playoff race gets, as there is still a big gap between them and the Boston Bruins. With less than a month to go until the trade deadline, they have to be thinking about selling and resetting for next season. The position the Islanders are in sets the Oilers up perfectly to make a blockbuster deal that would bring in three players to address all of their needs while the Islanders could shuffle their roster a bit and free up some space for next year along with acquiring some future assets.
Here is how a trade could look to meet all of the Oilers' needs and bring in a solid return for the Islanders.
Who the Trade Would Include
The trade between the Oilers and the Islanders would include three players from the Islanders and two plus more from the Oilers.
The Oilers would receive Semyon Varlamov to address their starting position in goal, Scott Mayfield which would give them a defensive-minded right-shot defenceman, and Ross Johnston to add some physicality and size to their fourth line. Going to the Islanders would be Mikko Koskinen to provide the Islanders with the backup they would be losing and to make up for the cap space, Tyson Barrie to give them an offensively-minded defenceman who could grow defensively under Barry Trotz, and a high pick or a prospect.
To Edmonton: Varlamov, Mayfield, Johnston
To NY Islanders: Koskinen, Barrie, First/Second Round Pick or B-level Prospect
Both Teams Would Benefit From Swapping Goaltenders
The Islanders are more than likely looking for a trade partner to send Varlamov to, as he still has one more year at $5 million left on his deal and Ilya Sorokin has taken complete control of the starting role. With a starter of his calibre and the defensive style of hockey the team plays, they don't need an expensive backup to put up solid numbers.
Another team could benefit from having a former Vezina Trophy finalist and a goaltender who has a career .916 save percentage (SV%). After coming back from injury this season, Varlamov had an adjustment period where he struggled. He has found his form since then despite a 3-9-1 record. He has elevated his SV% to .916 again this year and has a 2.57 goals-against average (GAA). It's most beneficial, especially with the Islanders' playoff chances becoming more slim by the day, for them to part ways with Varlamov for his final year when his trade value has risen as of late.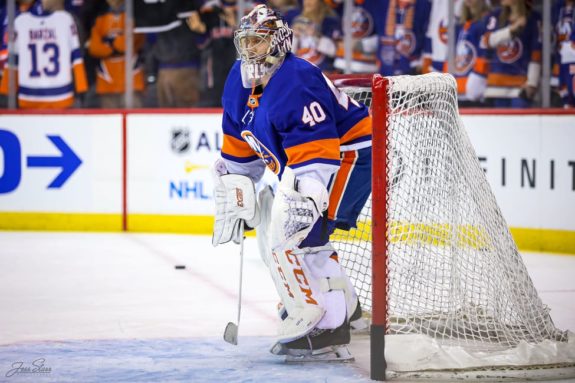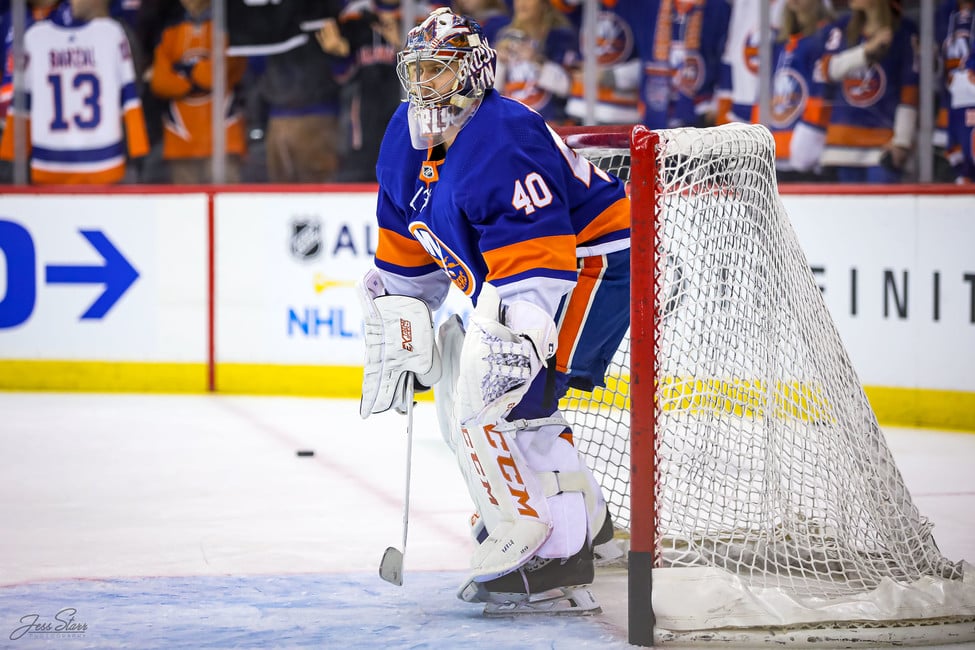 That brings us to the Oilers. There's almost no goaltender they have probably checked on this season, especially when Mike Smith was out with one of his three injuries. His health is a big concern, and if he goes down to injury again for an extended period of time and the goaltending isn't addressed, that could cost the Oilers their season. Even now with the coaching change and the improvement in goals against as a team, they are desperate to address their goaltending situation now for this year and hopefully for the future. Varlamov could be the answer for the Oilers, at least in the short term.
The contract and inconsistency of Koskinen is what makes him the goaltender that would be on the move, while the Islanders would only have to keep him around for the rest of the season. Koskinen and Varlamov make just about the same amount, and the added bonus of moving Barrie would give the Oilers the cap space needed to sign Jesse Puljujarvi, Kailer Yamamoto, and any other players that will need new deals.
For the sake of Koskinen, he could thrive under the style of hockey the Islanders play and allow him to get some solid offers in the offseason. Varlamov would have to have Edmonton on one of the 15 teams he is willing to go to while Koskinen would need the Islanders on one of his 16 teams. That's the tricky part but definitely not out of the question if Varlamov wants the chance to win and Koskinen the chance to get more help in front of him.
Defensive Aspect to the Deal
One thing is for sure, the Islanders need more offence. With the Oilers, Barrie is being paired with a young defenceman while being played on the third pairing. The Islanders would most likely be able to tap into some more stable defensive play if Barrie plays to their system, while he would have a solid defensive partner in either Zdeno Chara or Andy Greene if both of them aren't moved.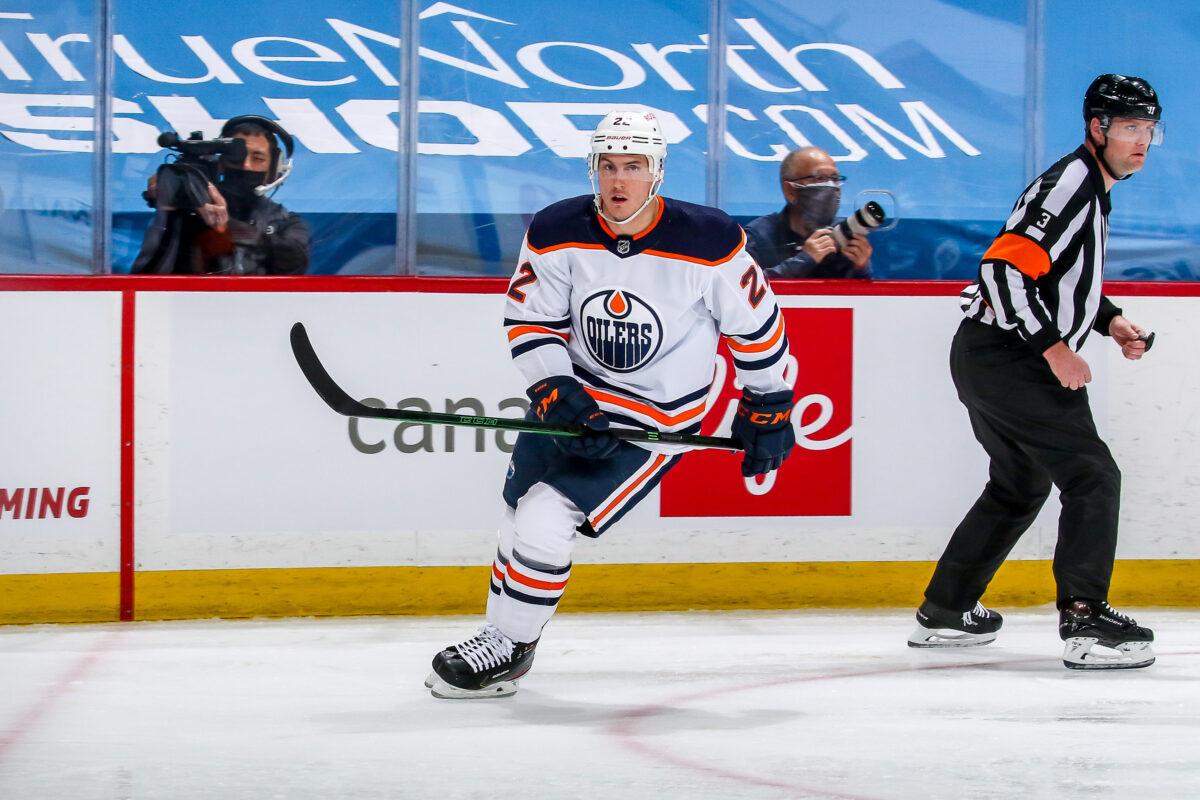 Even for the following years, Barrie provides the offence and ability to spark some of the offence for the Islanders forwards from the defensive zone with good breakout passes. He can play the power play and challenge Noah Dobson for that spot. Barrie's contract will be up by the time Dobson has fully come into his own, but it will give the team a bit of a cushion until then. While it also allows the Islanders to properly develop Bode Wilde before having him come into the NHL.
Related: Oilers Need to trade Tyson Barrie for a Shutdown Defenceman
On the other end, Mayfield is a solid third-line defenceman on the right side who can kill penalties very effectively. He is reliable defensively, starting 63.1 percent of the time in the defensive zone. He does all you could ask for in a defensive defenceman, blocking shots, being physical, and tough to play against. In 330 career games, Mayfield has 480 hits and 592 blocked shots.
Having him in the Oilers lineup would allow Evan Bouchard to be placed in a more offensive role and not relied on to kill penalties so often, as the responsibility on the right side would fall to Mayfield and Cody Ceci. The Oilers penalty kill could really use a boost, and with Kris Russell on his way out of Edmonton, Mayfield is someone who could slot into that role.
What may be the most valuable part of having Mayfield on the roster is the cap hit for what he brings to the table. For the Oilers, instead of having Barrie and Bouchard who play similar style, the team can have a player who is a completely different player but still effective for $3 million cheaper and signed through next season as well. All the NHL-ready defencemen the Oilers have play on the left side, so they will have to fill their right side externally.
The Final Piece of the Forward Unit
The Oilers recently signed Evander Kane, but have also lost Zack Kassian for an extended amount of time. Kane plays in the top-six and will remain there. But with the Oilers without Kassian, they would benefit from a depth forward with size and physicality.
The Islanders continue to have a fourth line of Cal Clutterbuck, Casey Cizikas, and Matt Martin that Trotz trusts to do the dirty work and create energy. That leaves Johnston without a spot in the lineup because he doesn't have the skill to play higher than that, so he's spent a lot of the year scratched. With Martin in the Islanders' lineup, it's redundant to have both players eating up extra cap space.
Johnston has four more years remaining on his deal at $1.1 million. It's rare to see a player be traded soon after signing an extension, but the Islanders shouldn't be afraid to listen to offers or include him in a deal. The price is doable, and the Oilers wouldn't be expecting offensive production from him like they have from some recent signings. So as long as he goes out, hits, and plays hard, they would be getting their money's worth.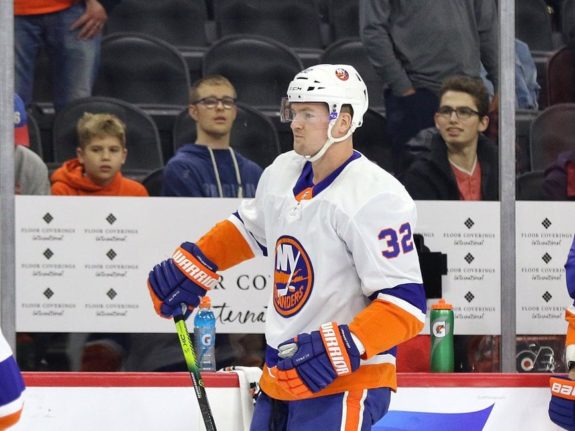 Kassian is also a likely candidate to be moved or bought out in the offseason, so Johnston would have a role when the Oilers elect to utilize him. Tyler Benson has attempted to transform his game into a type of player that is gritty and hits, but his size holds him back a bit. Johnston is 6'5, 232 lbs and is a menace out there for opponents and could be the depth addition the organization and fans would love. Take Markus Niemelainen for example, as he has very quickly become a fan favourite and a trusted defenceman with his physical style of play.
Of course, Varlamov and his one year remaining is worth more than Koskinen, while you could look at Barrie and Mayfield as a decently even trade depending on team needs. Add in Johnston on the Islanders side and the Oilers will have to give up a decently high pick or a B-level prospect to pull the deal off.
If Varlamov continues to play very well until the trade deadline, the pick could very well be in the first round, which Ken Holland would be okay with since all three players would have term. If it's not a pick, I could see Dmitri Samorikov or Raphael Lavoie heading to New York as the sweetener. Both are talented young players and both could be in the NHL as soon as next season. The prospect pool for the Islanders is a little thin, so one of these two players would help build that up.
Both teams will be under pressure to make moves at the 2022 trade deadline to help their franchises moving forward. I don't think there will be much pushback from either fanbase with the benefits that come with exchanging players and moving around money that is needed elsewhere for both the Oilers and Islanders.
---

---
Rob Couch is a THW freelance writer covering mainly the Edmonton Oilers and Philadelphia Flyers. He covers everything you need to know about fantasy hockey. He will also keep you up to date with NHL Stats News, trade talks, and daily betting guides.
You can find more of his work here.
Follow Rob on Twitter or his hockey account Stat Hockey for the latest articles, stats, and more.