On Jan. 29, 2022, Evander Kane scored in his Edmonton Oilers debut. On Jan. 28, 2023, the veteran forward scored in his most recent game with the Oilers. In between, there were many other goals off of Kane's stick, some of them the biggest of the past year in Oil Country. 
It was a tremendous 365 days for Kane, whose time in Edmonton thus far has gone better than anyone could have imagined when the Oilers signed the former San Jose Sharks winger to a one-year contract on Jan. 27, 2022, a move that drew significant criticism given his controversial past.  
Related: Oilers Signing of Kane Could Be Biggest Midseason Move In Team History 
---
Latest News & Highlights
---
Kane had recently become a free agent when his contract with the Sharks was terminated for breach of COVID-19 protocols, in what was just the latest blight on his record. In Jan. 2021, he filed for bankruptcy, listing $1.5 million in gambling debts. 
He'd also developed a reputation as a locker room cancer. In the 2021 offseason, it was reported that several Sharks players did not want Kane back on their team after he was accused by his then wife of betting on his own games. 
Kane Making Fans in Edmonton 
Fans who took issue with the signing were not only concerned that Kane could prove poisonous to team culture, but wondered whether Kane was the kind of person they wanted representing their city. During his introductory press conference on Jan. 28, 2022, the Vancouver native was asked if he had a message for those individuals. 
"I would encourage them to be open-minded; to allow me to do what I do best and get to know me on the ice, off the ice, around the rink, in the community, and see what I bring to the table," said Kane, who also played previously for the Atlanta Thrashers, Winnipeg Jets and Buffalo Sabres.  
"Every city I've been in I've always worked in that community and done what I can to help make that city and that community a better place, and it's going to be no different here in Edmonton." 
Twelve months later, Kane has proven true to his word, validating the faith of those who believed in him, and winning over many who didn't. He's quietly settled into the community, making headlines for only positive reasons, whether it be the birth of his son last May, taking 120 high school students on a holiday shopping spree, or befriending a young Edmonton girl who has battled cancer.  
Kane Has Undeniable Impact on the Ice 
Only those on the inside truly know how Kane has fit in the Oilers' locker room, but everything in public view suggests that he's been embraced by his teammates and enjoys being among Connor McDavid and Co. Their chemistry on the ice is undeniable; including both regular season and playoffs, Kane has 41 goals and 29 assists in 76 games with the Oilers. 
He's also brought to Edmonton a much-needed element of toughness. There isn't anyone else quite like the 6-foot-2, 210-pound power forward on the Oilers, who certainly missed his imposing presence while Kane was sidelined for 31 games after his left wrist was cut by a skate blade during a frightening incident during Edmonton's game against the Tampa Bay Lightning on Nov. 8.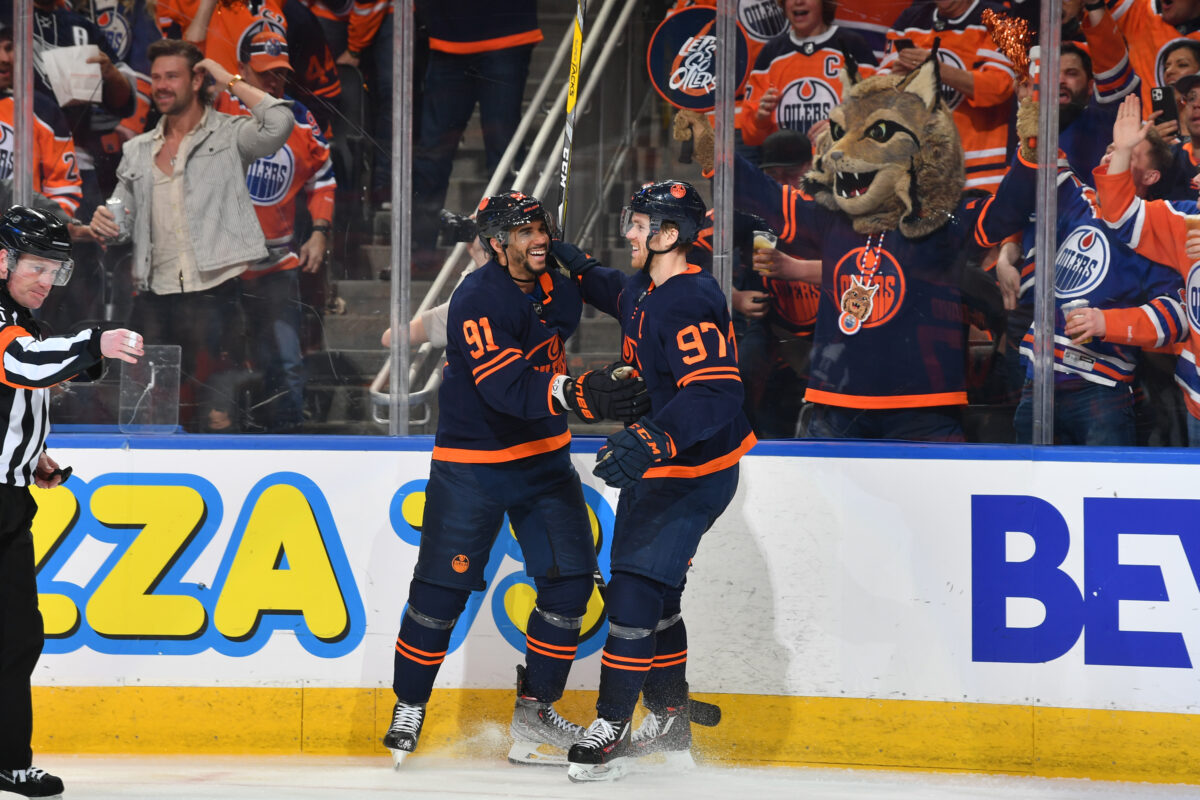 The greatest testament to the positive impact of Kane on the Oilers can be found in the only numbers that ultimately matter: wins and losses (and overtime losses). Before Kane made his Oilers debut last season, Edmonton had a 21-16-2 record (a point percentage of .564) through its first 39 games of 2021-22. For the rest of the season, the Oilers went 28-11-4 (.698) with Kane playing. 
This season, the Oilers are 12-6-0 with Kane (.667) and 16-12-4 (.563) when he's out. Add it all up, and since the beginning of the 2021-22 season, Edmonton's point percentage is .689 (a record of 40-17-4) with Kane in the lineup, significantly better than the rate of .563 (37-28-6) when he's not in uniform. 
Kane Has Found a Home in Edmonton 
Kane's initial Oilers contract, which included $750,000 in salary and $625,000 in bonuses, was a marriage of convenience. The player needed an opportunity to rehab his image and prove worthy of another major contract, while the team desperately needed a jolt to help get their season back on track after a slump of just two wins in 16 games spanning much of December and January. 
Things couldn't have gone better for either party. In only 43 regular season games, Kane scored 22 times, his seventh consecutive campaign with at least 20 goals. He then erupted for 13 goals in 15 playoff games as Edmonton made a run to the 2022 Western Conference Final.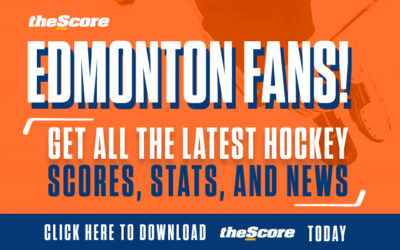 Entering the offseason, most assumed Kane would sign elsewhere; maybe with a team offering more money than the Oilers, perhaps in a splashier market than Edmonton. 
Instead, he re-signed with the Oilers to a four-year contract worth $20.5 million on July 12, explaining in a tweet that, "my decision to stay in Edmonton was because of the opportunity given to me only 7 months ago but also the chance to be apart (sic) of a championship team."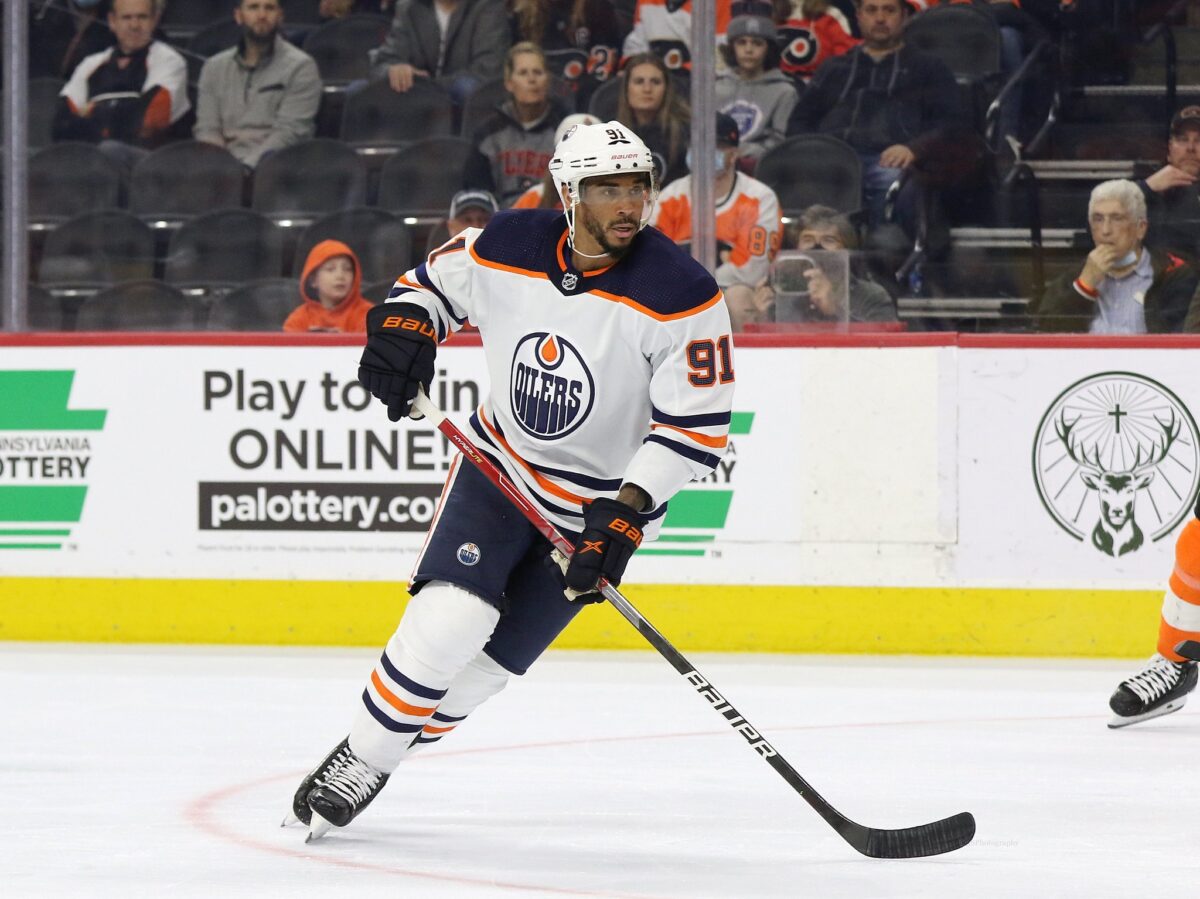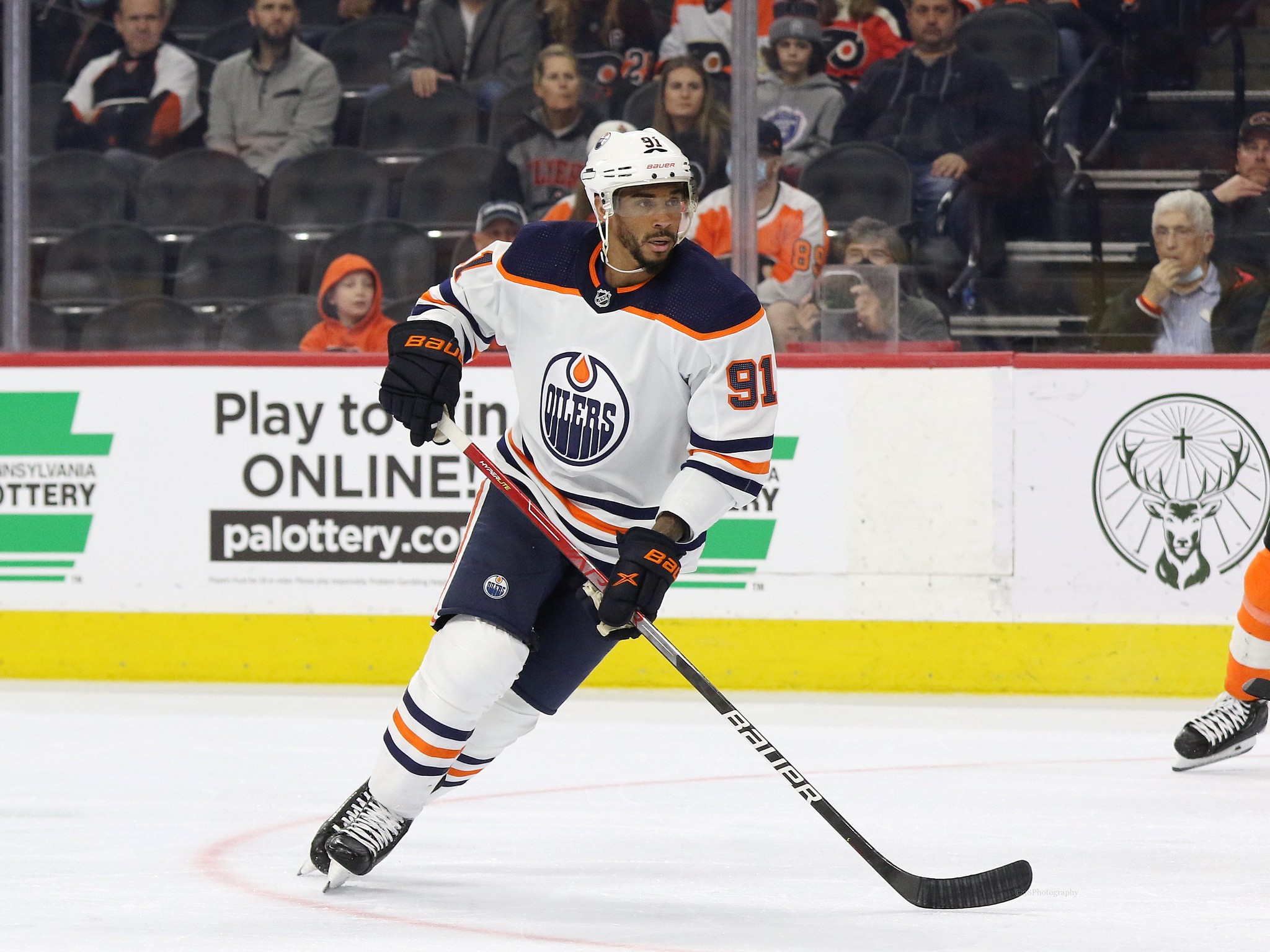 If Edmonton does become the aforementioned championship team, Kane will have played a large role. His return coincides with a hot streak for the Oilers, who are 7-0-1 in the last eight games and finally looking like a squad capable of contending for the Stanley Cup in 2023. With 32 games left on the Oilers' schedule, Edmonton is three points out of first place in the Pacific Division, while Kane is eight goals from 300 in the regular season for his career.  
It's been 36 years since Edmonton finished atop its division standings (in 1986-87, Wayne Gretzky's second-last season in Edmonton), 34 years since a player in an Oilers jersey scored career goal No. 300 (Mark Messier in 1988-89), and 33 years since Edmonton last won the Stanley Cup (1990, with Messier was captain). But there has never in Oilers' history been a redemption story quite like that of Kane. 
Edmonton returns to action following the All-Star Break on Tuesday (Feb. 7) with a road game against the Detroit Red Wings. 
---
---