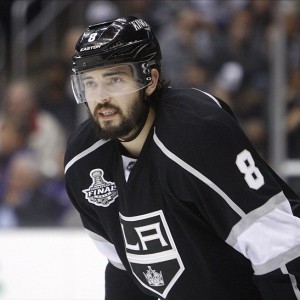 There are very few superstar, No. 1 defensemen in the NHL. An argument can be made that there may be only five or six teams in the NHL who employ one. The Oilers are not one of those teams and the word on the street is that they realize it.
With limited options, instead of trying to obtain a "for sure" blueliner, Edmonton chose to approach the 2016-17 season with a well-rounded cast of defensemen who could play the position by committee. Oscar Klefbom and Adam Larsson were slotted to start the season as the top-pairing, while Kris Russell and Andrej Sekera played the three and four slots. The bottom-pair was to be shared by Darnell Nurse, Brandon Davidson, Eric Gryba and newcomer Matthew Benning. It's a group with a lot of depth and a variety of skills.
During the season the hope was that this group would be competitive. By season's end, the real hope is that someone might separate themselves from the herd and in that pile, a true top-pairing defender will emerge.
What About Oscar Klefbom?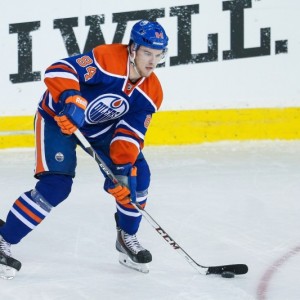 The Oilers have high hopes for Klefbom. Unfortunately, what they're learning, is that he may not be that true top-pair defender they were banking he'd be. On certain nights, he looks like a defensive stud. On other nights, he looks defeated and over-matched. It's still too early in Klefbom's career to say he isn't top-pair material, but the signs are pointing toward him being an unbelievable No. 3.
It's been said, you can't really tell what you have in a defenseman until he's played 300 games in the NHL. Klefbom is only on game 139. It means he has a lot of time and room to grow. But, because Klefbom has shown signs of struggle and inconsistency, the team is forced to consider what happens if Klefbom doesn't develop into his projected role. He's on a very friendly contract even if he doesn't emerge as a top defender, so there really isn't a reason to speculate that despite the setbacks that have sprung up this season he'd be going anywhere.
What About Adam Larsson?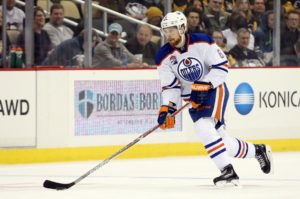 Larsson is the Oilers newest investment and the plan is to ride that investment, come hell or high water. Fortunately, this season, Larsson has had more wonderful games than stinkers and he's pretty much everything that was advertised when he came aboard.
He's not sexy and he doesn't provide much offense, but he shuts down the cycle, he's physical and he's reliable in his own end. He's an excellent complimentary piece that can chew up a ton of consistent minutes, but he's missing a couple ingredients that would make him a true defensive leader on a championship team. The biggest hurdle is his lack of offense and it doesn't appear that's going to change much.
What About Sekera and Russell?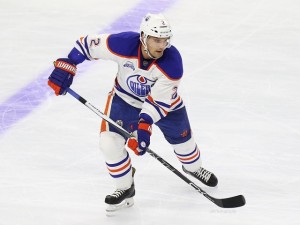 When Klefbom struggles, Sekera is filling the void, but he's not, nor has he ever been, a true No. 1 defenseman. If you employ Sekera on your left side, in a second-pairing role, you've got him slotted in a place where he can be the most effective night in and night out.
He's got some offensive upside as he currently leads the Oilers blue line in points. He's also perhaps the most reliable defenseman on the roster, yet if the Oilers are going to be a team that contends, Sekera shouldn't be leading the way.
Meanwhile, Sekera's often defensive partner Kris Russell has been a pleasant surprise and there are rumblings that the Oilers are contemplating resigning him. If they do, that direction poses a whole new set of questions. Does signing Russell limit your options and money available to sign someone else? Would the Oilers be committing to another strong defenseman, but one that clearly isn't a top-pairing player? Russell provides a ton of shot-blocking and transitional play but next to no offense. Your true No. 1 defenseman needs to chip in on both ends of the ice.
Having both Sekera and Russell on your team long-term gives the Oilers great depth, but it means that alongside Larsson and Klefbom, the Oilers have four very good, but not great defenders at your core for the next three to four years.
What About Darnell Nurse?
Right now, Darnell Nurse is nursing (pun intended) an ankle injury sustained in a game against the Winnipeg Jets. He'll be out of action for the next three months. Still, Nurse is perhaps the Oilers best shot at a true top blue.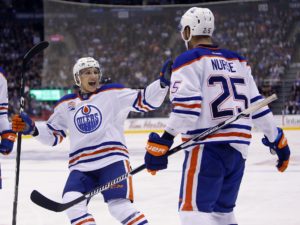 If it had to happen, in a way, short-term, Nurse's injury timing works for the Oilers. Edmonton has inputted a healthy Brandon Davidson back into the lineup and veteran defender Eric Gryba is ready to roll. That means, even with Nurse down, the Oilers have seven healthy and viable options on defense. It's a nice change from year's past when the Oilers struggled to find more than one blueliner who was a true NHL'er.
Long-term for Nurse and the Oilers, however, the timing is awful. He was really starting to make strides as a defenseman and was poised to have a break-out season. His minutes were increasing, his mistakes were decreasing and understandably, the Oilers are eager for his return. The hope is that Nurse can step right back into the lineup and contribute.
As other defensemen have been showing signs that their true potential is not in the superstar defensemen category, one of the players showing signs of life in that regard was Darnell Nurse.
Is Nurse a top-pairing defender yet? No. Plain and simple, Nurse is still a kid. To call him the next anything would be unfair. That said, the Oilers have always looked at Nurse as a big, physical, skilled, nasty future leader on defense — a defenseman in the mold of former star Chris Pronger. Will there ever be another Chris Pronger? Probably not. But, it's more than fair to assume Edmonton was secretly hoping Nurse would grow into a similar style player. This season, he was starting to show signs of doing so.
Limited Options
Looking at the current roster, it's clear to see why there is some concern that among the group, the Oilers may not have a clear-cut No. 1 defender. While this summer saw two of the biggest defensive names get traded, trades and free agency often don't leave those types of players exposed.
For now, Edmonton will likely plan to stay competitive and squeak into the playoffs. From there, the Oilers are banking on the hope that "anything can happen" is a true philosophy. Connor McDavid and a reliable Cam Talbot make this plan possible.
At the end of the season, the Oilers must hope someone on defense steps forward. If no one does, the Oilers might be looking at another off-season where a big name leaves in an effort to find that missing defensive ingredient.