In an Edmonton Oilers news and rumors update, there is a lot going on with the team as they have the best record in the NHL since the NHL Trade Deadline. Players are putting in record-setting performances, the team is on an absolute heater heading into the playoffs, and the Pacific Division lead (potentially the Western Conference regular season title) is within their reach. Led by a magical season from Connor McDavid, it feels like it's going to take a lot for another team to know the Oilers down a peg.
McDavid Hits 150 Points
Connor McDavid hit the 150-point mark on Saturday. Only six players have ever reached 150 points in a single season. He is the first player to do so since Mario Lemieux in 1995-96. He also becomes the first Oiler to accomplish the feat since Wayne Gretzky in 1986-87.
McDavid calmly hit that milestone and the feats he's achieving this season continue to impress. He also has 63 goals on the season. Head coach Jay Woodcroft noted what everyone in Edmonton gets to witness: "It's almost like living at the foot of Mount Everest. You see this spectacular mountain, the biggest in the world every day. Sometimes you become numb to how special that is. That's how I feel about Connor."
Ekholm Continues to Impress
In the same game that McDavid hit his 150th point, newly-acquired defenseman Mattias Ekholm put up one heck of a performance of his own. He posted a plus-6 in a game where the Oilers defeated the San Jose Sharks by a score of 6-1. In other words, he was a factor in every goal scored in the game. Ekholm is now +25 in 19 games. If prorated over a complete season, that's +108 in 82 games.
Related: Oilers Gelling Together as Playoffs Near
It would be hard to imagine that any player would ever keep up the pace that Ekholm has since coming to Edmonton, but it goes to show just how good he's been and how much of an impact he's made, even when he's not officially on the scoresheet. That pass he made to Zach Hyman was particularly ridiculous and is a great example of how poised he is under pressure.
Nurse Breaks His Own Single-Season High
Somewhat forgotten in Ekholm's greatness is how well Darnell Nurse has played this season, particularly since Ekholm's arrival. He reached a career-high in points with 43 this weekend and now sits tied for fifth in even-strength scoring among NHL defensemen.
Nurse is doing what he's doing without playing much on the power play and fans often forget that. They look at his salary and say he's not worth it, but it's key to remember that if he was getting the gravy points a lot of other top defensemen get on this record-breaking power play, he might not get some of the grief he does. Nurse averages less than a minute per game on the man advantage.
Will Skinner's Season Be Overlooked Outside of Edmonton?
Fans in Edmonton understand how critical Stuart Skinner has been to the Oilers' season. His numbers and play as a rookie should have him in the conversation for the Calder Trophy but Kurt Leavins of The Edmonton Journal writes that Skinner might be overlooked by voters because McDavid is set to win almost every big NHL award this season.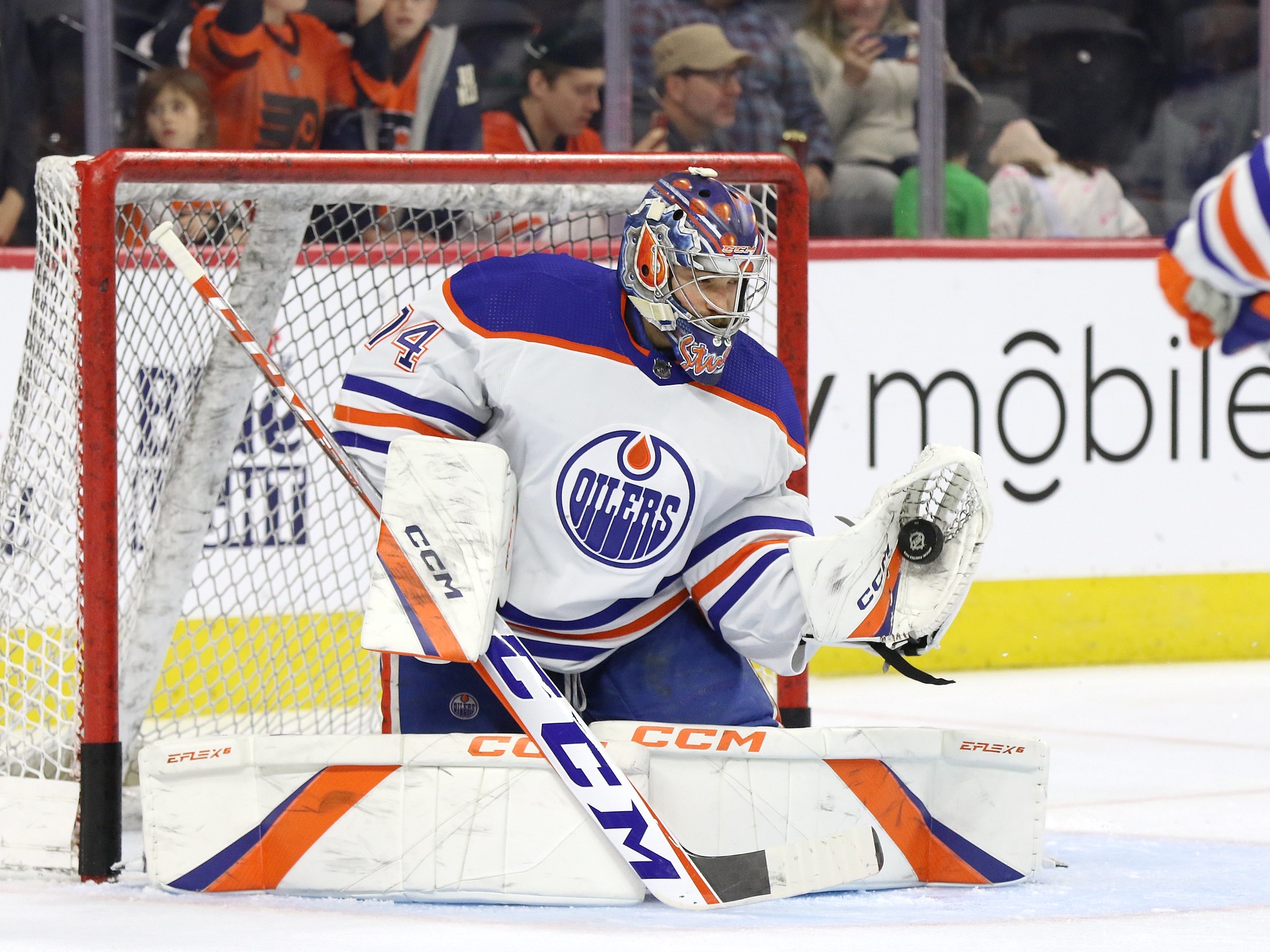 Leavins writes:
"I hear some concerns that Skinner might not get the required votes due to "Oilers fatigue." Yes, Connor McDavid is the front-runner for the Hart and Lindsay in addition to the Richard and Art Ross. The league's #2 scorer by a mile (Leon Draisaitl) barely gets mentioned in the awards conversation, it seems, and his 124 points are the 68th most all-time. He could be Top 50 by season's end. Will that lead some voters to try and "spread the rest around"?"

source – 'It is time to reward an Edmonton Oilers player with the franchise's 1st ever Calder Trophy: 9 Things' – Kurt Leavins – The Edmonton Journal – 04/09/2023
Matthew Beniers is having a good season and is likely the favorite to win, but is he actually having a better season than Skinner? That's debatable.