The 2023 NHL Entry Draft is approaching quickly, and while it is being hyped as the Connor Bedard coming-out party, there are many talented players that will be hearing their names called early in the first round. One of those players is a center for the United States National Training and Development Program (USNTDP), Will Smith. This 18-year-old is their top center, centering a line with fellow top prospects Gabe Perreault and Ryan Leonard. At 6-foot-0 and 172 pounds he has the frame upon which to build the strength necessary to compete at the highest levels of the NHL. 
Related: Canadiens' Top Pick Targets in 2023 NHL Draft
It takes only a few moments to see the undeniable skill he possesses. He is clearly in control of each shift he's on the ice and oozes skill. There are nearly no holes in his game and he is projected to become a top-line NHL center soon. Smith has been putting up eye-popping numbers this season with the USNTDP. In 72 games played, he has scored 57 goals and 146 points and is going to represent the USA at the Under-18 World Junior Championship (WJC) being hosted in Switzerland in April.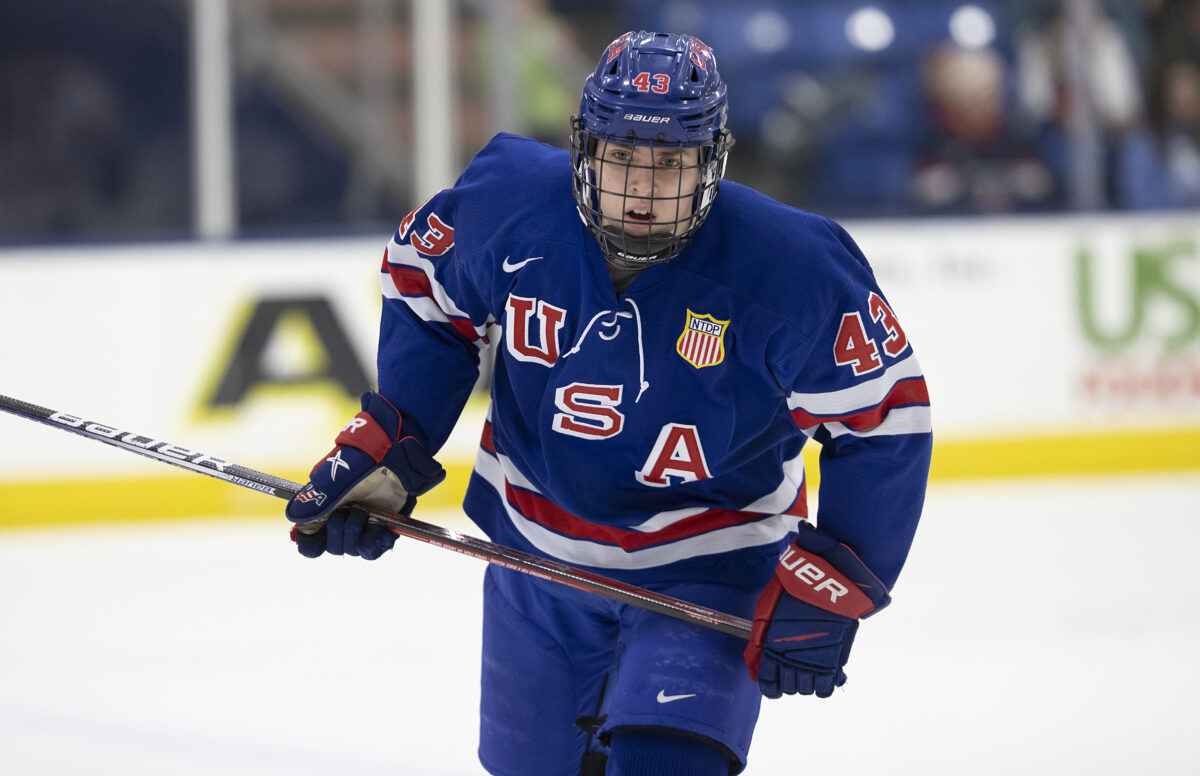 In an interview with Habs Unfiltered, he discusses his growth in youth hockey, his support system, his path to the draft, and more.
Humble Beginnings 
Like most people, Smith got an early introduction to the game of hockey, setting foot on the ice with a stick at the age of four. Like most youngsters, he loved the thrill and the speed that the sport provided.
"I think getting into it at a young age or three or four was kind of the fun of it, and how fast it is sliding around the ice. So I think that's kind of what drew me in and then as we kept going up the levels, the competitiveness and the winning the winning feel of, of these games, kind of what, what brought my love to the game." 

WIll Smith
Being raised in the suburbs of Boston, Massachusetts, had to have played a role. The influence of the game can be felt in the area. With the proximity of several nationally ranked Division 1 NCAA programs, not to mention one of the NHL's Original Six in the Boston Bruins, the entire region is well known for being hockey mad. 
"I mean, Boston is a hockey mecca. You got all the colleges BC, Northeastern, Harvard. Those are just a few of the big programs. They're in such a small radius of each other. So I think growing up to I mean, Bobby Orr, all those famous Bruins, hockey's huge in Boston and my family definitely loved it." 

WIll Smith
Like most young American boys, he played many sports growing up, but he credits baseball as the one that helped him the most in building specific skills that he translates to his game on the ice.
"Baseball, basketball. I mean, I kind of did everything growing up and then eventually chose hockey. I think definitely hand eye and kind of where I got my hands from came from baseball. I think throwing the ball off the wall or playing catch with my dad, or my mom used to throw me tennis balls in the house. So I think that's kind of what got my hand eye to where it is and kind of helps me with my hands on the ice."
Related: Will Smith – 2023 NHL Draft Prospect Profile
---
Latest News & Highlights
---
Smith's comments point to what NHL players are becoming, rounded athletes. Specializing in just one sport can help build up a specific on-ice skill, but participation in multiple sports has been shown to produce better athletes.
Canadiens Connection 
Smith has the potential to be a top-line center with a great two-way game and he's a safe bet to be a top-five or -six selection in the 2023 NHL Draft. He has the ability to play at top speed, provide a rare type of creativity with the puck, and produce offense. These skills, and where he is expected to be chosen in the upcoming draft place him directly into the path of the Montreal Canadiens. They are expected to select in that range, and they are in desperate need of the type of player Smith is projected to become. Despite being from Boston, he does have a deep connection to the Canadiens, thanks to general manager (GM) Kent Hughes, who had a significant impact on the development of the young center. 
"He (Hughes) was my youth coach for a couple of years. Now he is the general manager of the Canadiens, which is pretty funny. I think he's probably my best and favorite coach I had growing up. So I think he kind of made my game to what it is. Teaching me how to play the game the right way. And making sure I know that if you don't play the right way, then at the next level, it's just going to get harder and harder. So I think as a coach, he definitely let us know if we were doing something wrong or what we could work with. But I mean, he was great encouraging everything like that."

WIll Smith
Smith's confidence oozes out when he has the puck, as he weaves his way through traffic, creates openings and exploits them to his benefit, and to the benefit of his linemates. He enjoys watching current NHLers ply their craft and he likes to emulate some aspects of their games. He is clearly inspired by his hometown Bruins, but also recent USNTDP alumni in Auston Matthews and Jack Hughes. 
"I think in practice, I really focus on face offs. I think being a centerman, and especially going to the next level. That's a huge deal. So, I think spending time on those at practice for 15 to 20 minutes, really helps out for my game." 

WIll Smith
What's most striking isn't his undeniable talent, it is his desire to improve. Smith has a strong sense of what his strengths and weaknesses are, and the willingness to work diligently to correct them.
Path to the NHL Entry Draft 
As mentioned, this season Smith has been unstoppable production-wise. It takes more than just skill to be able to score 146 points in a season, it takes hard work, confidence and preparation, all areas that he has excelled at thus far. Yet to reach that elite level of production, takes a mental strength to remain focused, and a consistency in his approach.
"I think it starts before the game, knowing you're going into a game you want to be dominant every shift. There's going to be shifts that are going to be harder than others, where you might not have the puck as much. But I think knowing that you have next shift, then the next shift. So I think wanting to have another team be worried about your line being out there is something we take pride in."  

Will Smith
While having the skill, drive and mental strength to succeed as an individual is necessary to have success, it is Smith's ability to play as a member of a unit that helps amplify his skill set. He talks about success as a line, knowing that no individual has success in hockey without the efforts of others. This allows him to be the type of player that helps lift the play of his linemates. His current line is one to fear if you face off against them, as Smith, Perreault, and Leonard are all projected to be top 15 picks at the 2023 NHL Draft. 
"I mean, we're always talking to each other on the bench or mid game or practice. So we're always working together and making sure if we do make mistakes in practice, then we talk about it and we'll fix it. But I think we're all very competitive. So I think that helps us out and we all want each other to be successful. So that also helps." 

WIll Smith
Smith's line is poised to lead the USNTDP to a medal at the U18 WJC and will be more than worth the price of admission to any game they play. This is also what the student body at Boston College will be enjoying next season as all three have committed to becoming Eagles. It's not often fans get to see the entire top line from one of the top development programs in the world commit to an NCAA program all at the same time. 
"Well, I mean, we love playing with each other. So might as well do at the next level, too. So I think we all kind of recruited ourselves and each other so I think it worked out and now we're all going there together. I mean, that means everything to me. And the whole team." 

WIll Smith
Like most young players, Smith has dreamed of the day that his name gets called at the NHL Draft. The good news is he will not need to wait very long to hear it. The bad news? As a proud Lexington, Massachusetts kid, he may hear his name called by the Bruins arch nemesis Montreal Canadiens, but that doesn't bother him at all. In the end, any team selecting Smith will be getting themselves a high-quality player who has the talent, but more importantly the character and work ethic to succeed. 
---
---