The Montreal Canadiens are limping toward the end of the 2022-23 season as they've set records for man-games lost due to injury. This has had a direct impact on their ability to compete and has caused them to lose more games than they should have. With that said, as general manager (GM) Kent Hughes is guiding the franchise through a rebuild, it may be a blessing in disguise, especially in a draft considered to be very deep in game-breaking talent and high-quality prospects.
---
---
This draft can have a major impact on the eventual success of the rebuild. Not only the speed of the rebuild but whether they become a true Stanley Cup contender or just a competitive playoff team. Despite having a good prospect pool, there is no doubt they are lacking in game-breaking talent. Where the Canadiens draft will impact who they could select, but there is an expectation that there will be that level of skill at their disposal. There are several options, so it is time to get acquainted with some of them.
Canadiens' Draft Targets With Top Pick
Currently, the Canadiens are in 28th place, or fifth last, which gives them low odds of selecting first overall (8.5 percent) or second overall (8.8 percent). So you're telling me there's a chance? Yes, taking into consideration that 32nd overall only has a 25 percent chance, those odds don't seem so bad. However, under the current draft lottery format, there's also the possibility of falling two spots. There is a 44.2 percent chance of picking sixth overall and a 13.9 percent chance of selecting seventh. While dropping is obviously less than ideal, the most likely scenario is drafting sixth.
Though it's a no-brainer, anyone that wins first overall is going to select Connor Bedard, and at second, it's Adam Fantilli. Barring the Habs winning the draft lottery, we'll just assume, for the sake of this familiarization, that they will select sixth overall, as it is the highest probability mentioned above. At that pick, there is the option to pick for size, skill or even position, as the Habs' needs fit into all those boxes.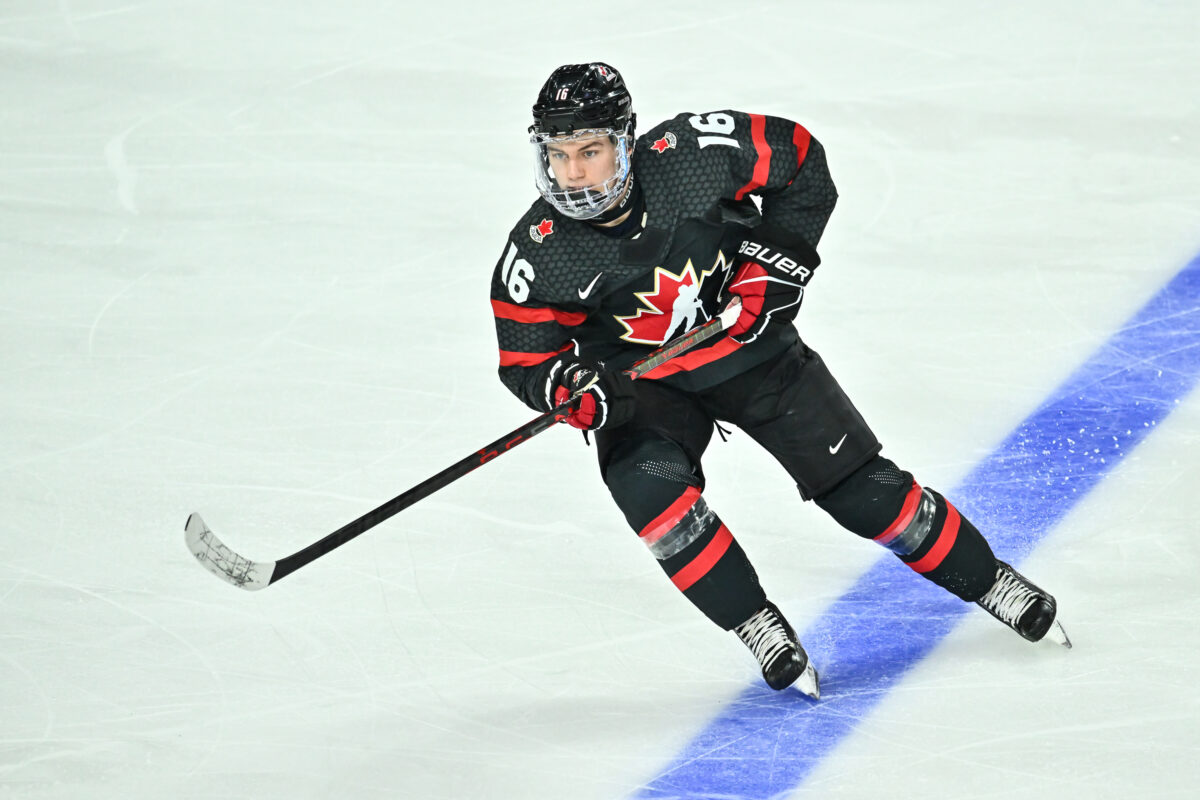 Size is a factor, but it's one that cuts both ways. When a player is smaller, you can argue that they can add some size and strength, and if they do, what more can they do in their game if they did? While there are players already seen as being physically mature, there is an argument that there will be no additional growth, and does that mean that they have already reached their full potential?
Will Smith, C, USA U18 (USDP) 
Will Smith, who is committed to Boston College for the 2023-24 season, has been a "top-10 lock" most of the season. He is one of the most dynamic forwards available in this year's draft. At 6-foot-0 and 172 pounds, he has a solid frame to build upon but will need a couple of years to do so in preparation for his NHL debut. In his 72 games playing for the United States National Training Development Programme (USNTDP) in the 2022-23 season, Smith has scored an impressive 57 goals and 146 points.
"Smith is a slick dual-threat attacker who can create offense for himself and his teammates. When Smith is cutting and dashing through the middle of the ice, he draws attention as defenders feel the need to assist their teammates who are generally a step behind and making a desperation play themselves."

–Tony Ferrari – The Hockey News 
His game flows from his skating and hockey IQ. He displays ease of movement with smooth, strong edges that allow him to play at high speeds. Offensively, he has a tremendous ability for puck control, which, when paired with his skating, allows him to not only elude defenders but to play at a high pace, fitting the style of play the Canadiens are trying to implement at the NHL level. When at his best, he takes over the offensive zone, generating openings with his tight turns and ability to play in small areas, even when outnumbered. He draws opponents in with his offensive approach, which he does to generate open lanes for his linemates to exploit. While his playmaking skills are his forte, he does have a hard and accurate shot, especially in close.
Related: Canadiens' Puzzle to Becoming Contenders Again
---
Latest News & Highlights
---
Defensively, he has work to do before being ready to play in the NHL, but his vision and work ethic allow him to play a very strong two-way game and be a threat in transition. It is his hockey IQ that brings all his impressive tools together, which allows him to not only play at a very high pace but also control the game and the pace of the game to suit his needs. A 1-2-3 punch of Smith, Nick Suzuki, and Kirby Dach would give the Canadiens the ability to ice a center line capable of controlling the game.
Colby Barlow, LW, Owen Sound Attack (OHL) 
Colby Barlow was one of a rare few to score 30 goals as an under-17 player in the Ontario Hockey League (OHL). This season, at 18 years old, his goal total jumped to 46, including a 32-point jump in his point total from 47 last season to 79 in 2022-23. At 6-foot-1, 187 pounds, he already has the size and strength to play a power-forward type game. He consistently attacks the offensive zone with speed and will either attack the puck on the forecheck or the top of the crease with aplomb.
 "He is the definition of a meat and potatoes player who can play up and down a lineup, drive the center lane and finish plays on his stick. Barlow is a garbage man of sorts, cleaning up around the net with good hands in tight."

–Tony Ferrari – The Hockey News
He provides some intangibles, such as leadership as well. He is serving as the captain for the Owen Sound Attack and has the respect of every player in that room, regardless of age, which is a testament to his terrific character. He does have weaknesses to work on, such as his ability to read and react in transition, something he will need to be successful at the NHL level.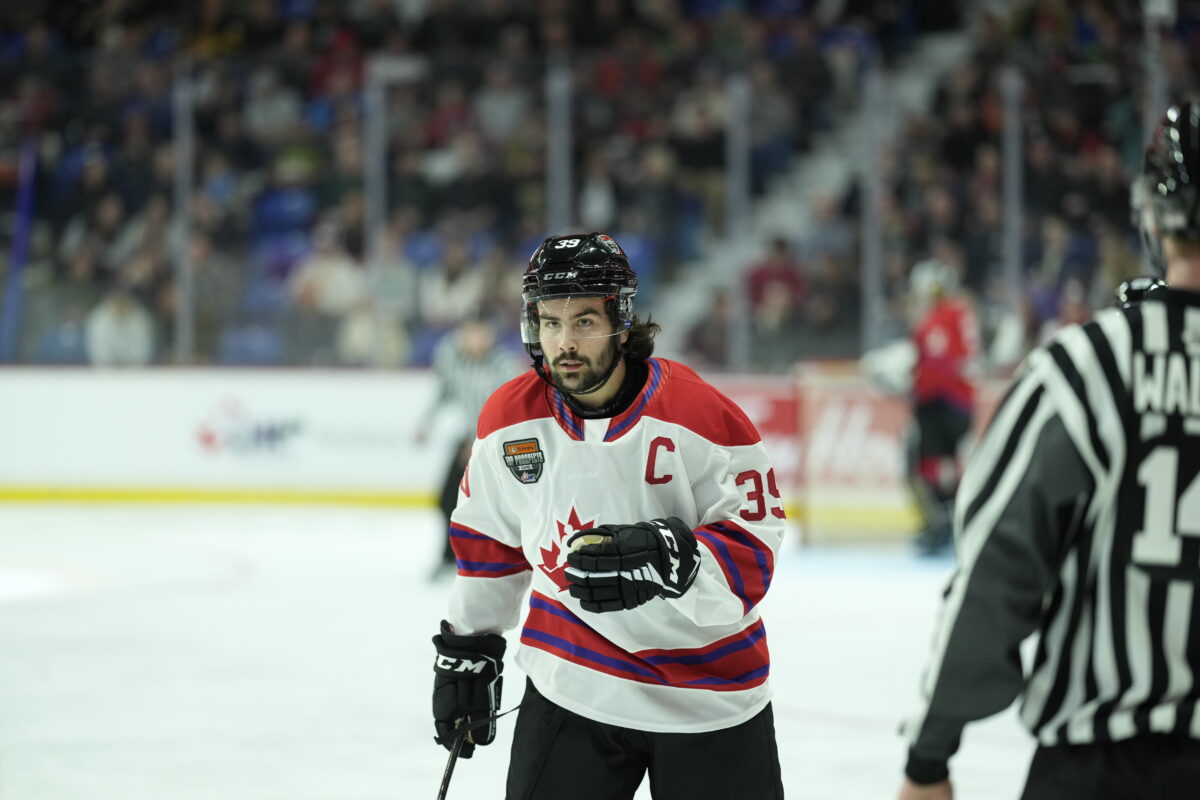 His game does translate well to the professional level, as he is able to play a two-way style in all situations. He positions himself well without the puck, using his size and speed to allow him time and space to read and react to provide effective defensive coverage. He also has great work ethic and commitment to being a 200-foot player. Barlow projects as a versatile, two-way top-six winger at the NHL level.
Eduard Sale, RW, HC Kometa Brno (Czechia)
Edward Sale is on nearly every draft list within the top 10. Public scouts have different views of where he will fall, but he is a possibility for Montreal. In league play with HC Kometa in the Czech professional league, the 18-year-old winger has seven goals and 14 points in 43 games played. However, internationally, he produces at a very high rate with peers his own age, scoring seven goals and 10 points in 11 games played at the under-18 level.
"He can make highly-skilled plays on the move and is someone who can run a power play off the flank as well. He's not going to ever run guys over, but he gives an honest effort every night."

– Corey Pronman (The Athletic, NHL Draft 2023 top Prospects: Connor Bedard, Adam Fantilli lead Corey Pronman's list, 15 Nov, 2022)
Sale is a smooth skater that displays speed and agility. He boasts excellent puck-handling skills that allow him to make plays at top speed. He uses his playmaking skills to help the transition game as well. In the offensive zone, his shot is a weapon as he has a powerful and accurate shot that he can release from nearly anywhere without warning due to his quick release. In lower levels of hockey, he is more than capable of playing a physical style. At 6-foot-1 and 168 pounds, he has a large frame and will need time to add size and strength to it. He will also need to improve his play away from the puck before he is ready to make the leap to the NHL.
David Reinbacher, D, EHC Kloten (SUI) 
Surprise! Yes, a defenseman. The Canadiens could go "off the board" and fill a desperate need for a big, mobile, puck-moving right-handed defenseman. At 6-foot-2 and 187 pounds, David Reinbacher fits that description. He has all the tools needed to become a complete two-way defender in the NHL. He has the size, skates extremely well, is very mobile, has excellent puck skills and a good shot. He has been relied upon in a top pairing role as well as a power-play weapon with EHC Kloten in Switzerland's top professional league. In 46 regular season games, he has three goals and 22 points; in three playoff games, he has one goal and two points.
"If you a find a player who can log 20-plus minutes per game… how do you not at least consider him in the top five? Reinbacher may be a minute muncher. He's already playing 20 minutes a night in a fast pro league, and he's more than holding his own."

–Grant McCagg, Recrutes
His performance with Team Austria allowed him to get noticed. Despite playing on a weaker team, Austria was eventually relegated, but his own play was a highlight for his national team. He played the entire tournament while very ill. He needed to take fluids between games to recover, with him confirming to me during the tournament, saying, "I wasn't 100%. I'm feeling sick again, but I try to give my best and try to help my team". For a young player, that level of commitment is impressive. Though considering he likes to model his game with that of Nashville Predators captain Roman Josi, it isn't surprising.
With these players and others, such as Ryan Leonard, Oliver Moore, Zach Benson and more, there is a target-rich environment. The Canadiens are well positioned to select an impact player that fits any number of needs, the largest being elite skill. In the end, barring a draft lottery win by the Canadiens, they will be drafting a young player that will need time before joining the NHL club. But with patience, the player selected should be able to become a cornerstone of the franchise's core group.