The Florida Panthers are looking to sneak into a playoff spot in the Eastern Conference. They currently have the first wild-card spot over the New York Islanders with the Pittsburgh Penguins a point behind them both. But, the team cannot take it easy with only two weeks left in their regular season.
Regardless of how the season turns out, there's one certainty: their most valuable player is new forward Matthew Tkachuk.
Tkachuk "Tka-ching!"
In his first season as a Panther, he's already stamped himself into the history books. He became the second 100-point player in franchise history with 103 (39 goals, 64 assists), and he's accomplished this feat in back-to-back seasons with his first coming last season with the Calgary Flames with 104 points (42 goals, 62 assists) through 82 games. As of now, his point total is fourth in the NHL this season with Boston Bruins forward David Pastrnak and he ranks seventh in the NHL in assists.
Tkachuk has also had 32 multi-point games, which is the most in a single season by a Panther all-time, the most by a Panther in his first season with the team, and the most among active players in their first season with a new team. His inaugural season in South Florida has been so good, he's even in the Hart Trophy conversation.
Tkachuk Trade Paying Dividends
Tkachuk got his bags packed to South Florida due to a blockbuster trade that sent forward Jonathan Huberdeau and defenseman MacKenzie Weegar to the Flames last offseason. So far, it's worked out extremely well for Florida, but not so much for Calgary.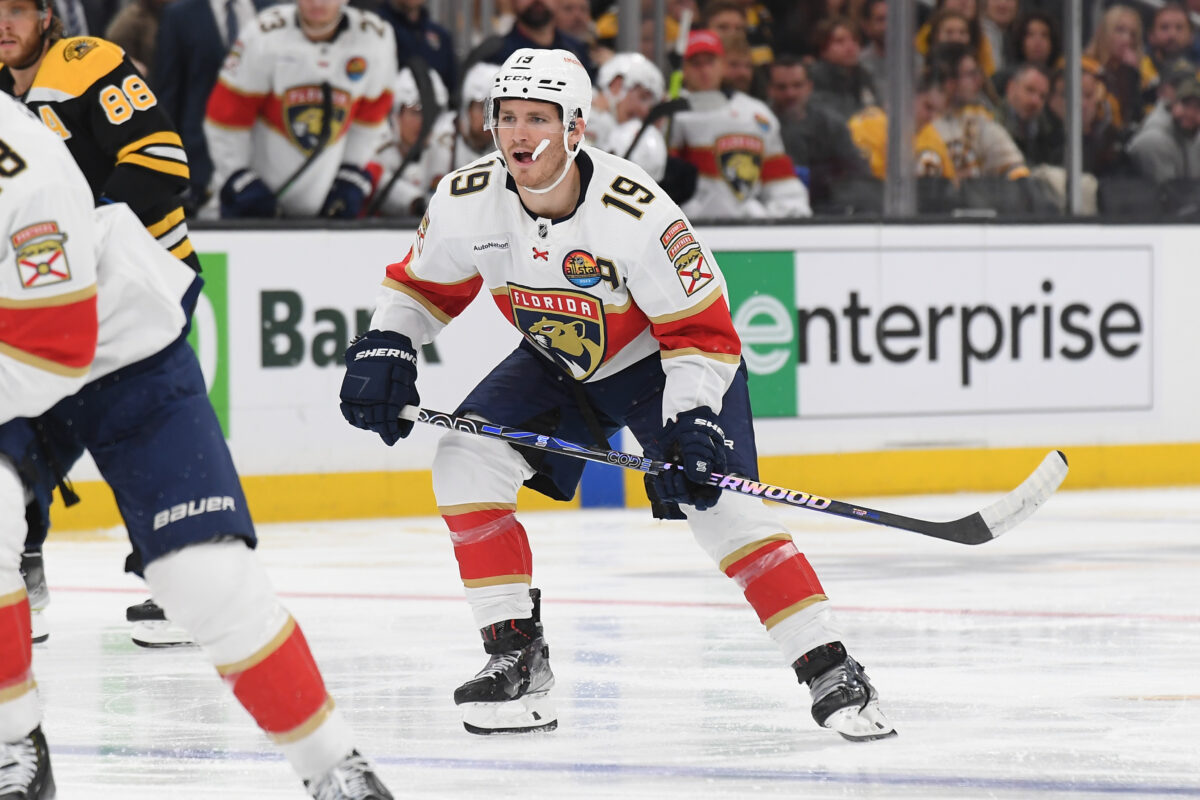 Compared to Tkachuk's offense, Huberdeau only has 52 points (15 goals, 37 assists), which is nearly half of what Tkachuk has in the same number of games (74). Furthermore, it's a massive drop off from his incredible 115-point performance last season (30 goals, 85 assists) when he ranked first in the league in assists and was tied for second in the league in points with Johnny Gaudreau (now with the Columbus Blue Jackets).
Related: Pavel Bure – A Tribute to the Russian Rocket
---
Latest News & Highlights
---
The trade seemed drastic at first, but it's clear general manager Bill Zito knew what he was doing and was willing to cut ties with a franchise face in Huberdeau.
Tkachuk's Meshed Perfectly with the Cats
Tkachuk has become an important piece on the Panthers' roster.
I believe truly you're seeing the maturation of a guy. He's feisty, and he's an energy guy, and I think he leads with that. Now, he's developed into a player that is good on both sides of the puck and clearly an elite point-producer. He has an understanding that we need him on the ice.

Panthers head coach Paul Maurice on Matthew Tkachuk
His teammates also love having him around.
He's taken control. He's a born leader. Everything he does on the ice shows that. He's taken the game by the reins and is doing all the right things, saying all the right things and backing it up. It's amazing to watch. He's so good at what he does.

Panthers Defenseman Aaron Ekblad on Matthew Tkachuk
What he's done for his squad is nothing short of remarkable.
What's Next for Tkachuk?
There's still some time left in the regular season with only four games remaining. The only thing that's on everyone's mind is getting to the playoffs. And the margin for error is not large by any means.
Related: 7 Things About Roberto Luongo
Even with what's going on now, the Panthers have a gem on their hands in Tkachuk, and they have him for at least eight more seasons. At 25 years old, he is just hitting his prime. The "Tkachuky Cheese" party in Broward County will hopefully be a long and fun one.