Montreal Canadiens 2022 fourth-round pick Cedrick Guindon sat down with Habs Unfiltered, an affiliate of The Hockey Writers, in an interview. During his sit down, he was candid about his experiences from the NHL Entry Draft, to development camp, main training camp, player development coaches and his season so far with the Ontario Hockey League (OHL) Owen Sound Attack. 
As soon as the young man spoke, it was clear that he is intelligent and well-spoken. Throughout the interview, he was very modest, giving credit for much of his success to his teammates and coaches. Yet watching the young man play, it is obvious he has done everything he must to improve. Guindon already plays a gritty style that can translate well to the professional game. He relies on his work ethic, especially on the forecheck and ability to play in traffic. He is capable of that because of his excellent skating abilities and transitional play. He provided insight into what it will take for him to earn an entry-level contract (ELC) from the Canadiens.
Canadiens Development Approach 
Guindon used his time at the Canadiens' training camp to learn what he needed to do for his own game but also to experience what it would take to play at the NHL level.  
Related: Canadiens' Martin St. Louis Building a Winning Culture 
---
Latest News & Highlights
---
There has been a focus on the new approach that the Canadiens are taking toward player development and how they apply it. Guindon shared his impressions of the camp, yet what impressed him most was how the coaching staff in Montreal ran practices and why they chose to focus on the drills they were doing in those on-ice sessions.
Montreal is such a young team. They kind of put everyone in the same boat. That's kind of the vibe I got. And they just focused on getting the best out of everyone at training camp. (Canadiens head coach) Marty St. Louis was big on practicing small area games that really reflected to game situations. Just working on areas that you'll see often in games. So whether it was three-on-three downlow drills or odd man rushes, all that stuff really focused on the things that will get you prepared for the next level. Just the speed, the passes, the execution, all that stuff. And obviously scoring right, that's something that everyone wants to do, but there's also so many other things that you can do to help you score goals. So I think they kind of took that approach with us.

Cedrick Guindon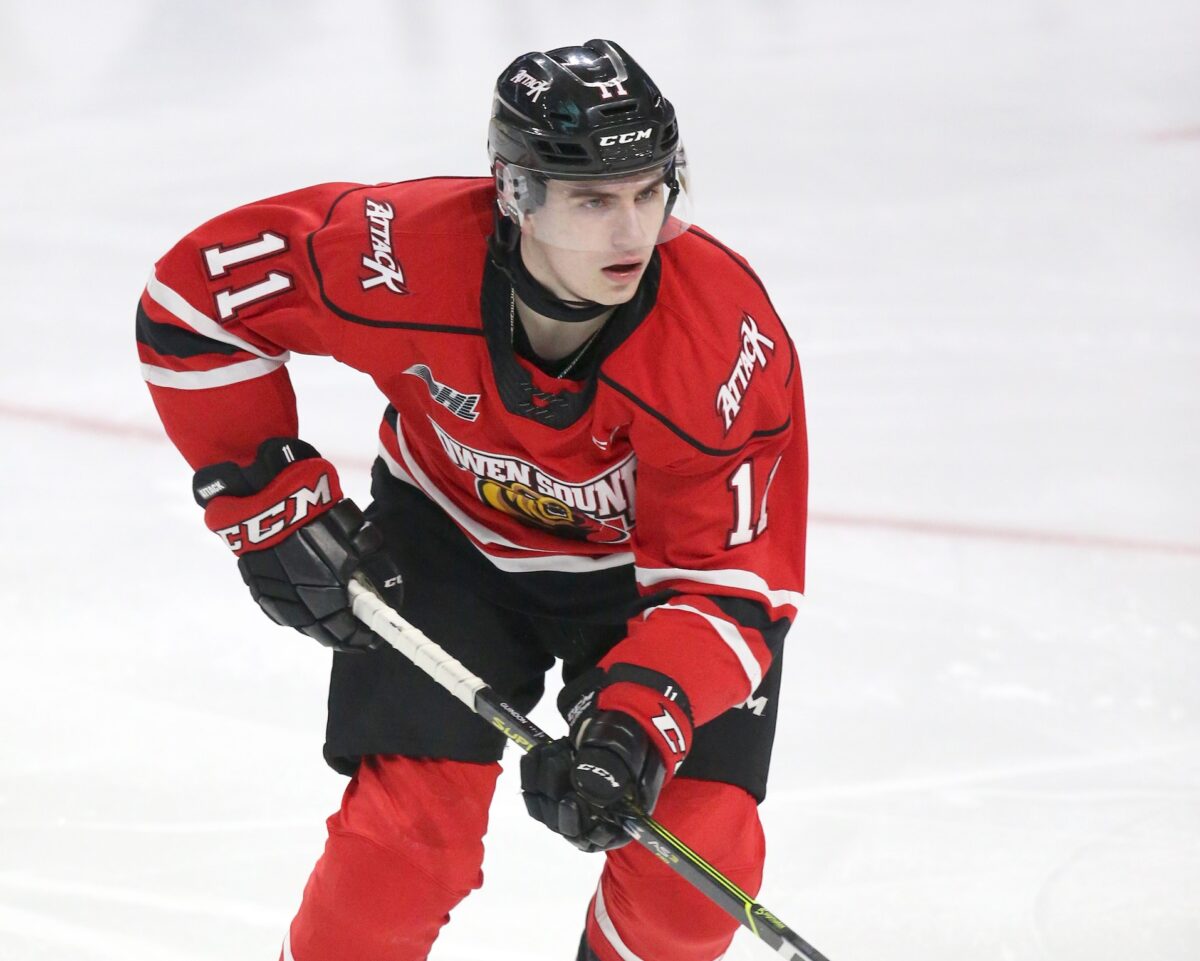 The approach St. Louis has been applauded for all season is on display in this 18-year-old center's point of view. St. Louis is a coach willing to teach everyone, and provide real in-game value. With the Canadiens' approach to development becoming more hands-on, it must start at the top, with the head coach. He sets the tone for the organization but does so in a way that amplifies the style of play the organization wants to build upon. The hands-on approach is not just for the NHL coaching staff, it is also the approach taken by the player development staff.
Every time I usually play against either Kitchener, Peterborough, Ottawa, any other team that has other Habs prospects on, they'll (Rob Ramage and Francois Bouillion) come and watch us play and we'll talk after the game and go over the game and how the season is going. And they'll reach out either by phone call or by text too. So it's really nice to have that type of support and feedback from those guys as they're obviously really knowledgeable about the game, so they give us pointers, support us too. So it's really nice to have them around. 

Cedrick Guindon
Guindon has also been the beneficiary of those sessions, and the evolution of his game throughout the season demonstrates the effectiveness of a cooperative style of coaching. A player will accept constructive criticism if they know the coach is doing so for their benefit and know why they are making adjustments.
OHL Success Within Reach 
Last season, Guindon scored 30 goals, this season, his scoring pace has dropped only slightly, having scored 20 so far. Sacrificing personal totals for improved outcomes for his team, his 50th OHL goal was a game-winning goal. However, his point totals have increased. This comes from embracing his playmaking skills. His shot remains a threat, one that he is aware has helped him open up space to build on his playmaking skills. It is also a work in progress. 
My assist total this year compared to last year kind of just shows how I'm able to display my playmaking abilities way more this year. I think part of it is a lot of people saw me as a shooter. In minor hockey, I always saw myself as a playmaker and obviously, scoring 30 goals in my first (OHL) year kind of projected me as a shooter type of guy. But I always knew deep down that I was a pass first type. And this year, I think I'm just more comfortable to kind of use my deceptiveness to make passes instead of shooting. I think it's a good tool to have, but sometimes I think I got to use my shot a bit more to score a bit more too. So, kind of goes both ways. 

Cedrick Guindon
Owen Sound has clinched an OHL playoff spot; last season they were a young and inexperienced team that took the Flint Firebirds to seven games before bowing out. Playoff experience is one aspect of player development. It can be argued it is a significant one. With that experience last season, Guindon saw what it takes to win when the pressure is highest, and the loss has motivated him and his teammates to take the next step. Owen Sound, as a team, has set goals and Guindon learning how he can contribute to team success can only serve to help him at the next level. He shared how they plan to prepare themselves to improve upon that outcome this season. 
We kind of just treated those games (last 10 games of the season) as playoff games and just to see where we're at right now as a team. Just look what's ahead of us and do the best we can do out of what we're at right now. And that's just for us going past the first round too. Just doing any improvement from last year is success for us. So I think getting past the first round and see where we're at after that. 

Cedrick Guindon
Finally, Guindon comes off as a team-first type of person. He does not seem too concerned about his statistics, remaining focused on helping his team win games and to get as far as they can in the OHL playoffs. He is an example of the quality of player the Habs' scouting staff is focused on and fans should become more familiar with him as he is the type of player that can succeed and reach his NHL goals.
---
---