In an Edmonton Oilers news and rumors update, the team is set to begin their Western Conference Semi-Final series against the Vegas Golden Knights. There is some talk about how healthy the Oilers are, as there are reports about injuries that may be plaguing their opponents. Vincent Desharnais talked about the leadership of Mattias Ekholm, Stuart Skinner learned a valuable lesson from Round 1 and the NHL made a change to the schedule.
Injuries for Both Teams a Factor Going into the Series?
Evander Kane was not a part of the morning skate for the Oilers, but that isn't to suggest he won't play as it was a theme throughout the first round. He's clearly dealing with a nagging issue, but it's not been enough to keep him out of games. Likely resting for the actual game, Dylan Holloway took his spot at practice. Otherwise, the lines appeared to remain the same from the last game. There is a chance he misses the game, but head coach Jay Woodcroft's comments "…we'll see what comes out the gate tonight" could also be a smokescreen.
---
Latest News & Highlights
---
Meanwhile, Golden Knights head coach Bruce Cassidy relayed to the media that Brayden McNabb, Shea Theodore, and Mark Stone are all good to go, even though there were also questions about their health. Video footage of Stone nursing what looked like an issue and leaving practice early made its way around social media. Cassidy shot down any speculation he might not play, saying, "They're in."
Desharnais Praises Mattias Ekholm
Following a bad game where he was benched for the remainder of the game, Vincent Desharnais credited defenseman Mattias Ekholm for calming the inexperienced rookie down between periods and keeping his focus on being the best player he can be for the Oilers.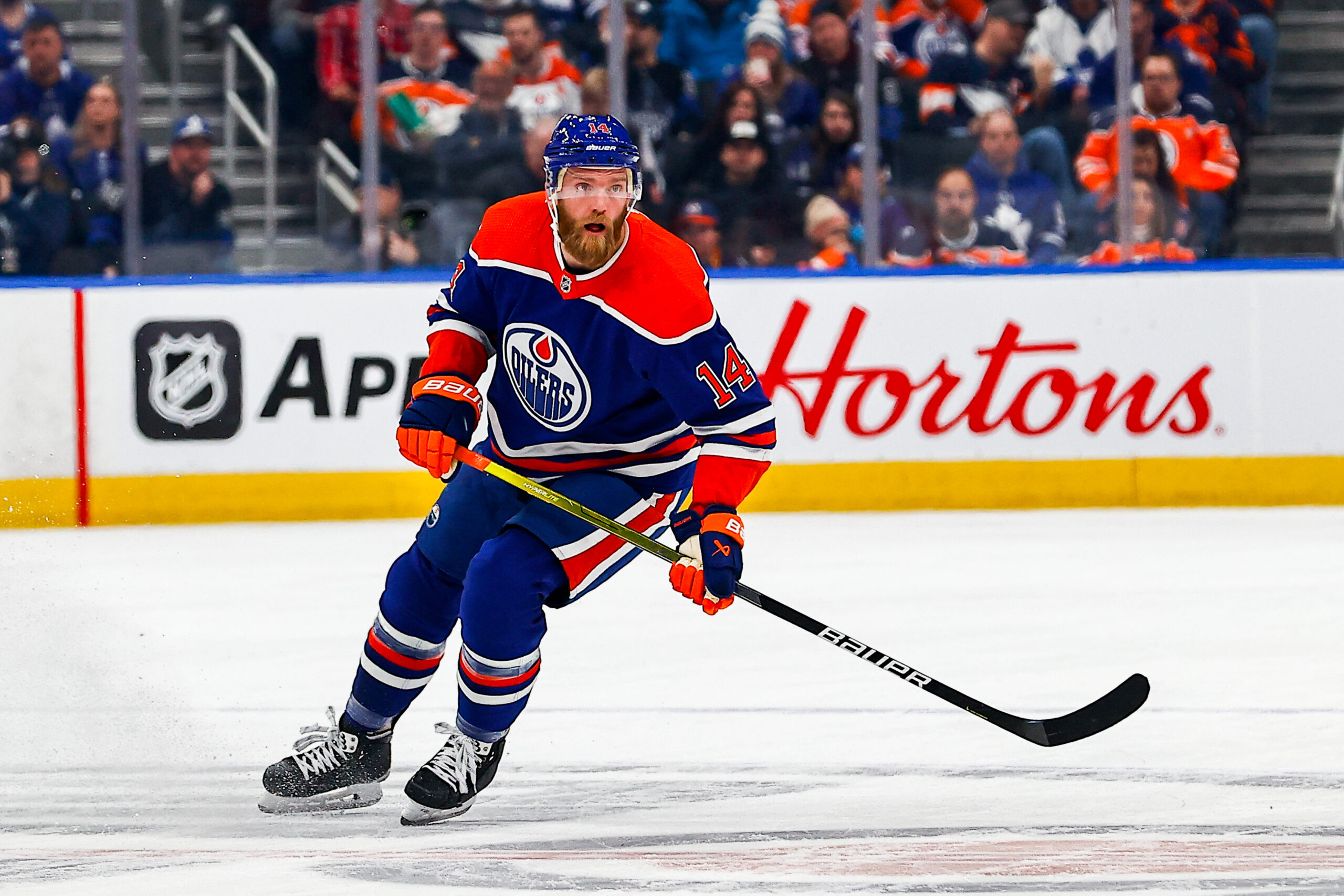 Ekholm missed a couple of assignments and got burned badly by Victor Arvidsson in Game 4. He came back with a strong performance in the following game but didn't see the ice again in that particular contest. He noted that Ekholm was largely responsible for not letting Desharnais' emotions get away from him. He explained:
I was really pissed off and between periods I kind of let my emotions go. I let my frustration come on and I found a room by myself, and I just let it out. Then I had a few shifts in the second and that was it for me. I just focused on the team winning, it was awesome to win and then after the game [Mattias] Ekholm came to see me and to talk and he just told me, 'I've been there before, it's okay. Who cares? It's over, and it's behind you. You're a good player, you deserve to play the game, you deserve to play good minutes and we'll need you. We'll need you to win this series. So let it go and move forward and just get better. Just get better.'
Related: Edmonton Oilers' Goalie Stuart Skinner is Built for Playoff Success
Ekholm continues to prove how valuable a pickup he was for the Oilers and that even off the ice, he's exactly what this team needed to keep everyone from getting caught up in the emotional swings that come in any particular playoff series.
Is Stuart Skinner More Prepared to Elevate His Game?
Noting he learned a lot about himself in the series against the Los Angeles Kings, goaltender Stuart Skinner was solid, but not perfect for the Oilers. His numbers weren't job-off-the-page fantastic, but he was steady enough to give the Oilers a chance to win every game — with the exception of Game 4, where he was pulled ahead of the second period. He noted he took valuable lessons from that experience.
Skinner is playing in his first-ever playoff series and his inexperience is a factor for the Oilers. He said it takes a lot to remain level-headed when you have a bad period or have a broken stick and it winds up in a game-tying goal that could have been a huge setback.
Game 2 Moved By The NHL
Originally scheduled to take place on Friday, Game 2 was moved to Saturday by the NHL. Moving the game from Friday to Saturday isn't sitting well with a number of fans because it threw a major wrench into their travel plans. While some might argue that it's a weekend and what's wrong with spending another day in Vegas on a weekend, Sunday flights are traditionally much more expensive than any other day. Some will wait until Monday and that could interfere with the Oilers' first home game.
The domino effect in Edmonton has also affected fans of the heavy metal band Disturbed. That concert at Rogers Place in Edmonton was originally scheduled for Wednesday, May 10, 2023, and has now been moved to Thursday, May 11, 2023.
---
---