The goaltending position is one that underwent an overhaul last season.
The Oilers started 2013-14 with the duo of Devan Dubnyk and Jason LaBarbera between the pipes in the hopes that it would be the time that Dubnyk finally took the next step and became a legitimate NHL starter.
Things went sideways fast and the team's goaltending over the first half can only be described as disastrous. Signed was the goaltending enigma that is Ilya Bryzgalov in an attempt to regain some respectability.
The tandem of Bryz and Dubnyk was a slight improvement, although the play of Dubnyk still left a lot to be desired.
Fast forward to the end of last season and training camp this year and the pairing is different yet again. Ben Scrivens and Viktor Fasth will comprise the goaltending to start the year as they did to finish last season.
Both acquired around trade deadline time, they bring a sense of hope that it will no longer be goaltending as a reason for losing games. However, while they are still potentially the best the team has had in years, they certainly don't come without their share of questions.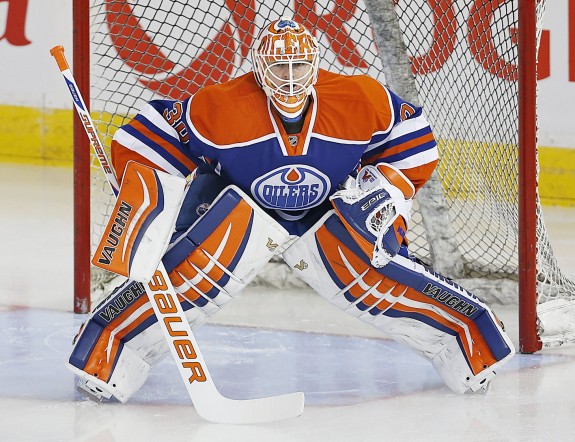 Is Ben Scrivens a No. 1 Goaltender
The biggest question for the position and for the team in general is whether Scrivens can handle the load of being the top netminder for a team.
He has yet to play starter's minutes and last year was his first full NHL season.
It was a tale of two seasons really, his time in Los Angeles and then with the Oilers. He put up impressive numbers in LA with a 1.97 GAA and .931 save percentage. His numbers with the Oilers were less gaudy with a 3.01 GAA and .916 save percentage.
Many will look at the disparity and say that he was unable to handle the load playing every day. However one must look at the two situations. Playing for the Kings behind arguably the NHL's best team defence is a dream of any goaltender. Subsequently coming to the Oilers and routinely facing 40+ shots is no walk in the park.
Starting fresh from training camp with the Oilers and hopefully playing behind an improved defence will also improve Scrivens numbers. His combined totals on the year should be accurate to expect from him in a full season (2.55GAA, .921 save percentage).
It's also realistic to expect Scrivens to make adjustments and prepare in camp differently knowing he is going in with a chance to take the No.1 role and run with it. He's a smart guy, a Cornell grad, and will figure it out.
He will give the Oilers a chance every night and keep them in most games. However, fans should temper their enthusiasm and not get ahead of themselves. They should not expect him to turn into the league's elite overnight. The Oilers acquired what will be a solid NHL starter, however to expect anything more would be getting your hopes up too high.
Fasth Provides Insurance and Competition
Most of the talk has been around how Scrivens will fare in his first full year as a starter, but the wild card in that situation is the other deadline acquisition in Viktor Fasth.
Fasth could conceivably take many of Scrivens minutes if he outperforms him early in the season. Fasth has an impressive international resume and did put up a 2.18GAA and .921 save percentage in 2012-13 in his first season with the Anaheim Ducks.
One thing GM Craig MacTavish has done is put his team in a far better position to start the year than before. There are two goaltenders that are in the prime of their career, both hungry to prove they are No.1 NHL goaltenders.
Scrivens may have the upper hand initially to grab top spot, but Fasth will also be given a look. It's a far better scenario than last season and one with far better upside.
Brossoit Provides Hope for Future
Another deal that MacTavish made last season that has flown under the radar was acquiring Laurent Brossoit from the Calgary Flames in the Ladislav Smid deal.
Prior to that deal, the Oilers had very little in the way of goaltending prospects in their system. Prior to last season, arguably the two top prospects were Olivier Roy and Tyler Bunz. Both had decorated junior careers, but neither were projected to be impact NHLers.
MacTavish acquired Brossoit, who has much more upside, and with Scrivens and Fasth there is no need to rush him. There is still not a lot of depth in the system, but at least there is someone worth keeping an eye on.
Here's a look at the Oilers goaltending depth chart.
Ben Scrivens
Viktor Fasth
Richard Bachman
Laurent Brossoit
Frans Tuohimaa
Ty Rimmer
Tyler Bunz
Niko Hoivinen
With Scrivens and Fasth entrenched as the NHL tandem and more than likely Bachman and Brossoit will comprise the AHL duo, the goaltending picture appears quite clear for the Oilers to start 2014-15. Tuohimaa, Rimmer and Bunz were all recently released from the Oilers main camp and will battle for top spot in the ECHL.
It may not be championship calibre goaltending just yet, but goaltending is another area that MacTavish has improved where there is a significant upgrade both in talent and depth.
If Scrivens and Fasth can form an effective pair it will go a long way in silencing the critics as well as keeping MacTavish his job longer.
_____________________________________________________
Follow Carl on twitter @CarlTHW or Google+ for more articles