In each of the last two years, the Edmonton Oilers have had their season essentially come to an end before the start of December. In the highly competitive Western Conference, going 8-17-2 and 6-13-4 over the first two months of your schedule isn't going to work and it ultimately cost the previous head coach his job.
Connor McDavid, Oilers fall short in opener against Blues. http://t.co/TVRwZq2qQ4 pic.twitter.com/hrcCnqDJXK

— HockeyNightInCanada (@hockeynight) October 9, 2015
With Edmonton opening their 2015-16 schedule on a three-game road trip and playing five of the first six away from Rexall Place, it will be crucial for this group to get off to a better start this time around. While there was no shame in dropping last night's curtain-raiser by a score of 3-1 to the St. Louis Blues, this team could have their hands full trying to earn points over the next 10 days.
With a home date against the Blues sandwiched in between road games against the Nashville Predators, Dallas Stars, Calgary Flames and Vancouver Canucks,  Edmonton could be hard-pressed to walk away with anything close to a .500 record. However, if the plan is for this team to stay in the playoff picture for the better part of the season, head coach Todd McLellan is going to have to find a way to have his players come together quickly.
Taking Care Of Business On Home-Ice
Some will certainly look at the Oilers' schedule later in the month and see seven of eight on home ice and think success in the opening two weeks of the season as being not nearly as important. Problem being, those seven games will be against the Detroit Red Wings, Washington Capitals, Los Angeles Kings, Montreal Canadiens, Flames, Philadelphia Flyers and Pittsburgh Penguins. While that may not be the toughest of home stands, mixed in with a quick trip to Minnesota to face the Wild, it is far from an easy stretch of games.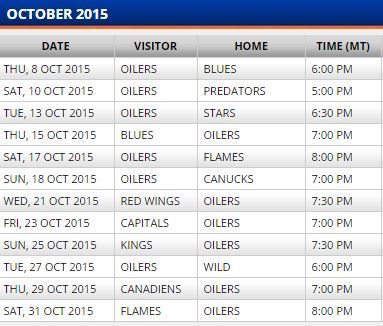 The Oilers have been among the league's worst home teams for the better part of the past decade. So expecting them to come in and take care of business in their own backyard would appear to be more than a little presumptuous. Should they be unable to hold their own during this current trip, Edmonton would need to play some lights-out hockey over at Rexall Place in order to keep from potentially facing an all too familiar scenario.
With that said, there were some promising signs to take away from last night's loss to the Blues. Cam Talbot was very good in between the pipes, stopping 28 of the 30 shots fired his way and making a number of timely saves throughout the evening. Be it a crucial point-blank stoning of Vladimir Tarasenko in the opening minute of play or big second period stops off David Backes and Kevin Shattenkirk to keep the game tied, the 28-year old was simply outstanding.
[Related Article: Oilers: Anders Nilsson And Seizing An Opportunity]
From start to finish, the former New York Rangers backup netminder looked calm and ready to go. His rebound control was spot on from the first shot he faced and it continued all night long. After watching Oilers' goaltenders do the complete opposite in recent years, it was a breath of fresh air. Though let us not forget, we are talking about one game.

While Edmonton was far from perfect, the repeated colossal breakdowns in their own end of the rink were few and far between. Did they get caught puck-watching on Robby Fabbri's eventual game-winner midway through the third? You bet they did, but Rome was not built in a day and St. Louis deserves full marks for what was one heck of a nice goal.  To their credit, the Oilers did not wilt after falling behind and managed to stay in it until the very end.
[Related Article: Power Play Will Be Key To Oilers Season]
Connor McDavid was fairly quiet over the first two periods but started to show what we should expect from the 2015 first overall pick in the third period. While he did not hit the scoresheet, the 18-year-old phenom showed it will be just  a matter of time before he busts out with a big night. On the downside, the Oilers offence didn't create much of anything and rarely tested goalie Brian Elliott with any of the 24 shots they fired his way.