For Oilers fans who love to see where young prospects and rookies end up, the Oilers' Rookie Camp — happening between September 16-19 — is one of the most exciting times of the summer. On Wednesday, the Edmonton Oilers posted their rosters for the 2016 Rookie Camp and 2016 Young Stars Classic Tournament being held in Penticton, BC.
As was announced on the Oilers website, the camp will open on Thursday, September 15 with medicals and fitness testing at the beautiful Rogers Place before the Oilers Rookies travel to equally beautiful Penticton to take part in the Young Stars Classic. Their camp will end with an exhibition game between the Oilers Rookies and the University of Alberta Golden Bears.
While consistently a showcase of young talent, the exciting part of this particular camp is the talent that will be showcased. Several key draftees and signings are among the group and Oilers prospects include winger Jesse Puljujarvi, winger Tyler Benson, offensive D-man Ethan Bear and collegiate free agent signings Drake Caggiula and defenceman Matthew Benning.
Oilers 2016 Young Stars Classic schedule
GAME    TEAMS                              DATE       TIME (PT)
Game 1   Vancouver vs. Edmonton   Sept. 16     7:30 pm
Game 2   Calgary vs. Edmonton        Sept. 17     7:00 pm
Game 3   Edmonton vs. Winnipeg    Sept. 19    11:30 am
If you plan to attend or live stream the action, below are a few names worthy of keeping an eye on.
Drake Caggiula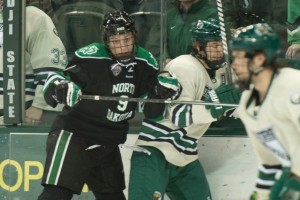 Caggiula is a forward I've spent a lot of time looking at because he should see significant, top-line time with the AHL team in Bakersfield and get a real opportunity with the Oilers this season. He's a highly-skilled, fast and gritty forward who can play in a bottom-six role and potentially compliment a top-six scoring line once he transitions to the speed of the NHL.
Caggiula should be one of the AHL Condor's highest point producers and when he gets a promotion (which he likely will this season), he has the skill and determination to play, and keep, a role in a variety of places on the Oilers' roster. To say the least, he's an extremely versatile forward.
His speed and determination to play hard every shift will be what has Oilers fans most excited. He's been labelled a guy that sometimes plays "too hard" and while that's not always the perfect recipe for success, it's also not something the Oilers have been able to brag about the past few seasons. Caggiula is the kind of player who could become an immediate fan favorite in Edmonton.
Ethan Bear
There are two defensemen at camp to really watch for: One is newly acquired college starter Matthew Benning and the other is late-round selection Ethan Bear. Bear has been nothing short of a late-draft stud, coming on strong in his latest seasons with the WHL Seattle Thunderbirds. He's a hard-shooting, right-handed defenseman that could be the powerplay quarterback the Oilers have been coveting.
Bear was drafted by the Oilers in the fifth round of the 2015 draft, at #124 overall. He was chosen for his defensive awareness, and while he was steadily progressing in that regard, 2015-16 was a coming-out party of sorts for Bear on offense as he potted 19 goals and 46 assists for 65 points in 69 games. He had 24 more points than the closest Thunderbird defenseman and he was clearly a go-to player for his team.
In the playoffs, Bear continued his hot hand and finished with 22 points in 18 games, good for second on the team and not just among defensemen. He's not likely to make the jump this season, but it will be worth noting his progress and how quickly he may turn his exponential growth into an opportunity with the Oilers.
Ethan Bear took giant steps this year, but still has long way go go. #Oilershttps://t.co/I3Rn0VK11v pic.twitter.com/vyFjKOooux

— David Staples (@dstaples) August 20, 2016
Matthew Benning
Benning is the latest Oilers experiment with college free agents and Edmonton is looking to have more success than their last attempt. Justin Schultz was signed by the Oilers in the summer of 2012 and given the keys to the defensive kingdom. It didn't work out and he was eventually traded to the Pittsburgh Penguins. Benning is a right-handed defender, helping to fill a hole the Oilers have in their system and on the big club.
Benning has already battled through a number of development years that a player like Bear has not. Benning has played a year in the USHL and three years in NCAA with the Northeaster University Huskies. Over three seasons and 110 GP, he posted 9 goals and 47 assists for 56 points. He's not the offensive dynamo Bear appears to be but is a solid defender who plays a rugged, physical style.
Benning doesn't project to be a top-four defender, but he could get some time this season in the NHL as the Oilers are short on bonafide right-handed blueliners and his depth, if ready, could come in handy.
Related: Four Oiler Prospects to Watch
Benning signs with hometown #Oilers after three-year @NCAAIceHockey stint at Northeastern: https://t.co/dR0mjAgeLV pic.twitter.com/4DzuFWNQKo

— Edmonton Oilers (@EdmontonOilers) August 28, 2016
Jesse Puljujarvi
To the disappointment of many, Puljujarvi missed skating at orientation camp as the Oilers took caution with what was a slight, nagging injury. That said, he'll be suiting up for the Oilers at the Rookie Camp and, more than any other prospect, will have the most eyes on him. He's by all accounts NHL ready and fans, media and pretty much everyone else will want to see what the Oilers were gifted with fourth-overall in this year's NHL Entry Draft.
For those asking. Jesse Puljujarvi, who did not skate in the Oilers Summer Orientation Camp, will play at Penticton Youngstars Tournament

— Bob Stauffer (@Bob_Stauffer) September 13, 2016
In an earlier piece on Puljujarvi:
Puljujarvi may be good enough now to start the 2016-17 season with the Oilers. But, so as not to gift the rookie a spot he hasn't earned, Edmonton has added some depth in the form of right-winger Kris Versteeg. If Puljujarvi has a strong showing at Rookie Camp and an even stronger pre-season, it will be tough to keep him off of the opening night roster. At the very least, unless Puljujarvi falters, he should get his ten-game window to see what he can do before burning a year of his entry-level contract.
Other Notables
Drafted in the second-round at #32 overall was skilled but often injured forward Tyler Benson. It will be interesting to see if he's fully healthy and ready to go. He was one of the most touted draft selections before last year but his stock fell due to health concerns. 
Tyler Benson cheered for the Edmonton Oilers as a kid. Now, he IS an Edmonton Oiler. Watch: https://t.co/75djJCN5bc pic.twitter.com/1jTT3E9TXO

— Sportsnet (@Sportsnet) June 25, 2016
College signing Patrick Russell 23, is a right-shooting winger who had 41 points in 41 games for St. Cloud and 66 in 81 games over his two years there. He's 6'1", 205 pounds, and works hard in the corners and provides a net presence. He was a depth signing and likely won't see any time with the Oilers this coming season, but he offers intangibles that make him an interesting player to watch.
Best Group Since McDavid?
Clearly, this isn't the most talented group ever invited to a Rookie Camp as that distinction will probably always belong to the collection of prospects led by Connor McDavid.  This camp, however, could be one of the most well-rounded in years. With so much depth, potentially NHL ready players and talent that could see some time with the Oilers, it's a roster the Oilers are excited about. Puljujarvi, of course, stands the best chance of seeing action in the NHL right away, but there's a legitimate shot for a lot of players on this camp roster.