Oh, how the mighty have fallen.
The Canucks are five years removed from their crushing Game 7 defeat at the hands of the Boston Bruins. In reality, it feels like that loss happened 50 years ago.
Even the 2014-15 campaign, where the Canucks surprised everyone by finishing eighth overall in the NHL, seems like a mirage. The 2015-16 season resembled what most hockey minds thought about the Canucks. The gap between the veterans and the young players was too significant. The Canucks didn't have enough young players in their prime and relied too much on the Sedin twins for offense.
Related: Vancouver Canucks 2016-17 Fantasy Outlook
Injuries played their part as well, as the Canucks were seventh in the league with 336 games lost to injury. Nathan Currier of mangameslost.com argues that the Canucks had the most quality-adjusted man games lost to injury. Alex Edler and Brandon Sutter both missed significant time, with Sutter only suiting up for 20 games. This forced Bo Horvat into the second-line centre role, where he struggled for the first half of the season. Say what you want about Edler, but the Canucks mediocre defence was porous without him in the lineup.
Team Record 31-38-13 (6th in Pacific Division)
Offseason Moves
Key Roster Additions:
(Winslow Townson-USA TODAY Sports)

Loui Eriksson

Erik Gudbranson
Philip Larsen
Anton Rodin
Key Roster Losses:
Dan Hamhuis
Jared McCann
Chris Higgins
Brandon Prust
Yannick Weber
Linden Vey
Matt Bartkowski
Key Organizational Changes:
The Canucks lost their longest tenured member behind the bench when assistant coach Glen Gulutzan agreed to be the next head coach of the Calgary Flames. His replacement is the NHL's all-time ironman leader Doug Jarvis. Jarvis joined the Bruins as an assistant coach in 2010 and won a Stanley Cup with Jim Benning and company the following year. Jarvis is a six-time Stanley Cup champion as both a player and a coach. He should bring some of the veteran leadership to a young and impressionable roster.
The Canucks also promoted Dan Cloutier to goaltending coach. Cloutier has been a goaltending consultant with the Canucks since 2012. He has worked with Canucks prospects and did a spectacular job in bringing Jacob Markstrom's game back to respectability. Former goaltending coach Rollie Melanson becomes the goaltending coach for player development, essentially switching roles with Cloutier. Melanson will spend time with Canucks' top goaltending prospect Thatcher Demko in Utica.
Forwards:
Projected Lines
| | | |
| --- | --- | --- |
| LW | C | RW |
| Daniel Sedin | Henrik Sedin | Loui Eriksson |
| Sven Baertschi | Bo Horvat | Jake Virtanen |
| Anton Rodin | Brandon Sutter | Jannik Hansen |
| Emerson Etem | Markus Granlund | Derek Dorsett |
Extras: Alex Burrows, Brendan Gaunce
Loui Eriksson
The hockey universe had mixed reactions about the signing of Eriksson. On the bright side, the Canucks landed one of the top free agents available and someone who can seamlessly slot into the top line alongside the Sedins. Eriksson just had his most productive season since 2011-12, and he hit the 30-goal mark for the first time since 2008-2009. He is one of the most underrated players in the game and has the chance to put up career numbers while playing with the Sedins.
Eriksson and the Sedins are going to be so much fun. #Canucks #SoUnderrated

— Greg Wyshynski (@wyshynski) September 8, 2016
However, many believed it made no sense for the Canucks to sign Eriksson. You can look at the Canucks roster in a couple of different ways, but this is clearly a team in transition. Committing $36 million over six years to a 31-year-old player goes against that logic. If one thing is for sure, Canucks hockey will be more entertaining with Eriksson on the ice.
Brandon Sutter
Sutter was one of the Canucks' key acquisitions during the 2015 offseason. Unfortunately for Sutter and the Canucks, he spent the majority of the season watching games from the press box.
The Canucks need Sutter to return to form. The Canucks were the worst faceoff team in the league last season, and Sutter will surely help in that department. The Canucks are starved for secondary scoring, but having a healthy Sutter should help. If Sutter could score 20 goals, it would ease the Canucks secondary scoring suspicions. Sutter's five goals in 20 games last season is prorated to 20 goals over a full season, so the potential is there.
Jake Virtanen
There is a debate over whether Virtanen will start the season in the NHL or the AHL. Sure, the AHL is a possibility, but let's be realistic, nobody in the Canucks organization wants that to happen.
Just finished lengthy conversation with Jake Virtanen. He's super motivated to prove/show he belongs here. Also tipping scale at 223lbs.

— JAY JANOWER (@JayJanower) September 7, 2016
Virtanen remains an x-factor. The Canucks are lacking physicality up front, and they have nobody of Virtanen's mould to fill a roster spot. If Virtanen takes his game to another level and plays with that tenacity that is already engraved in his game, it would be a huge bonus for the Canucks.
While Virtanen realizes camp is forth coming and lines are not yet determined, he would welcome rekindling chemistry with Baertschi/Horvat

— Jon Abbott (@HockeyAbbs) September 7, 2016
After his World Junior debacle last year, Virtanen stepped up and was a useful player in the Canucks lineup. He wasn't a goal-scoring machine, but he was sound defensively and kept up with the pace of the game. He showed some chemistry in last year's preseason with Sven Baertschi and Horvat, and could slot into that second line role with a strong preseason. Baertschi and Horvat are set for breakout seasons, and having Virtanen ride shotgun with them isn't a bad thing for the Canucks.
Defence:
Projected Pairings
| | |
| --- | --- |
| LD | RD |
| Alex Edler | Chris Tanev |
| Ben Hutton | Erik Gudbranson |
| Nikita Tryamkin | Philip Larsen |
Extras: Luca Sbisa
Ben Hutton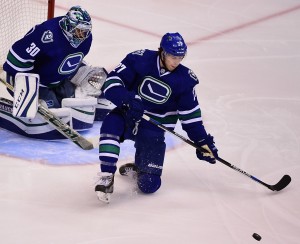 Hands up if you thought we would be talking about Hutton's fantastic rookie season at this time last year.
In what was arguably the biggest surprise from the Canucks preseason last year, Hutton stepped up and forced the Canucks to keep him on the roster. It led to them losing Frank Corrado on waivers to the Maple Leafs, in which Benning was widely criticised for.
Hutton went on to finish third in rookie defencemen scoring, although his play tailed off towards the end of the season. That wasn't a surprise since Hutton never played more than 39 games in a season at The University of Maine. He also played with a smattering of partners last year and often played on his off side. This year, he should slot into the top four playing on his left side with the newly acquired Erik Gudbranson
Erik Gudbranson
Benning surprised everyone with a rare late-May trade when he shipped Jared McCann and two draft picks for Gudbranson and a fifth round pick. Regardless of who won the trade, Gudbranson will step into a top four role alongside Hutton. This should give Hutton more of a green light offensively, while Gudbranson will be counted on to be a physical stay-at-home defender.
Erik Gudbranson: I play with my heart on my sleeve, and with passion https://t.co/cljfZrjvl1

— TSN Radio Vancouver (@TSN1040) September 9, 2016
There is a ton of pressure for Gudbranson going into this season. The Canucks gave up the second-most high-danger scoring chances last season, and Gudbranson will be counted on to help prevent those chances. He has traditionally played well with an offensive defenceman, such as Brian Campbell, so pairing him with Hutton initially makes sense. He also gives the Canucks some size on the back end, something they were desperately missing last year.
Nikita Tryamkin
Speaking of size, the hulking Tryamkin has a strong chance of making the Canucks roster out of training camp. He played reasonably well in 13 games last season considering his circumstances. With a clause in his contract that states he can go back to Russia if he doesn't make the Canucks out of camp, it's more than likely Tryamkin stays with the Canucks.
Related: What Can We Expect from Nikita Tryamkin?
With a strong camp, Tryamkin could not only make the roster, but he could slot into the top six. Tryamkin can reasonably be pencilled in as the seventh defenceman due to his lack of experience, but it could come down to a training camp battle between Tryamkin, Sbisa, and Pedan for a roster spot. Based on their deployment last year, Tryamkin already has a leg up on Pedan. Tryamkin remains one of the Canucks most intriguing players, and all eyes will be on him when camp begins.
Goaltending: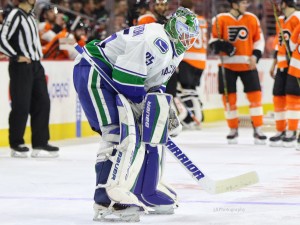 Ryan Miller and Jacob Markstrom were the least of the Canucks' worries last season. They probably don't get enough credit for the job they did in front of such a porous Canucks defence.
Look for an even split in the crease between Miller and Markstrom going into this season. Miller started 51 games last year compared to Markstrom's 30, but that will inevitably change. With this being Miller's last year under contract, the Canucks should be grooming Markstrom to take over the Canucks crease. He appears ready, but how will he handle an addition 10-15 starts?
The Canucks would be thrilled if Markstrom thrived with extra playing time. After signing a three-year extension in the offseason, Markstrom should be motivated to prove that he deserves to be the starting goaltender. However, if the Canucks are fighting for a playoff position, it will likely come down to which goaltender is the hottest, with every point being valuable.
Breakout Player: Sven Baertschi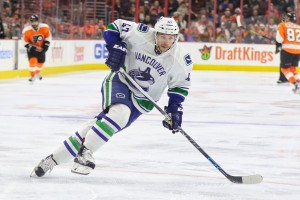 Baertschi was an afterthought at the beginning of last season. He struggled, was demoted to the fourth line and was relegated to the press box.
After putting up only two goals and seven points in his first 27 games, Baertschi began to figure it out. It started just before Christmas when he busted a 12 game pointless drought and scored in three straight games. Instead of playing on the perimeter, Baertschi was rewarded by driving to the net. He would go on to register 13 goals and 21 points over his final 42 games. Those totals are prorated to 25 goals and 41 points over 82 games. The Canucks would undoubtedly be ecstatic if Baertschi can hit 25 goals.
He developed some chemistry with Horvat, and together they give the Canucks hope for secondary scoring heading into the season. Baertschi was solid defensively before he found the scoresheet, and increased his value over the second half of the season. If he can hit the 20-goal plateau, it would answer some questions about the Canucks secondary scoring issues.
Player with Most to Prove: Anton Rodin
Rodin is the ultimate x-factor for the Canucks since no one really knows what to expect from the reigning SHL MVP. The Canucks 2009 second-round pick is still recovering from a gruesome injury from January, where an errant skate cut a tendon in his knee, effectively ending his season.
Although his season was shortened by the injury, he still finished with the best points-per-game total in the SHL. The main concern now rests with Rodin's conditioning. He recently claimed he was pain-free and playing catch-up after not skating for most of the summer.
So what can we reasonably expect from Rodin? The Canucks signed him to provide offence. If he is healthy and makes the team, a 15-goal total should be within his reach. If he is successful, he could play anywhere within the top three lines. However, it will be tough to get a sense of where Rodin is at until training camp begins.
First Players in the 'Call-Up' Line:
In terms of forwards, the Canucks don't have anybody enticing to call up if an injury occurs. With top prospect Brock Boeser committed to the NCAA for another season, we won't see him until at least 2017-18.  If Brendan Gaunce doesn't make the team, he will be the Canucks first call-up, since he can play either left wing or centre in the bottom six. Other than that, 25-year-old Alex Grenier is an option, although he wasn't overly impressive during a call-up last season. Offseason depth signings Michael Chaput and Borna Rendulic are also options.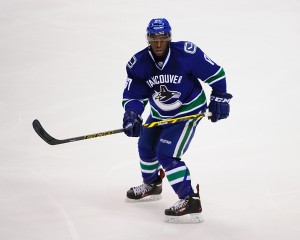 Things get more interesting on the defensive part of the depth chart. Although first round pick Olli Juolevi will likely return to junior for the year, the Canucks have some solid recall choices on the farm. Jordan Subban and Troy Stetcher are the most intriguing options. Although Subban is undersized, he had a successful first season in the AHL. Stetcher was signed by the Canucks following North Dakota's NCAA hockey championship victory, and has already impressed Canucks brass during the Canucks development camp in July.
The other Canuck to consider is Andrey Pedan. The Canucks have a tough choice to make on Pedan, who slots in as the Canucks eighth or ninth defenceman along with Alex Biega. Pedan is waiver-eligible, and could be picked up by another team if Benning tries to send him down. If he does begin the season in Utica, he will be the Canucks top recall option on defence.
Season Outlook:
There will be more trials and tribulations for the Canucks this season. No one expects much from the Canucks other than a bottom-five finish. That's a consequence of trading away draft picks while competing for the Stanley Cup, and not drafting well with the picks that they've had. The drafting has improved since 2013, but the Canucks are short of players in their mid-20's who can contribute. As of September 5th, the Canucks have the second-lowest odds of winning the Stanley Cup.
With this still being September, it's possible to envision a scenario where things go right for the Canucks. Their top line remains elite and their goaltending is solid. If Gudbranson comes as advertised and Hutton takes a step forward, their defence will improve. Secondary scoring remains a big question mark, but those questions will dissipate if a combination of Sutter, Baertschi, Horvat, Hansen, Virtanen and Rodin become middle-six contributors. The first four players mentioned all have 20-goal potential, but how many of them will get there? Emerson Etem also remains a wild card and seems to be forgotten among Canucks forwards.
While the Canucks improved in the offseason, so did their competition. There will likely be more parity in the Western Conference this year, since the likes of Los Angeles, Chicago, St. Louis and Anaheim did little to improve their teams. It's hard to envision the Canucks finishing any higher than sixth in their division, possibly ahead of Edmonton or Arizona. They are one Sedin injury away from being pegged as a front-runner in the Nolan Patrick sweepstakes. If everything goes according to plan, the Canucks could push for a wild card spot. However, there are too many variables to predict the Canucks making the playoffs. Finishing in the basement of their division is a more likely scenario.
2016-17 Record Prediction: 32-35-15 (7th in Pacific Division)
Make sure to comment below to discuss your thoughts on the 2016-17 Vancouver Canucks, or take to the THW Twitter feed or Facebook page to check out the wide range of NHL coverage from The Hockey Writers