This is a team in the midst of an identity crisis.
From the outside looking in, the Canucks appear to be going nowhere fast and destined to be a bottom-feeder again this season. But the powers that be in Vancouver are refusing to rebuild and continue to sell playoff hope. The best- yet worst-case scenario seems like a middle-of-the-pack, also-ran finish.
Vancouver's team success, or lack thereof, won't necessarily matter to your fantasy squad. As long as the go-to guys keep producing for the Canucks, the results will be irrelevant. That's the nice thing about fantasy sports — good players are worth owning even if they are on bad teams, especially with more and more leagues moving away from the arbitrary plus-minus stat.
For rotisserie and other points-based pools, there are plenty of Canucks worth rostering for the upcoming season. The immediate future of the franchise might not be bright, but that could actually bode well for Vancouver players being available later than usual in fantasy drafts.
Top Performers: Henrik Sedin, C and Daniel Sedin, LW
This is no secret. These two are a package deal and have been Vancouver's top performers for the better part of a decade — ever since the West Coast Express line faded from prominence.
The Sedins could both surpass 1,000 career regular season points in 2016-17 — Henrik needs only 30 and Daniel is 58 shy of that milestone. Barring injury, that should be doable for the twins and will no doubt be a target.
Henrik and Daniel — or Daniel and Henrik — are consistent point-producers at even-strength and on the power play. They will once again be counted on to carry this team offensively and that means ample opportunity but also tougher matchups.
Daniel is the scorer and Henrik the set-up man by nature, which is something to keep in mind if goals and assists are separate categories and you're looking to address a need by drafting or acquiring a Sedin. Some leagues award more points for goals than assists, which increases Daniel's value. Goals tend to be harder to come by, but Henrik probably has the higher total point potential between the two. Albeit ever so slightly, with Henrik's career average of 0.83 points-per-game just ahead of Daniel's 0.82 — yes, they are that close, astonishingly close considering both have played more than 1,100 games to date.
In fact, they both averaged 0.74 points-per-game last season, though Daniel had the superior stat-line with 61 points, including 28 goals, over the full 82 games, while Henrik missed eight games due to injury and finished with 55 points and just 11 goals in 74 contests.
As veterans go, you can't really go wrong with either Sedin — or both, for that matter. If you notice them slipping in your draft or becoming available for cheap on the trade market, they are still quality options and should be for a couple more seasons at least.
Underrated Performer: Loui Eriksson, RW
Introducing Henrik and Daniel's new wingman. Eriksson has been criminally underrated for years, but if there was ever a year to draft him high this should be the one.
That trio is already getting reps and displaying chemistry with Sweden at the World Cup of Hockey. They could be in midseason form upon returning to Vancouver and could hit the ground running for the Canucks.
Good news for Team Sweden and the @Canucks – The Sedins & Loui Eriksson are clicking nicely. https://t.co/6iHCkL405T pic.twitter.com/eEZiykrniK

— NHL (@NHL) September 11, 2016
Still, Eriksson will likely be the forgotten linemate in fantasy leagues. While he may not be the Sedins' equal, Eriksson shouldn't be far behind either. He actually outproduced both Sedins in matching his career-high 63 points with Boston last season. That included 30 goals, two more than Daniel.
Loui Eriksson is one of the most underrated players in the league. Silky smooth mitts, hustles all the time, and is good in all situations.

— Jon Engel (@SeabassFinnAho) June 18, 2016
Expect all three — the Sedins and Eriksson — to put up between 55 and 75 points this season, providing they stay healthy, which has never been a problem for any of them. Since becoming a full-time NHLer, Eriksson has played all 82 games in four of his eight seasons, while also playing all 48 in the lockout year. He's missed a combined 25 games since the 2008-09 campaign and 21 of those were in 2013-14. The Sedins are also known for their ironman streaks, with Henrik going eight-plus seasons without missing a single game from 2005-06 to 2013-14, while Daniel is coming off consecutive 82-game campaigns.
Bo Horvat seems a bit underrated as well, at least in terms of his fantasy potential and offensive upside. In his first full season, Horvat started slow and seemed to be suffering through the dreaded sophomore slump before coming on strong in the second half to reach 40 points, including 16 goals, over 82 games.
Depending on deployment this season — as Vancouver's second- or third-line centre — Horvat could hit 20 goals quite easily and 50 points seems attainable too. Don't forget about him when you get into drafting depth forwards.
Overrated Performers: Alex Burrows, RW and Jannik Hansen, RW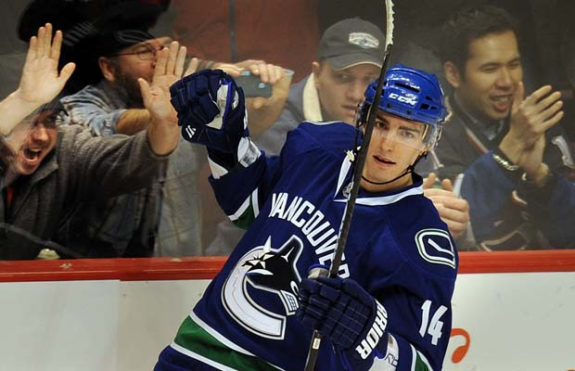 Burrows' best years are behind him. He was almost bought out this offseason and no longer projects as a top-six forward for the Canucks.
Despite the aforementioned reluctance to rebuild, Vancouver is trending toward a younger roster, which is pushing Burrows down the depth chart. He won't be getting his usual power play time either. Burrows will likely be trade bait at the deadline but won't fetch much in return unless he enjoys a resurgence, which will be difficult with limited minutes.
Burrows only managed nine goals and 22 points in 79 games last season — his lowest totals in a full season since his sophomore campaign in 2006-07. He also had a career-low 49 penalty minutes, so even his agitating impact has deteriorated.
Fantasy players beware, Burrows isn't the 25-goal, 50-point, 100-penalty minute guy that he used to be. Even with a bounce-back performance, 15 goals and 35 points is probably tops for Burrows in 2016-17.
Jannik Hansen won't be riding shotgun with the Sedins this season, so expect his production to plummet as the result of lesser linemates. Hansen scored a career-high 22 goals last season and finished with 38 points in just 67 games — prorated to 27 goals and 47 points over 82 games. He won't be coming anywhere close to those totals this season. Expect Hansen to be in that 15-goal, 35-point range and to be back on waivers in most fantasy leagues. Don't waste a pick on him.
Fantasy Sleeper: Philip Larsen, D
He could be the epitome of a sleeper, but Larsen isn't a sure thing by any means. He's going to be a boom or bust for Vancouver. He's not a safe pick but rather a high-risk, high-reward type.
The Canucks plan to play Larsen in offensive situations and have him pencilled in to quarterback the top power play unit. If that role comes to fruition and Larsen lives up to his potential, he could be a fantasy steal.
Conversely, if he flops, Larsen could be headed back to the KHL by Christmas. Essentially, he's Vancouver's version of David Rundblad. Larsen will be on the third pairing at even strength and he could spend time in the press box too, depending on his effectiveness in all situations.
Vancouver coach Willie Desjardins is familiar with Larsen from their days together in the Dallas organization and likely endorsed the acquisition of his rights from Edmonton for a fifth-round pick in 2017.
Larsen seemed to make strides overseas and ranked fifth among KHL defencemen in scoring last season with 11 goals and 36 points in 52 games for Jokerit. However, the league-leaders were Cam Barker and Kevin Dallman — two other failed NHLers, both with 40 points.
Larsen is getting a great opportunity in Vancouver and it'll be up to him to make the most of it. Anything over 25 points should be considered a success, which may or may not make Larsen fantasy-relevant in your league.
Ben Hutton is another Vancouver defenceman to keep on your fantasy radar. He was a pleasant surprise last season, cracking the Canucks out of training camp and producing 25 points in 75 games. He even earned a spot on Team Canada, albeit sparingly, at the World Championships after Vancouver missed the playoffs.
Hutton still isn't a household name and he only scored one goal last season, but he could potentially take another step into that 30- to 40-point range in 2016-17. That would make Hutton a fantasy asset in most leagues.
Bounce-back Candidates: Alexander Edler, D and Brandon Sutter, C
Edler could be the Vancouver defenceman to target above all others. He's the most established and has twice topped 10 goals and 40 points in his NHL career. If Edler is healthy coming into training camp, it wouldn't be surprising to see him supplant Larsen in reclaiming his power play role.
Edler is back and ready to work. https://t.co/oZT1SjrIsf pic.twitter.com/4xLOBC6s5j

— Vancouver #Canucks (@Canucks) September 8, 2016
However, injuries have been a concern for Edler and he's coming off his worst season, statistically, since his rookie campaign in 2007-08. Edler produced just 20 points, including six goals, being limited to 52 games last season. That prorates to nine goals and 32 points over 82 games, which seems like a reasonable expectation if Edler can stay in the lineup this season.
Two years ago, he played 74 games with eight goals and 31 points. Edler hasn't played a full season since his career year in 2011-12 with 11 goals and 49 points in 82 games, but that is going back to before the lockout.
Sutter is typically healthier, but his first season in Vancouver was a disaster. Hampered by a sports hernia that required surgery, Sutter suffered a broken jaw shortly after returning to the lineup. When the dust settled, Sutter ended up playing only 20 games with five goals and nine points. That prorates to 21 goals and 37 points over 82 games, which would have matched Sutter's career high in goals — he's scored 21 on two occasions, including the previous season — and ranked second only to his 40-point sophomore campaign in 2009-10.
Iain MacIntyre: Sutter is the Canucks' third big summer addition https://t.co/8irrrW1DRu pic.twitter.com/Q8UL6QrBgU

— Province Sports (@provincesports) September 12, 2016
The Canucks acquired Sutter from Pittsburgh last July and signed him to a five-year, $21.875-million contract a month later. He was expected to centre Vancouver's second line and will now be battling for that role with Horvat, who filled in admirably in Sutter's absence and seemingly has the higher upside.
Either way, whether Sutter anchors the second or third line, he should at least triple his totals from last season, which would equate to 15 goals and 27 points. He is a strong bet to bounce back — and to top 30 points — considering he only missed three games total over the five previous campaigns combined.
Look for Sutter to be buried in the fantasy rankings — like Edler, far below where he belongs — and look to capitalize on those kinds of picks as your draft progresses into the deeper rounds.
Breakout Candidate: Sven Baertschi, LW
The ceiling is quite high for this player. A lot of people believe Baertschi has 60-point potential, and that he could realize it soon. He's been streaky thus far but did score 15 goals last season, finishing with 28 points in 69 games — prorated to 18 goals and 33 points over 82 games.
That was Baertschi's first full season in the NHL and expecting him to double that production as a sophomore is probably unrealistic. The opportunity will be there, though, with Baertschi projected to play top-six minutes with power play time too. That is unless Vancouver signs or acquires a veteran left-winger before the start of the season — something Jim Benning is on the record as still trying to do, to take some pressure off Baertschi.
Assuming Benning is unsuccessful and Baertschi gets a prime gig, then 20 goals and 45 points isn't out of the realm of possibility. That would certainly classify as a breakout campaign.
Jake Virtanen and Emerson Etem are two more young forwards to keep tabs on in Vancouver. They both scored seven goals for the Canucks last season, with Virtanen registering 13 points in 55 games to Etem's 12 in 39.
Those stat-lines aren't going to get the attention of many fantasy players, but Virtanen and Etem could be capable of much more this season. Had Etem played 82 games with Vancouver last season, he would have been on pace for 15 goals and 25 points. Virtanen's prorated totals would have been 10 goals and 19 points.
Like Burrows and Hansen, that 15-goal, 35-point range could also be a benchmark for success with regards to Virtanen and Etem. Both of them should be trending up this season.
Impact Rookies: Anton Rodin, RW and Nikita Tryamkin, D
Talk about two intriguing rookies. Starting with Rodin, he's crossing the pond for the second time but returning as the reigning MVP of Sweden's top professional league. Rodin will turn 26 years old in November and it's now-or-never for his NHL career.
Canucks TV caught up with Anton Rodin to chat about his return to Vancouver. pic.twitter.com/PgflxhzhHg

— Vancouver #Canucks (@Canucks) September 13, 2016
The Canucks have a lot of what-ifs in their top-nine forwards and Rodin is in that mix. He averaged more than a point per game with Brynas last season, racking up 37 points, including 16 goals, in 33 games. That's an impressive stat-line for the second-round pick from 2009.
Not as impressive was Rodin's first stint in North America. He spent two seasons with Vancouver's farm team — then the AHL's Chicago Wolves — and never warranted a call-up to make his big-league debut. Rodin totalled 14 goals and 41 points in 111 combined AHL games before heading home. That was an average of 0.37 points per game from 2011 to 2013.
It remains to be seen whether Rodin's success in Sweden can translate to Vancouver, but there is a lot of optimism surrounding his addition to the Canucks' lineup for 2016-17.
Jason @Botchford: Anton Rodin, if healthy, could be major X-factor for Canucks https://t.co/eSQz66f7xx

— TSN Radio Vancouver (@TSN1040) September 14, 2016
Likewise for Tryamkin, who debuted at the end of last season. The third-round pick from 2014, who turned 22 last month, has the size and skating ability to be a force someday.
Listed at 6-foot-7 and 228 pounds, there have been comparisons to Zdeno Chara and Tyler Myers, which Tryamkin has fuelled with his confidence in his own abilities. He's been his own hype machine to some degree and doesn't necessarily have the stat-lines to back it up — at least not yet.
Tryamkin through his translator – "Everyone compares me to Chara, and I have no idea why. I want to be better than him." #Canucks

— Irfaan Gaffar (@irfgaffar) March 10, 2016
Tryamkin suited up for 13 games with the Canucks, recording one goal, two points, 10 penalty minutes and 11 shots. Prior to that, he produced four goals, 11 points and 71 PIMs in 53 KHL games. He has already played four professional seasons in his native Russia but managed only four, seven and six points in the first three, respectively. He's far from an offensive dynamo despite his assertions.
Tryamkin will be one of the most interesting players to watch on the Canucks, for better or for worse.

— Trevor Beggs (@TrevBeggs) September 3, 2016
The Canucks are high on Tryamkin and will try to work him into the lineup this season. He may start out in the press box as the team's seventh defenceman, but Tryamkin could be a regular before long.
For the time being, Rodin and Tryamkin probably won't have much fantasy value. Track them during the preseason in case they take off ahead of schedule and keep their names in mind for the future.
Olli Juolevi, the Finnish defenceman selected fifth overall this June, arguably has the most upside of any Vancouver prospect but he'll likely be returned to junior for another season with the Memorial Cup champion London Knights.
Juolevi could get a nine-game audition with the Canucks depending how the depth chart shakes down and whether any injuries occur in training camp. He's a long-shot to stick in Vancouver, but shouldn't be ruled out completely.
Olli Juolevi: I'm young, but why can't I make the @Canucks this year; his game is ready to take next step https://t.co/p96lZirVjp

— TSN Radio Vancouver (@TSN1040) September 13, 2016
Brendan Gaunce at forward, Jordan Subban on defence and Thatcher Demko in goal are Vancouver's other potential rookies of note. However, none of them are expected to make much of an impact this season.
Goaltending
Is this the year that Jacob Markstrom takes the torch from Ryan Miller? That seems fairly likely, but Miller might be given the benefit of the doubt as the veteran to start the season.
This has the makings of another goaltending controversy in Vancouver, which is infamous for mishandling the tandem of Cory Schneider and Roberto Luongo, then trading both of them away. Granted, that was the previous regime, but Benning and Desjardins have some difficult decisions to make in the crease again.
Miller is Benning's guy. They go way back to their Buffalo days when Benning was a big proponent of drafting Miller in 1999. He's still solid when healthy and has always been capable of handling a heavy workload, often starting 60-plus games in a season.
That won't happen in 2016-17, not with Markstrom starting to realize his potential and pushing to be Vancouver's goalie of the future. Markstrom is also getting a head start on the season, serving as Henrik Lundqvist's backup with Sweden at the World Cup. That experience should further boost his confidence coming into what could be a breakout campaign for the 26-year-old who signed a three-year extension in July.
Craig Button on Markstrom: "He is the #1. They may default to Miller if Markstrom can't handle the ball, but I don't see that happening."

— Canucks Now (@CanucksNow) July 12, 2016
Both netminders will want to be No. 1. A platoon system — splitting the starts, with 41 games each — probably won't work. Desjardins may lean toward Miller in the early stages, but the hot hand will play as the season progresses, and that hot hand could easily belong to Markstrom.
It's also possible, if not probable, that the Canucks will shop Miller at the trade deadline. He's in the final year of his contract and will be an unrestricted free agent next July. If Vancouver isn't in a playoff position and/or if Markstrom has become the man between the pipes, then Miller may as well be moved.
https://twitter.com/NEWS1130Sports/status/773899899364642816
If that scenario plays out, Demko could debut in the NHL during his first professional season. He's one of the top goaltending prospects across the entire league and is seen by many as being Schneider 2.0 — if not better, depending on who you ask.
Both were high draft picks — Schneider a first-rounder, 26th overall in 2004, and Demko falling to the Canucks in the second round, 36th overall in 2014.
The pair also played three seasons at Boston College before turning pro. Schneider posted save percentages of .930 and .925 in his final two NCAA campaigns, while Demko was even more unbeatable at .925 and .935. The latter earned Demko the Mike Richter Award as college hockey's top goaltender and he was also a Hobey Baker MVP finalist with forwards Kyle Connor and eventual winner Jimmy Vesey.
Demko also set a school record with nine shutouts, capped by backstopping a 1-0 overtime win in the Beanpot Championship game. At one point, Demko had six shutouts in seven games and didn't allow a goal for more than 208 minutes.
Vancouver fans will be dreaming of a Markstrom-Demko tandem as early as next season — or the second half of this season — but the present situation is pretty murky heading into training camp. With the Canucks expected to struggle in the standings, fantasy players might be wise to avoid both Miller and Markstrom until that picture becomes clearer.