With so many changes on the ice for the New York Islanders this season, thanks to the departures of Matt Martin, Kyle Okposo and Frans Nielsen and the additions of Andrew Ladd, PA Parenteau and Jason Chimera, there will be plenty of drama as the season unfolds. Rather than wait for the World Cup of Hockey to conclude, the recently released EA Sports NHL 17 offers an interesting look at how the Islanders will perform on the ice in 2016-17.
Editing Your Lines
While the game plays well on both ends of the rink, there's a lot of small fine tuning that hardcore hockey fans and gamers will have to make before they hit the ice. Simply put, the Isles' forward lines need to be seriously tweaked.
With Casey Cizikas slotted as the Islanders' second line center and Shane Prince centering the fourth line, as well as Andrew Ladd playing right wing, some adjustments need to be made before you can get an authentic experience.
With Alan Quine and Scott Mayfield on the Bridgeport Sound Tigers' roster, you'll have to move them up as well to get some more options. Naturally, Stephen Gionta is a free agent in the game, so if you're a true purist, you can sign him as well.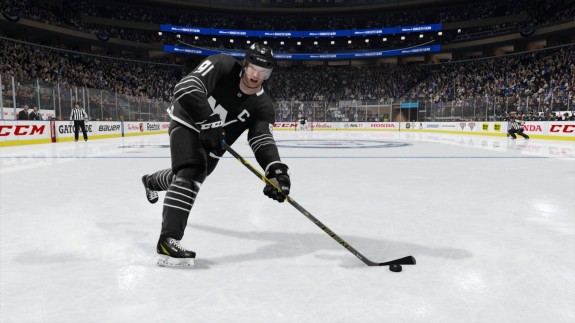 Ratings: Who's Up and Who's Down
In terms of player ratings, the Islanders remain similar to the squad they were last year, despite the fact that captain John Tavares and Travis Hamonic's ratings have gone up. Interestingly enough, after a 28-point season in 2015, Ryan Strome is still rated an 85.
The highest rated goalie on the Isles, Jaroslav Halak, is rated an 85, down from his 86 last season. Speaking of goaltending, the Isles' goaltending overall is only an 86 in the game, with Thomas Greiss rated at an 83 and JF Berube a 73.
Compared to a 91 rating on both offense and defense, your possession and shot suppression ability in NHL 17 with the Islanders is the key to coming out victorious. How that plays out on the real-life ice will be interesting as well.
The Bottom Two Lines
With recently acquired Jason Chimera on the Isles' fourth line, the clang-bang gameplay that line provided before with Matt Martin is no longer there. In the end, it works out, though, as Cizikas is a solid two-way player and Cal Clutterbuck has one of the best shots on the team in the game. The team's third line is where things get wacky. With Mikhail Grabovski centering a line with Nikolay Kulemin and Josh Bailey, these guys could either be a pleasant surprise or one of those lines you're hesitant to put on the ice.
Overall, with a different look from last season, this year's Islanders in NHL 17 are just like the ones that play in real-life, plenty of promise, but a ton of question marks.