The Edmonton Oilers' run in the 2023 Stanley Cup Playoffs run came to a crushing end on Sunday (May 14) with a 5-2 loss at Rogers Place to the Vegas Golden Knights in Game 6 of the second round. Rookie goaltender Stuart Skinner suffered a third straight loss, giving up four goals in two periods before being replaced by Jack Campbell for an unprecedented fourth time in Edmonton's last nine games. 
Following a storybook regular season in which Skinner went from opening-night backup to Calder Trophy finalist, his first NHL postseason turned out to be disastrous. The 24-year-old finished the playoffs with a 5-6 record, 3.68 goals against average (GAA) and .883 save percentage (SV%) in 12 games played. Among goalies with at least eight games played in a single postseason, his GAA is the highest since 1994 and his SV% is the lowest since 2003. 
In NHL playoff history, no goalie has been pulled from a start more times in the first two rounds of a playoff year than Skinner, who got the hook three times in the Vegas series and once against the Los Angeles Kings in Round 1. But while he is a focal point in the post-mortems on the Oilers' 2023 postseason, he is not to blame for Edmonton's earlier-than-hoped playoff exit, nor is his future any less bright than it was a month ago before the toughest stretch of his hockey career.
Skinner Wasn't Supposed to Be Oilers' Starter 
Given how well Skinner played during the regular season, going 29-14-5 with a 2.75 GAA and .914 SV% and receiving an All-Star Game selection along the way, it can be easy to forget that the local product wasn't supposed to be Edmonton's No. 1 netminder in 2022-23. That role was supposed to belong to the veteran Campbell, who the Oilers signed to a five-year, $25 million contract last summer with thoughts that he could be the goalie that finally led Edmonton back to the Stanley Cup.  
But Campbell struggled early, so Oilers head coach Jay Woodcroft turned to Skinner, who performed above expectations right from the get-go and never really did hit the proverbial rookie wall over the course of 50 appearances in 2022-23, establishing himself as the team's No. 1 netminder. 
Related: Oilers Top Rookie Seasons in Franchise History
---
Latest News & Highlights
---
After finishing the season tied for the sixth-best record in the NHL and with the most regulation wins in the Western Conference, the Oilers had their greatest playoff expectations in decades, even while asking a rookie goaltender with no NHL postseason experience to backstop them to the Stanley Cup. As the playoffs wore on, it became clear that Skinner could not consistently perform at the level required for a championship run. Not yet. 
Skinner Endures Rocky Playoff Ride 
In a 4-3 overtime loss in Game 1 of the first round against L.A., Skinner conceded the game-tying goal with just 17 seconds remaining in regulation. He rebounded to stop 22 of 24 Kings' shots as Edmonton evened the series with a 4-2 win in Game 2 and had another solid outing in Game 3 before Kings forward Travis Moore scored just 3:24 into sudden death to give L.A. a 3-2 victory. 
Things first really went sideways in Game 4, when Skinner allowed eight goals on 11 shots in the first period and was replaced to start the second by Campbell, who blocked 27 of 28 shots in over 50 minutes as the Oilers rallied for a series-shifting 5-4 overtime win. 
Despite the rough outing for Skinner and the heroics from Campbell, Woodcroft went back to the rook' for Game 5 and Skinner made 25 saves in a 6-3 victory for the Oilers. Game 6 saw the Oilers eliminate Kings with a thrilling 5-4 win, as Skinner set a franchise record for most saves in a series-clinching victory by stopping 40 of 44 L.A. shots.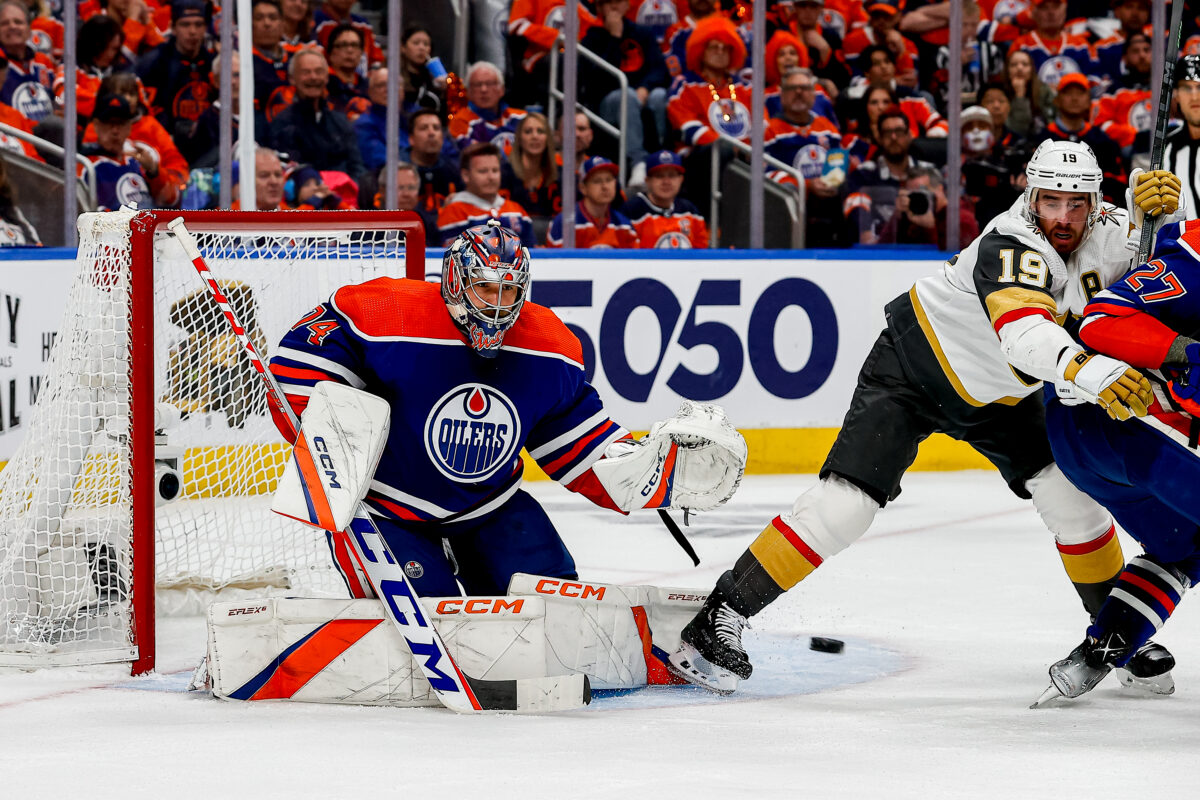 Skinner was beaten five times on 33 shots as the Oilers opened Round 2 by losing 6-4 to the Knights in Las Vegas, but responded with a great outing in Game 2, stopping 30 of 31 shots in Edmonton's 5-1 series-evening win. It was arguably Skinner's best playoff performance yet, and with the Oilers taking a series split back home for the next two games, hope was high. But Skinner just couldn't put together back-to-back strong outings. 
After allowing four goals on 23 shots in just over 32 minutes to start Game 3, Skinner was replaced by Campbell, who gave up one goal. Vegas cruised to a 5-1 win, equalling the largest margin of defeat for the Oilers in their franchise history.  
Skinner's maddening pattern of up and down performances continued, as he conceded only one goal on 26 shots in Game 4, a 4-1 win for Edmonton, but again was relieved by Campbell after surrendering four goals on 22 shots in 35:34 in Game 5, a 4-3 loss that left the Oilers on the brink of elimination. 
Skinner Struggles as Oilers' Season Ends in Game 6 
Every discussion in Oil Country between Game 5 at T-Mobile Arena and Game 6 at Rogers Place revolved around who would start Game 6 between the pipes for the Oilers. There was a compelling case for both Campbell and Skinner, the veteran who had been excellent in spot duty and the struggling rookie who had got them this far. Woodcroft chose the latter. 
Despite Vegas forward Reilly Smith scoring on Skinner just 24 seconds into the game, the Oilers regrouped and made it out of the opening period with a lead of 2-1. But Vegas scored three times in the middle frame to go in front 4-2 with 20 minutes to play. 
When the Oilers skated back out for the third period, Campbell took his place between the pipes for the Oilers, while Skinner looked on from the bench, his goalie mask replaced with a baseball cap. After conceding four goals on only 17 shots in the opening 40 minutes, Skinner had received the hook for a third time in four games. Campbell only faced four shots in the third period and saved them all, but it was too late: William Karlsson's empty-net goal with 39 seconds left sealed Edmonton's fate. 
Woodcroft's Goalie Management Raises Questions 
Oil Country will long wonder what Woodcroft was thinking as he penciled in his starting goaltender for each game of the Vegas series. Did he simply not trust Campbell, even though the 31-year-old had stepped up every time he was called upon in the playoffs? Was Woodcroft just sticking with the guy that got him there? Or was the coach thinking more from a mental standpoint? 
It could be that Woodcroft wanted to demonstrate faith in his young goalie so as not to shake Skinner's confidence. Maybe Woodcroft envisions Skinner as the Oilers No. 1 goalie for years to come and saw this as experience that will prove valuable in the future? Perhaps the coach was just giving Skinner opportunities that Woodcroft believed his goalie had earned. Whatever the reasons may be, the one thing Woodcroft didn't do was give his team the best chance to win.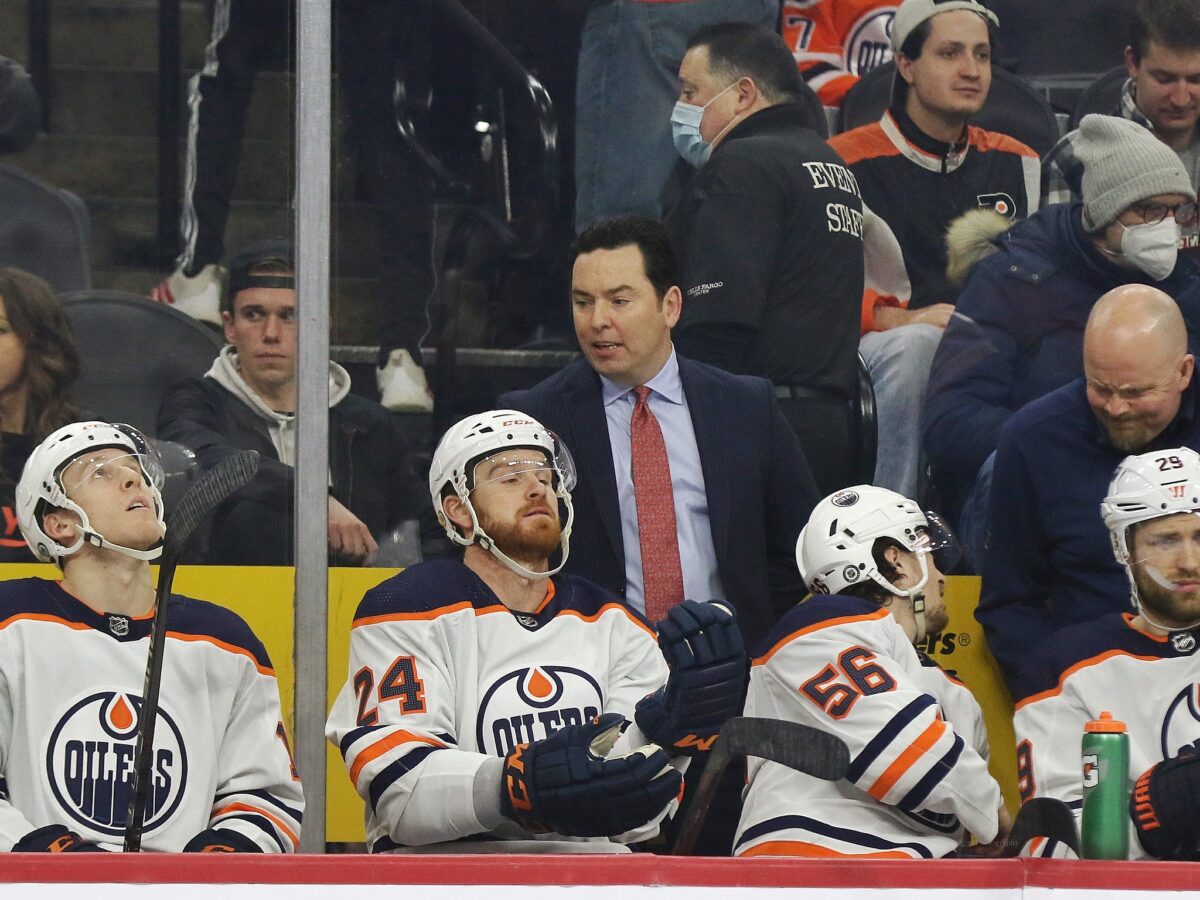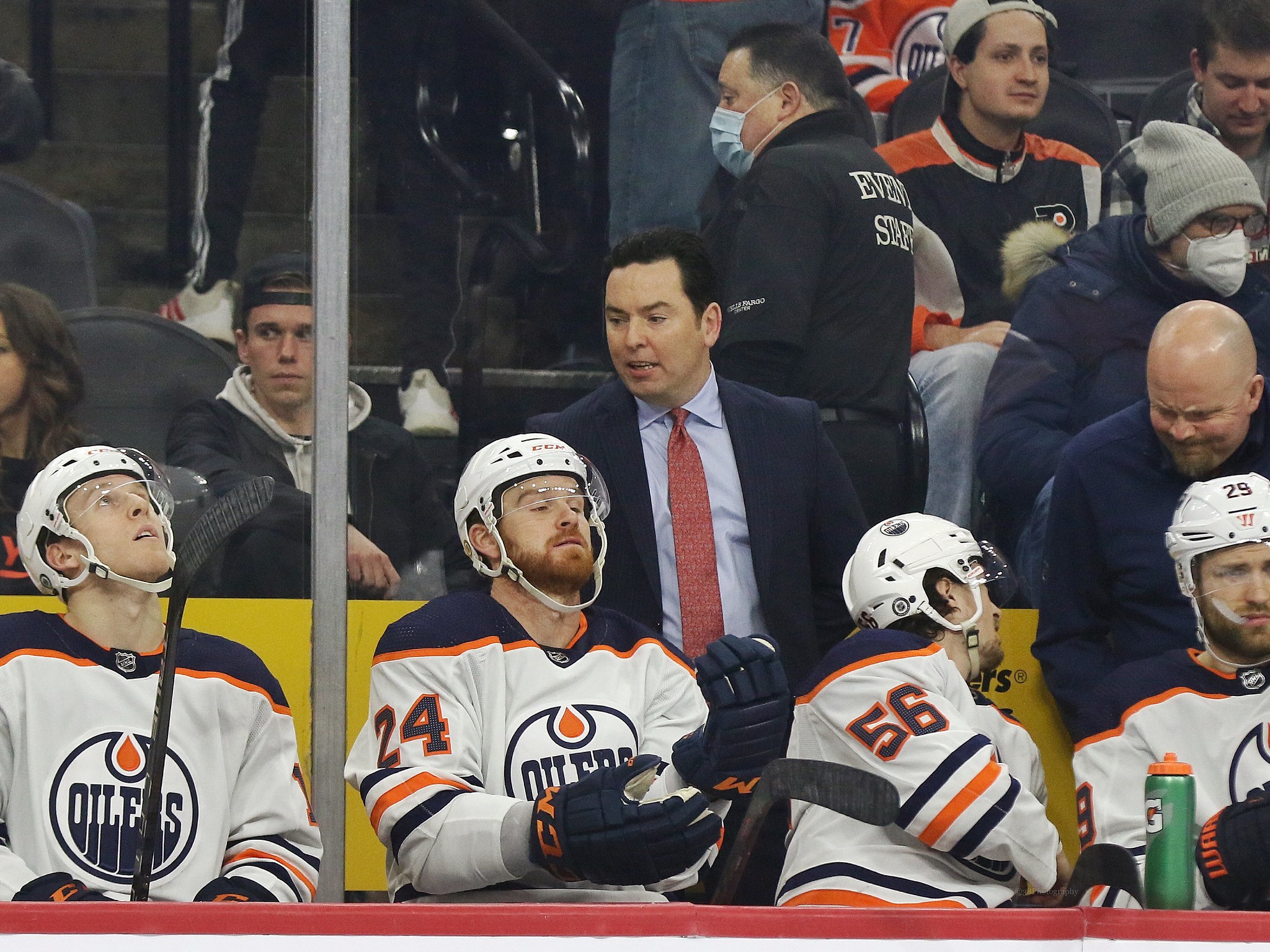 Skinner simply didn't have it this postseason, but Campbell might have. The veteran was certainly the better Edmonton goalie during the playoffs, going 1-0 with a 1.02 GAA and .961 SV% in nearly the equivalent of two full games. Coming off the bench cold and being thrown into the fire every time, Campbell delivered in less-than-ideal circumstances.  
Hindsight is 20/20, but it does warrant asking, what would have happened if Campbell had started Game 6? Or even Game 5? In that respect, the responsibility for Edmonton's series loss falls on Woodcroft, not the goalie he watched nearly drown and kept sending back into the deep end. But Woodcroft is still young in NHL coaching years, only about 15 months into his first job as bench boss of an NHL team. These playoffs were a learning experience for him, and he should be better for it, and so should Skinner. 
Skinner's Self-Confidence Is Secure  
Throughout the playoffs, and especially in the wake of Edmonton's elimination, there has been concern expressed by Oilers fans about the effects of this unfortunate series of events on Skinner's psyche. But the goalie's comments following Game 6 and during the Oilers' end-of-season media availability on Tuesday (May 16) shut that down.  
While he admirably held himself accountable, Skinner's words gave a sense of determination that this would not happen again, rather than a fear that it would. Nothing the Calder Trophy finalist netminder said suggested someone who had lost even the slightest bit of belief in his ability. 
This is in keeping with the Skinner we know. The goalie who has never bowed to pressure or been thrown off course by any obstacle in his path, whether winning championships at multiple levels before turning pro or having to bide his time in the American Hockey League while waiting for his deserved shot in The Big League.
Following the Same Path as Fuhr
The comparison to Grant Fuhr has been mentioned more than a few times during the post-mortem in Oil Country. Like Skinner this season, Fuhr was a rookie who was not supposed to the Oilers' No. 1 goalie, but unquestionably ascended to that role after a tremendous campaign in 1981-82 (from 'Playoff Goaltending: A tale of mystery and misery, starring Stu Skinner, Jack Campbell and Jay Woodcroft', The Edmonton Journal, 5/19/23). Like Skinner going into these playoffs, Fuhr was the man charged with backstopping a team that held legit championship aspirations in 1982. Like Skinner during this postseason, Fuhr struggled while the Oilers fell short of expectations, bowing out of the playoffs even earlier than the 2023 Oilers, with a Smythe Division semi-final loss to the Kings.   
Fuhr went on to win five Stanley Cups with the Oilers, became the franchise's all-time leader in both regular season and playoff wins, and was elected into the Hockey Hall of Fame. Skinner's story is just getting started.
---
---