To suggest the 2000's haven't been kind to the Edmonton Oilers is what we would call an understatement. Four playoff appearances in sixteen years doesn't leave much to get excited about and yet the masses could not be happier across Oil Country. In a blink of an eye, this club has transformed from perennial Western Conference bottom-feeder to one of the best young teams in the NHL and it has coincided with the arrival of one Connor McDavid.
The hype surrounding his time with the Erie Otters was off the charts and he has managed to exceed those lofty expectations over the first season and half of his career. In my mind, his impact on the Oilers sudden turnaround cannot be overstated and yet we continue to read narratives surrounding the fantastic job Peter Chiarelli has done since taking over as GM as the reason why this team is where they are.
Peter Chiarelli is the best GM in the NHL

— Sports is sadness (@DirtbagDonny) July 28, 2017
There is no question the 54-year old has had a hand in helping move along what had become a never-ending rebuild in the City of Champions and deserves his share of credit for doing so. However, let's not be silly here.  With all due respect to Chiarelli, this process has been expedited to the degree it has because of one individual and he wears No. 97 on his back. Some may take that as slight at the job the general manager has done but in actuality, it is nothing of the sort.
The sheer volume of proven NHL players he has added to this roster since taking over cannot be ignored. Zack Kassian, Adam Larsson, Milan, Lucic, Patrick Maroon, Kris Russell, Andrej Sekera and Cam Talbot have all played key roles for this club and chances are we will be adding Jussi Jokinen to that list in the not too distant future. Though some of the aforementioned names have had far greater impact than others, all of helped plugged holes in this lineup and the collective group is better off for it.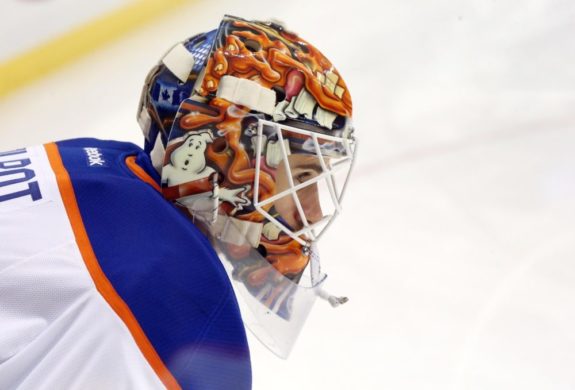 Chiarelli Has Added Impactful Pieces
The improvements are obvious to anyone paying attention but on their own, they do not automatically translate into more victories. The thing that appears to be getting overlooked by some is just how much a team improves when it adds an elite level talent and in this case, Edmonton has done even better. Having the best player in the league is a game changer and that is exactly what it has done for the Oilers.
While there are still some who continue to champion Sidney Crosby as the best player in the game, the fact the majority of players in the league voted for McDavid as the winner of the Ted Lindsay Award tells us all we need to know. For his peers to have bestowed such an honour on him at 20-years of age speaks volumes and should end any such debate. However, that is a discussion for another day.
A generational talent is special for a variety of reasons but near the top of the list is their ability to make those around them better than they would be in any other situation. Leon Draisaitl is a heck of a player but does he put up a 77-point campaign last year without No. 97 as a linemate? The answer to that question should be rather obvious. McDavid may have played just over a third of every Oilers game last season, 21:08 to be exact, but the effect those minutes had on the remaining two-thirds of the game cannot be overstated.
Again, we are not talking about your run of the mill player here. Who we are talking about is the league's lone 100-point scorer and one who did so with little scoring support from secondary lines. McDavid had a direct hand in 40.5% of the Oilers goals in 2016-17 and on most nights his line was forced to carry the offensive load on their own at even strength. His presence, ability to create scoring chances and produce at the level he does, not only helps cover up many of the rosters shortcomings but also forces opponents to approach playing them in an entirely different manner.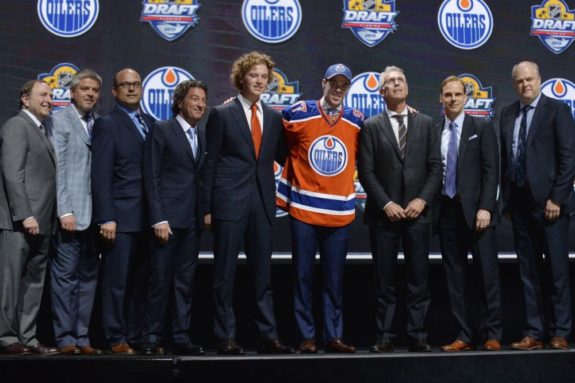 McDavid Helps Hide Oilers Warts
In previous seasons teams could easily nullify Edmonton's best players via the matchup game whenever they saw fit and there was little that could be done about it. McDavid has become that equalizer and it's changed everything. His ability to push the play every time he hits the ice forces opposing players into retreat mode and it greatly affects the overall flow of play.
To reiterate, the improved roster has certainly provided this team with better balance and made them that much better but I just don't see how the credit for the turnaround in the standings can go to the general manager. Especially when one considers he inherited the three best skaters currently on this roster in Draisaitl, Oscar Klefbom, and McDavid. No question he has successfully tinkered but that is a far cry from rebuilding this thing from scratch. That was taken care of long before he even considered coming to Edmonton. The foundation was essentially already in place.
Will Connor McDavid stay healthy and overcome Chiarelli's overpayments 2 years in a row?#Oilers https://t.co/rSqC3Uzi6u

— NateInVegas (@NateInVegas) July 24, 2017
Again, has the addition of a No. 1 goalie and real NHL defencemen helped this group along? Of course but without the straw that stirs the drink, everything else is a moot point. Also, let's not forget he hasn't exactly got back a king's ransom in deals involving his primary trade chips, hello Taylor Hall and Jordan Eberle, nor did he fair to well pulling the trigger on a trade with the New York Islanders for rearguard Griffin Reinhart at the 2015 NHL Entry Draft. And that does even take into consideration the lengthy deals he coughed in unrestricted free agency to Lucic and Russell.
Like most general managers, he has made some mistakes so before we decide to hail Peter Chiarelli as the man who saved the Edmonton Oilers, how about we give him credit for doing his part in trying to improve the roster but leave the savior tag for the guy who deserves it…Connor McDavid.
Rob Soria is the Author of Connor McDavid: Hockey's Next Great One. He has chronicled the Orange and Blue since creating his Oil Drop blog in 2011 and has also had his writings featured over at HometownHockey.ca and Vavel USA, where he has covered the NHL, MLB and ATP Tour. Rob was born, raised and still resides in Edmonton, Alberta and can be reached via twitter @Oil_Drop.