Prior to the 2013-14 season, if you asked any fan of the Pittsburgh Penguins who Olli Maatta was you would have received no response. The 18-year old Finnish defender was the Penguins second first-round pick that year at 22nd overall and no one expected him to make the team for a few years. However, it only took one training camp for Maatta to display his tremendous work ethic and hockey IQ.
During the 2013-14 season, Maatta began playing on the Penguins' bottom pairing, by mid-season he was in the top-four on a regular basis and eventually was playing top pairing minutes. After the playoffs concluded, it was revealed that he would require shoulder surgery. Many were impressed by Maatta's impressive recovery as he beat the projected recovery timeline.
But it would not last as Maatta was only able to play 20 games in the 2014-15 season before his shoulder gave out. Another surgery came for the young defender, and did I mention he had to battle cancer that year as well?
It's an incredible amount of adversity for such a young player to endure, all before his 21st birthday.
Olli Maatta's 2015-16 And The Future
This year Maatta started on the second pairing, but was quickly promoted to the top pairing as Ian Cole proved unable to play alongside Kris Letang. He's been playing 20-22 minutes a night against the opposing team's top lines and has performed better than expected. In 48 games, Maatta has six goals, nine assists for 15 points and is a team best +19 skater. It's also worth noting that Maatta's +19 is third best in the NHL, behind only the Florida Panthers' Brian Campbell and the Washington Capitals' Karl Alzner, both tied a +20.
If you want to look at Maatta's analytics at even-strength he has an almost break-even Corsi For percentage of 50.78. But that doesn't tell the whole story as he's been playing alongside Letang for the majority of the last few months.
Letang has been Olli Maatta's most frequent defensive partner and the two have played 353:28 at even strength together, they have a Corsi For percentage of 54.0 and the team scores 3.06 goals for per-sixty and only allows 1.87, a Goals For percentage of 62.1.
For the most part, this is the Maatta we've seen over the last two months and it's no secret that he has been the catalyst behind Letang's strong play. It takes a special type of defender to skate alongside the Penguins' top blueliner. It used to be Paul Martin who allowed Letang to play his best and now the torch has been passed to Maatta.
Whoever Letang is playing with has to play defensive enough to cover his risks, but also active enough to support play in the offensive zone.
Let's take a look at what Maatta's analytics have looked like throughout the season, with a 20 game moving average, courtesy of war-on-ice.com.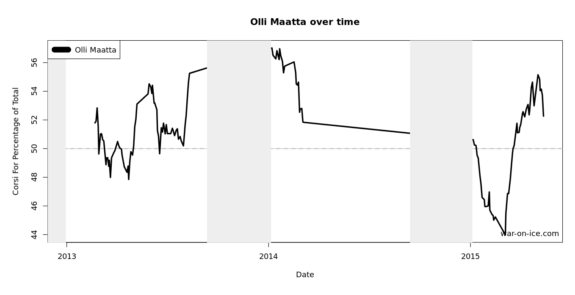 Yes, Olli Maatta's beginning of 2015 did not start well, but the entire Penguins team was struggling then. It's been his recent play that has been the most impressive feat of all, while Letang tears up scoresheets.
There's been some concern about Maatta's lack of burst and general play this season. He's not moving and skating like he did during his rookie season, and the Penguins know it.
A great example of this was this goal against the Vancouver Canucks:

Maatta was caught slightly out of position and simply couldn't recovery quickly enough. He seems to be lacking "an extra gear" and has been playing at one speed during this season. I've spoken with countless scouts about Maatta's play this season and the general takeaway is that Pittsburgh is not worried about him at all.
He's playing top pairing minutes alongside Letang at age 21, he's missed quite a bit of time and is slowly rediscovering his rookie form. It's almost universally accepted in the hockey world that most players regress somewhat in their second year, and for all intents and purposes, this is Maatta's second year.
So why does all of this matter now?
Maatta is going to be a restricted free agent at the end of the season and the Penguins currently have $1.659 million in salary cap space. Now this wouldn't be a problem, except the NHL salary cap could go down by as much as $4 million next year due to the struggling Canadian dollar.
Told by an NHL & NHLPA source that 2016-17 cap could go down as much as $4 million. If true, interested in what that does to trade deadline

— MurphysLaw74 (@MurphysLaw74) February 12, 2016
Pensburgh, an SB Nation blog, recently looked at what Maatta's next contract could look like and they compared him to players like John Klingberg, Adam Larsson, Jonas Brodin and Cam Fowler. All recently signed deals with approximately $4 million cap hits. However, with the rumored salary cap decrease and the Penguins' current salaries, where do they get the money to sign Maatta from? I have no doubt that Pittsburgh will re-sign Maatta, but the question becomes how much and how long do they give him?
Looking at current contracts, the team might be forced into extending Maatta a one or two year "bridge deal" until the salary cap starts going up again or they can find some extra salary cap space, this could come from end of Chris Kunitz's contract, a $3.85 million cap hit, after the 2016-17 season. However, this is a double-edged sword as Maatta's play will likely continue to improve and that will only make his next long-term contract more costly.
Any trades made by the Penguins at the trade deadline should keep in mind Maatta's future. He's one of their best defenders and only at the start of his professional career, being unable to sign him would be devastating for the team.
Thanks for reading! Feel free to leave your comments below or tweet me anytime @MPityk_PIT