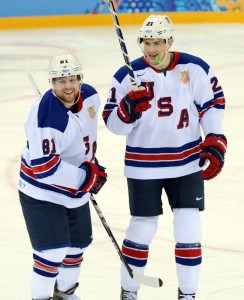 Every four years, we as hockey fans cast regional club team allegiances aside in order to embrace patriotism at the Winter Olympic hockey tournament. Watching NHL players at the Games is incredibly captivating and compelling. And conflicting?
Fancy yourself a fan of Sidney Crosby? I'll bet if you're a hardcore Penguins supporter you really really love you some Sid The Kid. But, if you're one of those Penguins fans who happen to live in Pittsburgh, as most do, then you're probably not all crazy for Crosby right now.
In less than twenty-four-hours Team USA and Team Canada will compete for a spot in the 2014 Sochi Olympic hockey gold medal game, and all over Pittsburgh, patriots are hoping number 87 doesn't do something Crosby-like against the USA. These are conflicting times. Making matters worse, Pens Nation must alternatively cheer for hated rival members of the New York Rangers and Washington Capitals, like Team USA defenceman John Carlson, who has a track record of quieting Canadians at international tournaments.
For Bruins fans, the Olympic hockey semi-final game between Team Canada and the U. S. will be especially conflicting. Their patron Saint, Patrice – the man who scored two-goals in Game 7 to secure the franchise its first Stanley Cup title since 1972, and broke half his body in an effort to almost do it again last year – is currently a foe.
The Bruins have loyal fans all over North America. They are one of hockey's most popular teams. Canadian East Coasters will not be conflicted by their love for number 37 tomorrow, however, the hockey crazed citizens of Boston will be awkwardly booing Bergie against the U. S. in the Olympic hockey semi-final rematch of Vancouver 2010's gold medal game.
And to make matters worse for Bruin loving Boston natives, they'll be on the edge of their seat with optimism every time Bruins castaway, Phil Kessel, is set free offensively. Imagine it: the people of Boston hoping Patrice Bergeron fails and Phil Kessel scores all the goals.
"Go Kessel! Bergie ain't got nothin' on you!" – Boston, tomorrow.
Speaking of Kessel: Here in Toronto he's loved like July weather. We Torontonians are hard-wired to yell with excitement and slap high-fives every time The Thrill's wicked shot dumbfounds a goalie. We're especially revved up when he cleanly beats Montreal Canadiens goaltender Carey Price with a snapper. But tomorrow, many residents of Ontario's capital will be pro-Price and anti-Kessel, if only for a few hours.
"Miss Phil! Nice save, Pricey!" – Toronto, Tomorrow.
People of Chicago,
Put those Jonathan Toews and Duncan Keith jerseys in the closet for a few days. Your Stanley Cup heroes are coming to get you. Well, not all of them. At least Patrick Kane is a Blackhawk and an American. If your favourite Hawk is P Kane, tomorrow is a little easier for you, kind of. Unfortunately, you'll be cheering for hated members of the St. Louis Blues – David Backes and American sweetheart T. J. Oshie – while you curse at the TV every time Toews, Keith or Patrick Sharp attempt to knock America bronze bound.
This type of confusion is running rampant throughout NHL markets all over North America. Club team or country? What's more important? The truth is, they both are, but they're different. We, as hockey fans, invest an absurd amount of time and money into our club team. Yet, every four years, here we are, hoping our favourite players lose to despised rivals who play for the teams we loathe the most because they happen to hail from the country we call home.
Crazy to think, San Jose Sharks fans will jump for joy if Dustin Brown scores a big goal against Team Canada in the semis. Dustin Brown!
Chances are, if you're a diehard fan of your city's pro hockey team, winning the Stanley Cup is more important to you than watching your country win Olympic hockey gold. But it doesn't feel like that right now, because the Olympic hockey tournament is right in front of your face.
Let's say you live in St. Louis and you've been following the Blues lengthy Cup drought your entire life. Year after year you've patiently waited for your favourite hockey club to finally stand alone as champion. And nothing. Not even a trip to the finals since 1970. This could be the year your team finally claims hockey's greatest prize, the Stanley Cup. And what a year it would be if Backes and Oshie win a silver Cup and a gold medallion? The only problem is they'll need to first thwart Alex Pietrangelo, Jay Bouwmeester and possibly Alex Steen. Go American Blues go!
"Jay Bouw? He's overrated, anyway." – St. Louis, tomorrow.
To some folks, this whole club team or country thing is not an issue. If you love the Penguins and live in Pittsburgh it's probably easy to dislike Sidney Crosby for one game every four years. But, I'd assume there must have been mixed emotions when he did this to break your heart then you had to love him again a few days later.
Some fans have it good. For example, in Montreal, Carey Price and P. K. Subban are the main stars! They play for the Canadians and the Canadiens (although, Subban doesn't really play). There will be no mixed emotions in Quebec's largest city when Team Canada and Team USA play for a berth in the gold medal game; well, excluding the Max Pacioretty enthusiasts.
But for the rest of us, what do we do? How do we approach this? A strong Olympic showing can boost a great player's confidence so much so that it propels him toward greatness.
Olympic Hockey Success Can Fuel A Great Second-Half and Stanley Cup Playoffs Drive.
In 2010, Jonathan Toews of Team Canada shined at the Games in Vancouver. He was named the tournament's best forward. A few months later he led the Chicago Blackhawks to the franchise's first Stanley Cup since 1961, winning the Conn Smythe as playoff MVP. A successful Olympics is a confidence booster of epic proportions.
That considered, you're a Leafs fan and you see what Kessel is accomplishing in Sochi. Number 81 leads the tournament in goals, with 5 in four games. Kessel is earning praise from several sources outside of Toronto, which is rare. And for camera shy Phil, this success, this exposure, it's great for him. If he leaves Sochi atop the scoring leaders list – a gold medallion dangling from his neck – he will be named the tournament's top forward.
Leafs fans, deep down inside, must realize that Phil's confidence is more important than another Olympic gold medal. Or maybe it isn't. Maybe the people of Toronto who obsess over the Leafs shouldn't want Phil to become a more confident player at the expense of Team Canada's success. That's understandable, too. I guess, if anything, losing to Phil's America would be a bearable consolation prize, at best, if it means he's a better player afterward. The Leafs are in a playoff race, after all. Phil needs to be feeling good down the stretch.
Captivating, Compelling, and oh so conflicting. This is where we are today, as NHL hockey fans: Bruins faithful want Kessel to – on this day only – one-up the ever so clutch, Patrice Bergeron. Leafs fans will be desperately pulling for Montreal Canadiens netminder, Carey Price, to deny their beloved Phil Kessel. And Canadiens fans, they're lucky, because their best players are on Team Canada. This is Olympic hockey. It's thrilling, albeit somewhat conflicting. By the way, when do the Stanley Cup playoffs start?