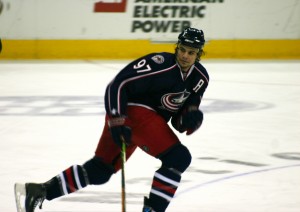 By Rick Gethin
     "It's really fun to be on a winning team" ~ Rusty Klesla
     Columbus Blue Jackets defenseman Rostislav "Rusty" Klesla is the last remaining original Blue Jacket. Signed as the clubs 1st choice, 4th overall pick  in the 2000 NHL Entry Draft, he's been through the trials and tribulations that this team has faced since coming into the league. With Columbus on the upswing, Rusty has a newfound jump in his step and a smile on his face.
     Rusty Klesla was born born on March 21, 1982, in Novy Jicin, Czech Republic. He first came to North America in 1998, playing for Sioux City of the USHL in 1998-1999 and for Brampton of the OHL in 1999-2000. Since the 2000 season he's been with the Columbus Blue Jackets. In 2000 he was named to the OHL All-Rookie Team and the Canadian Major Junior All-Rookie Team. Named to the OHL First All-Star Team in 2001, he followed that by being named to the NHL All-Rookie Team in 2002. He's been a fixture on the club since it's inception; now he provides a veteran presense in the locker room and he's always a fan favorite.
     I recently sat down for a one-on-one conversation with the original Blue Jacket. As always, he's upbeat and friendly.
How does it feel being a part of this team from the expansion year to making the playoffs last season?
     There were some tough years and tough seasons. Before, we were not always there, not good enough; we were always missing something. A couple of years ago we started building and finally the big step of making the playoffs. Right now it's exciting. We have alot of talent and alot of great people; on and off the ice. It's really fun to be on a winning team.
After playing like a "beast" during the playoffs last year, do you look to bring that same intensity into the new season?
     In the playoffs it was very special. I love those kind of games that you always play for something. Every shift means something. I think I learned from that, you know, that every shift matters.It was a big lesson for everybody on the team that got a taste of those games; even though we got swept. It was not pretty, but it was a big lesson for myself and for everybody. Right now, we know what it takes; we've got to work and play alot better than we did. We all learned from that and will build on it.
Does this being a contract year for you influence your play on the ice?
     Yes, it is my last year (of his contract). For sure, I would like to have a great year. But mostly what I'm thinking about is if the team's going to do well, I'm going to do well. I'm going to do everything for the team to win. If the team's going to be a winning team and a playoff team, all of the other things will take care of themselves. Every guy on a winning team is going to be valued. Yes, I would like to be under contract and signed of course; the sooner the better. But right now, I'm just thinking about doing well. I want to help this team be ready from the beginning to the top of the standings.
What are your feelings for the city of Columbus?
     I like the city. It's not flashy; you don't have a hundred places to go. You're not supposed to be thinking about whatever you're going to do after a game or practice. I'm here to play hockey and I think Columbus, for a hockey city, is perfect. I'm happy here and have been here the whole time (his NHL career). There's good people around the whole organization and great teammates. So, you know, I like it here and I would definately like to stay.
Give us your thoughts on Budvar beer (Czech Budweiser)?
     It's a good beer; I like it. If I could have a supply of Budvar here I would be happy. In Czech Republic you have many, many beers to choose from. I choose a pilsner or Radegast, which is close by to where I live (in Czech Republic). But on other occasions, I like Budvar too. It's not that I love beer, but it's a really popular drink in Czech Republic.
     Rusty Klesla is looking to have a strong year with the Blue Jackets. What speaks louder is his attitude and actions on the ice and in the locker room. He not only wants to make the playoffs with this club, he wants the team to go deeper into the post-season. He relishes skating with a winner.