The Chicago Blackhawks are off to a 2-1-1 record in their first four games. The season is still young, but there are, naturally, fans out there fretting about early-season injuries and wondering about team production.
While Marian Hossa being out for a mysterious "upper body injury" is cause for a little concern, it's simply too early in the season to be stressing out too much.
Let's take a look at what's working and what's not for the Blackhawks so far.
WHAT'S WORKING
– It was announced in pre-season that Patrick Kane would be trying out the center position, a move nearly unanimously met by scoffs. The "Kane at Center" experiment early in his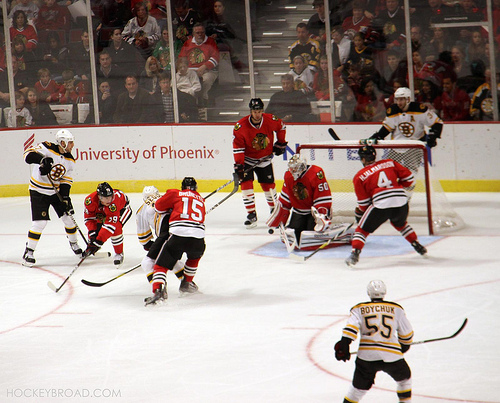 Blackhawks career had ended before the first game had even finished, despite Kane having played center in his younger years. Kane is a beauty at wing; why would you want to move him? As we all found out, the move was made to put him on the same line with fellow elite winger Hossa. These two – frequently paired with agitator Daniel Carcillo – have been cutting through opposing D-lines like butter. It's a beautiful thing.
– Speaking of Patrick Kane: would anybody have predicted Kane would be leading his team with 56.5% FOW (for those players who've taken at least 30 FOs)? The same guy who only won 14.3% of the few faceoffs he had to take last year is suddenly a wizard in the circle, his naturally fast hands being put to use for puck possession. When it comes to puck possession, Kane is also already leading the Blackhawks in takeaways, with 8. That's second in the league so far, after Daniel Alfredsson (OTT). Just for some perspective, which players were tops in the league last year? Joe Thornton, Jonathan Toews, and Dustin Byfuglien.
Kane said before the season that he felt he needed to crank his performance up if he was ever going to reach the top levels of play; he has been demonstrating that he means exactly that. It's good to see this side of Kane on the ice again – the Kane that seems absolutely determined to prove everybody's opinions of him wrong. Kane came into training camp popping new muscles and glowing with health; he's been harder to knock off the puck – and he's always been a slick skater; and it seems like something is happening nearly every time he takes the ice. He has been even more exciting to watch this year so far than in past years (if that were possible). If he keeps this trajectory up, he'll easily break 90, if not 100, points this season. His defensive side still needs a little work – but if he continues his very strong puck possession, then the defensive side may not be as much of a concern.
Patrick Kane, elite center? It's not an improbability any more.
– The Blackhawks' PK is currently tied for 4th in the league, with a 91.7% success rate (100% on the road; 90% at home). This already is a vast improvement over the abysmal 79.2% of last year, and the team needs to continue to maintain their discipline in that area.
– Brent Seabrook and Niklas Hjalmarsson together on defense have been looking fantastic for the team. Hjalmarsson committed himself to shot-blocking last season, and he led the team with 166. He and Seabrook are already leading the team with nine each. To top that off, they've only allowed 1 goal while on the ice together – and they're often out there against other teams' top lines. There's a lot to like in this pairing.
– Daniel Carcillo is proving a pleasant surprise. He's averaging 14:44 TOI so far and is often on the ice with Kane and Hossa. In fact, that line is all kinds of amazing – it's difficult for other teams to cover Hossa and Kane and pay attention to what Carcillo might be up to at the same time. Carcillo has 12 hits with just two games played (8 in Saturday's game vs Boston alone), and hasn't taken a single penalty yet. If he can continue to walk that fine line – drawing penalties out of others while opening space for his own teammates – we could see a really good year out of Carcillo.
– The new defensemen are more than capable of carrying high TOI loads. So far this season, Keith is averaging 25:50 TOI, and as the Blackhawks discovered last season, Keith plays his very best when his TOI is closer to 20 than 30. Hjalmarsson and sophomore D-man Nick Leddy are averaging 18:45 between them; Sean O'Donnell is at 16:08; and Steve Montador is carrying 13:39. Finnish D-man Sami Lepistö has only seen one game (9:35); how often will he be used this season?
– People aren't paying a lot of attention to Corey Crawford due to what's going on with all the skaters in front of him, but Crawford is starting out his sophomore season 1-1-1 with a .934 sv% and just 1.98 GAA. Sophomore slump? Forget about it. All the attention was on Tim Thomas Saturday night for the shootout win, but Crawford had the better save percentage on more SOG, and made some saves that were just as spectacular and important as his counterpart. This is a great sign for Chicago as they have their franchise goaltender re-signed to the team for the next three years.
– Jamal Mayers came into camp looking in great shape, and has been very good on the 4th line. He's also regularly dropping the mitts and can more than hold his own as the team's enforcer. While he's not yet on the score sheet, he's responsible with his play, and is a faster skater than expected. Get Ben Smith healthy and in the lineup, and this fourth line is going to give other teams fits.
– Andrew Brunette is delivering as promised. He's not the fastest guy on the ice, but he gets to the net all the time and is going to be putting together a nice point total for himself and the team this year.
– Sean O'Donnell is 40? Can't tell from the way he's playing.
– Bryan Bickell leads the team with 15 hits (11th overall in the league currently). The third/checking line of Bickell, Dave Bolland and Michael Frolik has been incredibly productive so far and a lot of fun to watch.
WHAT NEEDS HELP
– Duncan Keith seems to be alternating between glimpses of "back to Norris form" and sloppy, usually in the same game. This is not good. It's still the first 10 days of the season, however, so this will only be a concern if this remains the case past Thanksgiving. The Keith/Leddy pairing hasn't always been at its best. One could argue that both of these guys – puck-moving defensemen – could be paired up with physical/stay-at-home style D-men like Seabrook more frequently for balance. Leddy looks a lot more confident and steady this season; Keith needs to look less like the sophomore guy. As Leddy continues to strengthen, we're likely to see Quenneville reunite the Keith-Seabrook pairing more frequently.
– Hjalmarsson is 6'3″ and 207 pounds, but he's being drilled to the boards so frequently around his own net that you forget what a big guy he is. Last season, he played somewhat timid. This year, his most frequent D-partner, Brian Campbell, was traded to Florida; so he's seeing a lot of ice time with Seabrook. Here's hoping that Seabrook's lead gets Hjalmarsson to be the physical kind of defenseman that would help boost the Swede's confidence and improve his all-around game. Despite this, however, Hjalmarsson is looking really good so far this season. (see "what's working"). If things go well, the top two pairs should eventually be Keith/Seabrook and Leddy/Hjalmarsson, providing two very strong puck-moving/physical D combinations.
– The Blackhawks are finally digging around the net for the dirty, greasy goals. Brunette has made a career of this, and Carcillo has always been that kind of player. It's good to also see Bickell making a lot of effort in this area as well, but the team as a whole needs to continue to make strides in this direction.  It's great when speed provides the breakaways, but it's better to get in close and make the opposing goalie really work for those saves – and have less reaction time – than all those huge blasts from the blue line/top of the circles. What is good to see is that the players are looking around more to see who's with them and where they are positionally before flinging the puck in.
– Chicago finished out last season fourth in the league on the PP conversion at 23.1%. They've started off the season at a mere 11.8%. Chicago scored 64 PPG last season; the Blackhawks absolutely have to do better this year than they've started. In comparison, the surprise team of the season thus far – Colorado – is converting their PP at 32%. Chicago's 11.8% puts them 22nd in the league.
– Another stat worth noticing is that Chicago is currently outshooting their opponents by an average of 32.5 to 30.2; but this is more an indication about how the defense is looking versus what it means to the score sheet. (After all, the Sharks are averaging 40.5 shots/game while only allowing 23.5 SOG/game, but they're 1-3-0.) While Chicago's defense is looking a lot better than last year, it still needs improvement. There's been some sloppy turnovers and bad plays that have led directly to goals.
– Steve Montador seemed to be struggling to find his footing on the team; his pre-season play was a bit of a mess on the blue line. But he's settling down and is finally starting to click; so far he's got the best +/- among the D-corps (+3). He's still making some iffy plays, but he's soaking up TOI and is providing what Chicago was looking for when they replaced Chris Campoli: an offensively-minded D-man who's gritty and makes things difficult for opposing players on the back end. Montador has grit; his play should continue to improve.
– Jonathan Toews is having a slow October – no surprise – but at least he's already on the score sheet. Usually Toews warms up somewhere around November, but it'd be nice to see him start being Toewsian from the first week of the season.
– Patrick Sharp isn't looking his best either; alternating between some great breakaways and occasionally completely disappearing on the ice. He's also surprisingly put together the most PIM on the team – mainly thanks to 14 PIM handed out to him in the home opener.
– Ray Emery was an inexpensive and elegant solution to the question of the backup goaltender in Chicago after his spectacular come-back story last spring. Alexander Salak outplayed him in training camp, but there were some elements of Salak's game that will definitely benefit from some time spent in Rockford, notably, tracking pucks in a crowded crease. Unfortunately, in Emery's single start so far (10/13 vs Winnipeg), he looked stiff and frequently awkward; he finished the night with the win, but also with just a .900 sv% and 3.00 GAA. Hopefully it's a case of early-season/first-game nerves and not indicative of what he'll perform like all season.
– Chicago plays their best when they try to keep it simple and just make the plays. A clean, simple goal in the net is better than fancy stickwork and a ring off the post any day of the week.
– The Blackhawks still can't seem to remember to "play 60". The team needs to find its killer instinct and put teams away in the third, especially when they have a lead; instead of  the bad habits of starting to sit on their heels, or get sloppy in the final period. This was Chicago's worst habit last season – a carry-over from their Cup-winning season – and it's frustrating to see even a hint of it showing up early this year.
Despite the areas that need some improvement, it's clear that that the Blackhawks team on the ice this season is very different than last year's group. The new guys have fit in more quickly, the atmosphere is more relaxed out of the gate, and there's an almost electric chemistry already evident on some of the lines. Blackhawks fans are in for some very exciting hockey this year.