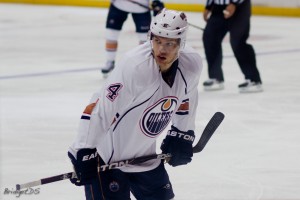 It didn't take very long for 2011 first overall pick Ryan Nugent-Hopkins to make his presence known in the NHL. The 18 year old has four goals and one assist through four games to start his pro career, including his first NHL hat trick against the Vancouver Canucks. The goals may not have been highlight reel pretty, but Nugent-Hopkins has made a habit of driving the net and getting into the dirty areas and that's exactly the kind of hustle the Oilers like to see from their stars.
Nugent-Hopkins has a ton of skill, but his willingness to do whatever it takes to win is what is impressing so far. His comments following his memorable night showed the kind of character the rookie has.
"There's a lot of other little things that I need to do to get a definite spot on the team," Nugent-Hopkins said less than 24 hours after he notched his first NHL hat trick in his third NHL game, a contest the Vancouver Canucks won 4-3. "This morning I woke up and tried to forget about last night, so I could get focused and play my best. For the most part, I just try and take it a day at a time," he said. "I'm going to be working as hard as I can at both ends of the ice." – National Post
Nugent-Hopkins isn't the only youngster stepping up his game in the early season for Edmonton. The "kid" line that also includes Taylor Hall and Jordan Eberle has combined for 12 points and have clicked very well. There's no telling how long the trio will stay together, but they sure are fun to watch. Nugent-Hopkins currently leads the team in points, and has been a huge part of their 2-1-1 start. Surprisingly, some still don't feel that he is a lock to stay with the big club past the nine game mark (where upon he either has to be sent down to juniors or start his "pro clock"), but he is certainly making his case to stick for the season. Expectations should be tempered, as there's always a learning curve when players first enter the league, but the boatload of potential this kid has cannot be ignored. He is one of the main reasons why there's a good chance Edmonton will move up from the 30th spot overall.
The Oilers are a team that could surprise a lot of people, but injuries still linger, as winger Ales Hemsky joined Ryan Whitney and Sam Gagner on the sidelines with a shoulder injury. It's nothing new for the 28 year old, who has been saddled with injuries his entire career. He has played 81 games in a season just once, and that was in 2005-06 when the Oilers went all the way to the Stanley Cup Final. There was talk he might be trade bait at the deadline, but injury concerns might scare potential buyers away. He is expected to be back in a couple weeks, and when the team does get healthy, they will be a team to watch in the playoff race. The additions of veterans Ryan Smyth and Eric Belanger have provided stability to a young line-up, and considering where the team has been the past two years, there is really nowhere to go but up.