On April 30th, 2016, the most recent edition of the NHL Draft Lottery was completed, with the balls ultimately falling in favor of the Toronto Maple Leafs.
Entering the event with the best odds to win the selection at 20%, the Leafs secured the rights to their first first overall since 1985, when they selected Wendel Clark. In following with the new Draft Lottery format, two teams with lesser odds moved up in the Draft Order, as the Winnipeg Jets rocketed up to second overall, while the Columbus Blue Jackets moved from fourth to third overall.
As a result, because the Oilers were surpassed by two teams, Edmonton will now officially pick fourth overall at the 2016 NHL Draft, a position which is extremely flexible in terms of both the players available as well as manners in which to dramatically improve their roster.
Make the Pick
The first, and most likely option for the Oilers is to Draft a player at 4th overall.
The Oilers have long been searching for remedies to their perpetually poor defense, and the coming Draft could provide them with the opportunity to do so. After dressing a mind-boggling 14 defensemen in the 2015-16 season, and signing numerous free agents in recent history who have failed to pan out, Edmonton could add a potentially franchise altering defender at the 2016 Draft.
In particular, there are three defensemen who could significantly benefit the Oilers blue-line in not only the immediate future, but also in the long-term.
Jakob Chychrun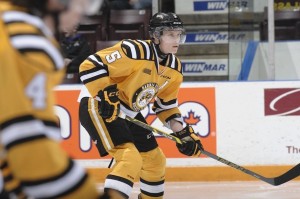 Arguably the best defensemen available in the Draft, Jakob Chychrun of the Sarnia Sting is an elite defender who already possesses a number of NHL ready qualities.
At 6'2″, 200 pounds, Chychrun has great size in tandem with great skating skills, most notably his speed, acceleration and mobility. He gets around the ice with ease and has the ability to dictate play at both ends of the ice. In the defensive zone, Chychrun has a quick and accurate stick, and uses it to knock pucks lose from opposing players. If that fails, which it rarely does, Chychrun uses his big, physical frame to out-muscle and dominate opposing players.
Offensively, Chychrun has a great first pass, and uses it to help his teammates develop offensive opportunities. In the attacking zone, a quick, hard and accurate shot from the point through traffic generates scoring chances, and has resulted in a number of high scoring seasons in the OHL.
In terms of his NHL potential, Chychrun projects to be a top-2 pairing defenseman.
Olli Juolevi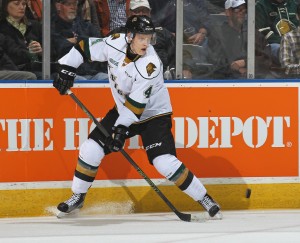 Yet another fantastic Finnish talent in this year's Draft, Olli Juolevi made a late-season push up respective Draft rankings and began to push Chychrun for the title of the best defenseman available.
At 6'2″, 185 pounds, Juolevi too is of decent size, yet he doesn't play a style of game nearly as physical as Chychrun. Juolevi too plays a very complete game, and has drawn comparisons to Olli Maatta of the Pittsburgh Penguins.
Juolevi can play well in all situations, whether it be on the power-play or penalty kill, thanks largely in part to a seemingly never ending compete level. In combination with his high work ethic is his strong skating ability, as he is a very mobile and speedy defender who isn't afraid to join into the rush offensively.
Known primarily as a playmaking defender, Juolevi projects to be a solid top-4 defender at the NHL level. However, whether the Oilers would be willing to use the fourth overall selection to acquire him is an entirely different conversation.
Mikhail Sergachev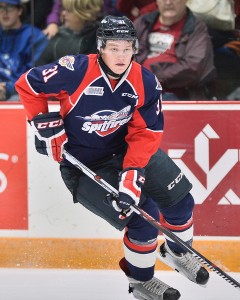 The third defensive prospect which the Oilers could entertain drafting at fourth overall is Mikhail Sergachev, a big-bodied Russian defenseman who recently capped off a successful season with the Windsor Spitfires of the OHL.
On average, Sergachev has ranked eighth in the majority of rankings leading up to the 2016 Draft, a number of which limited solely to North American skaters. Viewed as the third best defender available in the Draft, odds are the Oilers won't select the hulking Russian at fourth overall, especially if one or both of Chychrun and Juolevi remain available.
Regardless, Sergachev remains an incredibly skilled talent in a very deep 2016 prospect class. Best defined as a comprehensive two-way defender, Sergachev pairs a sound defensive game and solid offensive upside with a high level of competitiveness, one which allows him to dictate play at both ends of the rink.
Alternate Options
Quite obviously, the Oilers aren't limited to drafting a defenseman at fourth overall in the Draft, although the blue-line remains the greatest weakness on Edmonton's roster and requires the largest amount of attention.
Although they are already loaded with high-end offensive skill up front, if Peter Chiarelli and Oilers brass somehow decide they need to add yet another young forward with a top-5 selection, there are a number of quality talents who will surely be available.
Matthew Tkachuk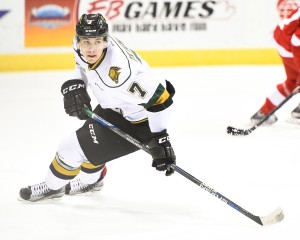 One of the top forwards in the Draft outside of the big-3, Matthew Tkachuk has long been considered a sure bet to be selected fourth overall.
A talented young winger who spent the 2015-16 season with the London Knights of the OHL, Tkachuk netted 30 goals and 107 points in his first CHL season, and as such has become known as a pass first, shoot second style of player. However, Tkachuk can do much more than score, carrying a nasty side to his game and isn't afraid to mix it up with opposing players in hopes of getting under their skin.
An excellent skater with great mobility and elite hockey sense, Tkachuk projects to be top-6 forward at the NHL level. If the Oilers do decide to draft Tkachuk, they will land a solid player, yet one which they already possess a large quantity of.
Pierre Luc-Dubois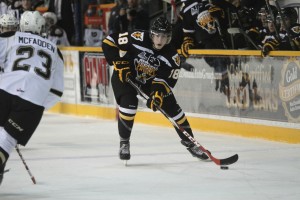 Like Tkachuk, Dubois is an incredibly gifted winger who can score at will. In his most recent season with the Cape Breton Screaming Eagles of the QMJHL, Dubois notched an impressive 42 goals and 99 points, a major reason why he overtook Tkachuk for the top spot in the NHL Central Scouting Rankings among North American Skaters despite ranking just seventh in the mid-term edition.
Regarded as one of, if not the most complete player available in the 2016 Draft, Dubois plays an excellent two-way game marked primarily by his elite offensive upside. At 6'3″, 200 pounds, Dubois not only uses his size to dominate offensively, but he also uses his big frame to out-muscle opposing players in his own zone.
While Dubois likely won't be selected by the Oilers at fourth overall, he could certainly push the big-3 of Matthews, Laine and Puljujarvi for a spot in the top-3 of the Draft, as he has drawn early comparisons to James Neal of the Nashville Predators.
Trade the Pick 
The Oilers' other option when it comes to the fourth overall pick is to trade it.
While trading a top-5 pick doesn't happen very often, trading the fourth overall pick could net the Oilers a handful of NHL roster players in return, in particular a top pairing defenseman.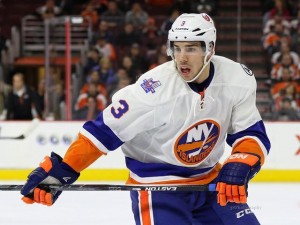 Trading the pick straight up to an NHL team which possesses a lower pick, yet feels a certain player would be of monumental importance to their roster moving forward is an option, and would allow Edmonton to immediately upgrade their d-core in the right deal.
Travis Hamonic is one player which the Oilers could target in a trade, while the Islanders could use the fourth overall selection to draft Dubois, as New York could use a young, budding first line winger. On the other hand, dealing the pick to the Ducks could help land Hampus Lindholm, a young defender who would immediately benefit Edmonton's roster.
A second option for the Oilers when it comes to potentially trading the pick would be to trade down in the Draft, a move which would allow them to select one of the three defenders listed above while still adding additional pieces in return.
For example, if the Oilers were to trade down to tenth overall, it would provide them the opportunity to select one of Cychrun, Juolevi or Sergachev, while also receiving additional pieces in return in the trade, particularly a defensemen who could immediately impact the Edmonton roster.
Realistically Speaking
Realistically, the Edmonton Oilers will likely use the fourth overall pick in the 2016 NHL Draft to select a young defender, in all likelihood Chychrun.
However, as we have now seen, absolutely nothing is set in stone, as the Oilers retain an incredible number of options in terms of how to manage their first round pick in 2016. Making the pick would be the safest option, as it would ensure the Oilers add yet another budding young superstar to a lineup laden with raw skill, while trading the pick could be quite riskier, especially so if they trade down in hope of drafting a defenseman while also adding one in trade.
Whatever decision Chiarelli and Oilers management come to, it will surely be the one which best suits the organization moving forward. One aspect of paramount importance however to remember is that, despite a stumbling rebuild, the Oilers must remain focused on their ultimate goal of building a solid, complete team. Impatience, especially within the Oilers fan-base is at an all-time high, yet if Edmonton wishes to improve its on-ice product, it will be essential to remain focused on the long-term goal of the franchise.
Brett Slawson is a four-year veteran of The Hockey Writers who covers the Toronto Maple Leafs, NHL prospects, and the OHL's Mississauga Steelheads.
Contact Brett on Twitter @brettslawson92, or by email at brett_slawson@hotmail.com.