The Chicago Blackhawks and Boston Bruins are in the midst of the first all Original 6 Stanley Cup Final in thirty-four years. The last time it happened was a 1979 Montreal Canadiens sweep of the New York Rangers. Since then, we've seen Gretzky and Lemieux come and go, goaltenders evolve into heavily armoured puck stopping giants, and a seventeen team league expand to thirty. Thirty-four years is forever in hockey time.
The Original 6 Scare.
For the Bruins, this Original 6 final is a perfect climax to what has been an Original 6 playoffs. Their Round 1 was spent battling highs and lows against a hungry Toronto Maple Leafs team that pushed them to the limit. They followed that with a decisive second round victory over the New York Rangers, beating them in five games.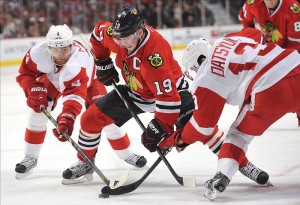 The Blackhawks have also had a taste of the Original 6 on their journey to the finals. Their Round 2 was an inconsistent, come from behind series win over the Detroit Red Wings, their long time foes. The Hawks trailed 3-1 in games against the Wings, but they battled back to grind out three straight victories and clinch the series in seven.
The Bruins and Blackhawks have both faced seven game scares against Original 6 opponents along their impressive roads to the finals. Now they've arrived, and the team that best learned its lesson will probably hoist the big shiny Cup in approximately two weeks time or less.
Interesting Match-Ups.
There are quite a few intriguing clashes to look forward to in this highly attractive final round. For starters, the league's best two-way centremen Jonathan Toews of Chicago and Patrice Bergeron of Boston will be heavily relied on to win big draws, kill penalties, soundly deny their opponents space on the score sheet, and of course, score big goals themselves. It's a lot of responsibility for two players, but they can handle it, that's why they're here, again.
The days of super pests like Claude Lemieux and Darcy Tucker are no more, however, there is a new breed of responsible pests taking the league by storm. Bruins LW Brad Marchand and Blackhawks RW Andrew Shaw excel at getting under their opponents skin with gritty, clean play. The pesky grinders will attempt to play significant roles in the trenches and on the score sheet for their historic clubs.
A Great Group Of Wingers.
The Boston Bruins have some very rare wingmen controlling their flanks. Milan Lucic, is a monster of a man with a nose for the net and a mean streak that causes opponents to always beware when he's on the ice.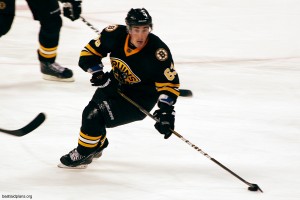 Brad Marchand, the pesky little guy you love to hate sure has been good in these playoffs. He was also very good two years ago when the Bruins won the Cup. He's proving that he's one of those players who makes a huge difference in the Spring. I'd compare him to Claude Lemieux but he hasn't accomplished enough yet, and, he's not nearly as dangerous to the physical well-being of his opponents.
The Bruins have an interesting weapon in the form of an old grey-beard, named Jaromir Jagr. You've heard of him. The last time Jagr played in the Stanley Cup Finals his teammate Tyler Seguin was a crying infant in his mother's arms. Jagr won the Cup in 92, scoring one of the most legendary goals in NHL history, all against you guessed it, the Chicago Blackhawks. His intangible off the ice is probably team leadership, experience, and whatever else he's learned in his Hall of Fame career. His great intangible on the ice is one he's utilized since his first days in the league. Jagr is a giant. He's a big strong man and he protects the puck with authority. Sure, he's not scoring at the unbelievable pace he maintained throughout many an Art Ross season, but he's still holding onto the puck, working opposing defencemen down-low, and sustaining puck pressure for his team. Don't judge him on his goal count. Jagr's ability to control the puck causes fits for his opponents while ensuring that when the Bruins enter the offensive zone, the puck is going to stay there for a while. That's huge.
I could go on about the game-winning goal and plus/minus heroics of Nathan Horton, the smooth and under-appreciated coolness of David Krejci, or the defensive buy-in from a young skilled Tyler Seguin, but I think you get the point.
The Blackhawks wingers have their own important specialties that have made them the best team in the league since the puck drop of Game 1 to open the regular season. They won that game handily against the defending Cup champs from Los Angeles, and once again displayed their superiority over the Kings in the Conference Finals with a 4-1 series win.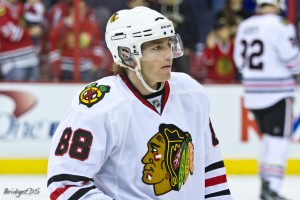 Patrick Kane, the mullet wearing, beardless, puck passing star that he is, often gets remembered for his silent but deadly Cup clinching goal against the Philadelphia Flyers in 2010. It's not goal scoring that makes Kane great though. Much like Jagr, P Kane holds onto the puck, protects it, makes plays with it, and does so with what looks like ease. When Kane has the puck, the Hawks are moving forward with urgency. And when Kane gains the offensive line, a chance, half chance, close call, or exciting moment is almost always guaranteed to follow. There are very few in the game that hold the puck as long or often as Chicago's number 88. He is the backbone of their elite puck possession style.
This guy is a bull, and his name is Marian. The Blackhawks solidly built Slovak is one of the best two-way wingers and defensive forwards in the NHL, and he's also one of the league's most potent offensive players. It's hard to be both, but not for him. He's a great penalty killer, and winner of battles along the boards, but what makes Hossa so damn good is that he will strip you. If you have the puck and Marian Hossa is on the ice, he will take the puck away from you. His back pressure is second to none, and you could say the same for his compete level.
The speed of Patrick Sharp is a valuable intangible, especially considering the Bruins left defence is so strong. His name is Chara. And Chara has experienced his biggest problems in playoffs past against the super speedy. So Sharp will try and use that speed to force mistakes out of Chara and his peers. He's a wheeler and scorer.
A Final To Enjoy.
If you're simply a fan of hockey and you love watching your favourite game at the highest level, you will get that here. The Bruins and the Blackhawks showed that last night in their instant classic, triple overtime Game 1. The Hawks early series lead means little if the Bruins stay in character, and don't get phased. I don't see why they wouldn't.
As fans we can realistically expect a great show from these two Original 6 franchises over the coming days. And we should take advantage of it by watching because too often, the Finals doesn't produce a great series. This time, it will.
Featured Writer | Contributing Leafs Writer for TheHockeyWriters.com | Editor & Founder at TheHockeyDaily.com | FOX Sports affiliate | Yardbarker Network | Follow on Twitter @S_Ientile & @TheHockeyDaily for daily hockey featured stories and discussion.