written by Ian C McLaren, Lead Boston Bruins Writer
After a few hours a sleep and a couple cups of coffee, it's proving difficult to assess the result for the Boston Bruins in Game 1 of the Stanley Cup Final.
On one hand, they failed to hold a 2 goal, 3rd period lead en route to an eventual loss in triple overtime, and also failed to secure an all-important win on the road when that tasty carrot was dangling right in front of them. At the same time, it took 5+ periods and a couple missed opportunities / lucky bounces for the Chicago Blackhawks to win on home ice, and, even in defeat, the Bruins showed that they are more than up to the task of defeating the Western Conference Champions.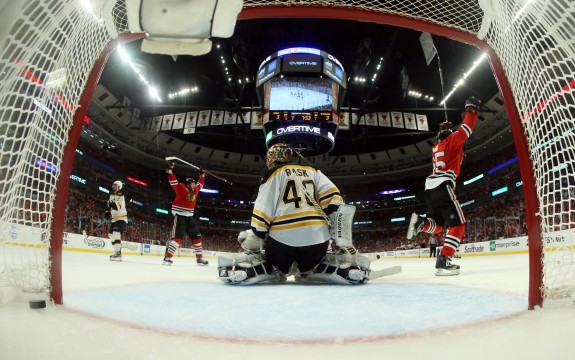 From Tuukka Rask's point of view, it was definitely an opportunity given away:
Yeah, we had the game. We're up 3-1 in the third and then a terrible turnover leads to a second goal, and then a tough bounce leads to the tying goal, and we just gave it away. (via Bruce Arthur, National Post)
Any way you slice it, if the first game proved anything, it's that these two teams are incredibly well matched, and that we are in for one hell of a series.
What's somewhat troubling for the Bruins, however, is that their much talked about depth is now being severely tested at the wrong time.
It was clear early on that the Hawks 3rd line of Brandon Saad – David Bolland – Andrew Shaw is capable of badly outplaying the Bruins trio of Tyler Seguin – Rich Peverley – Kaspars Daugavins. That might not matter much anymore because of an in jury to Nathan Horton that may result in a promotion for Seguin (who had Game One on his stick on a couple of occasions), if not up to the top line with Daivd Krejci and Milan Lucic, then back with his regular season line mates (Patrice Bergeron and Brad Marchand) with Jaromir Jagr getting the call to join to best line of the playoffs so far.
With Gregory Campbell already out of the lineup – and with Kaspars Daugavins, unable to bury a tasty bone in 3OT, inserted in his stead – Claude Julien may once again be looking to bring a new face into the lineup. As was the case after the Campbell injury, the popular cry was to have Carl Soderberg fill the hole, but look for Jordan Caron to get the call if Horton is unable to play in Game 2. If so, it would be great to see Daniel Paille get bumped up to the 3rd line with Caron and Peverley in an attempt to match the speed and skill of the Blackhawks 3rd line.
And hopefully Horton will be able to return later on in the series:
Tough nailing down injury specifics during the playoffs. I'm hearing Nathan Horton's injury is not that bad, but he's doubtful for gm 2.

— Darren Dreger (@DarrenDreger) June 13, 2013
Either way, any lineup featuring Daugavins and Caron instead of Horton and Campbell is less than ideal, and it's also possible that Torey Krug may get the yank after a less than stellar Cup debut. All told, there probably will be a couple significant changes for the Bruins for Saturday night's game, one that would obviously be in their best interest to win before heading back to Boston.
Having said that, there's really no need to get all worked up about a road loss / Horton injury early in a Cup Final. As the Bruins and their fans are all too well aware, it's a path they've been down before, and they managed to storm back from an 0-2 deficit in 2011 without the services of their star power forward.
No, the Boston Bruins weren't at their best in Game 1, but remember – they still haven't lost a game in regulation since the Toronto series, and it took almost 2 games for the Blackhawks to secure an early advantage in the Final.
So to end, I'd like to suggest that we now refer to the Original 6 as the number of periods it took to decide Game 1 of the 2013 Stanley Cup Finals, a sign that we may be in for more of the same over the next couple weeks.