With the fourth overall pick in the 2018 NHL Entry Draft, the Ottawa Senators selected Brady Tkachuk from Boston University. The son of NHL legend Keith and brother of the Calgary Flames' Matthew, the youngest Tkachuk has an extremely difficult decision to make this offseason. Tkachuk can choose to head back to BU or try to make the jump straight to the NHL next season, and that may just depend on how the rest of the offseason goes for the Senators.
Tkachuk is in an interesting position, able to play for BU, the OHL's London Knights, the Belleville Senators in the AHL or possibly for Ottawa. Drafting Tkachuk puts a tremendous amount of pressure on the young player, more than the average fourth overall pick. On top of needing to show he's worth the high selection and better than those who were drafted after him, the Senators will need the left winger will need to be better than whoever the Colorado Avalanche choose next season in order to avoid even more organizational criticism.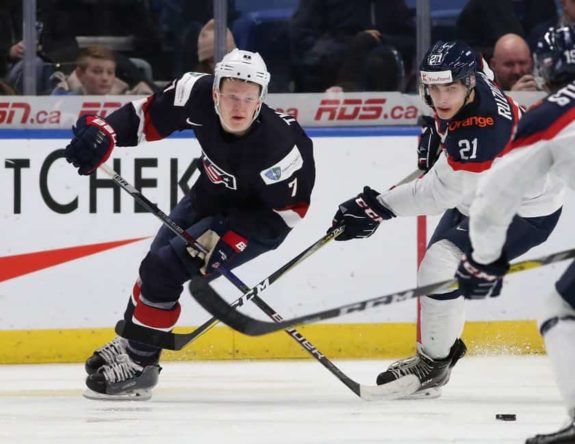 In the Matt Duchene trade, Ottawa sent a conditional first-round pick to the Colorado Avalanche. The condition was that the Sens could choose to keep this year's first-rounder and send next year's to the Avs or trade this year's pick and hold out for the 2019 draft. It looks like chances are high for the Senators to finish near the bottom of the standings this year and have a chance for the coveted first pick, expected to be Jack Hughes. Ottawa chose Brady Tkachuk, giving the Avalanche their potentially high pick next year.
It will be years before the Senators will know if this decision was the right one. For now, Brady Tkachuk has his own decision to make on where his career goes from here.
Why Tkachuk Might Stay at Boston University
During his freshman year at Boston University last season, Tkachuk had to adjust to competing against players up to five years older than him. He handled it well, putting up 31 points with a plus-15 rating over 40 games. He was named to the NCAA All-Rookie Team and helped Boston to the NCAA (Hockey East) Championship.
Related: Senators Pick Brady Tkachuk #4 Overall
While speaking with reporters, Tkachuk said, "It was a tough start. I definitely became a more well-rounded player. I focused more on my defensive play and how good defense leads to good offense. I felt I was getting stronger over the year."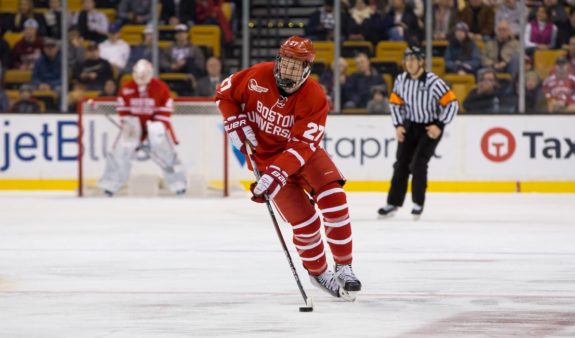 If making the jump to the NHL next year, Tkachuk would need to adjust again—not only to playing against much tougher competition, but going from 40 games to 82 in a season. It's likely that both the Senators and Tkachuk will want him to have a year or two where he's comfortable and succeeding before needing to adapt to a different league in back-to-back years.
It was believed before the draft that Tkachuk was leaning towards spending another year with Boston University. If it's looking like he won't have a chance to play for the Senators with some serious minutes, it's likely that he will return to BU rather than play in the OHL or AHL. However, if Ottawa can offer him a secure role on the team while playing serious minutes, the decision may become easier for Tkachuk. He may simply wish to finish his education before making the jump into professional hockey.
There has already been a dialogue between Tkachuk and the Senators, but he has made it clear that he won't be rushed into a decision.
"(The Senators) have told me what they want to do, but, at the end of the day, that's for both parties to see what's best long term," he said to Ottawa Sun reporter Ken Warren. "It's my decision, but I have a great support group with my dad, mom, brother, and sister. It's a family decision because they all know what's best for me."
"I'm going to take my time and soak it all in, there's no real timetable."
Why Tkachuk Might Make the Jump to the NHL
At 6-foot-3 and 196 pounds, Tkachuk has the size to play in the NHL. He has international experience and knows what it takes to win after winning the Hockey East Tournament championship with Boston University, and has gold and bronze medals with Team USA from World Junior Championships the past two years. His brother, Matthew made the jump straight to the NHL after being drafted in 2016 and will be a strong influence in the younger Tkachuk's decision.
It's no secret that the Senators are going through changes in the organization. The biggest change may still be to come with the potential Erik Karlsson trade looming. If Ottawa parts ways with its captain, it's likely that a rebuild will follow. That may be a sign that Tkachuk could be a factor on this team next season. If Tkachuk is content with losing for a couple seasons to get the NHL speed under his belt, he could test his luck with the team.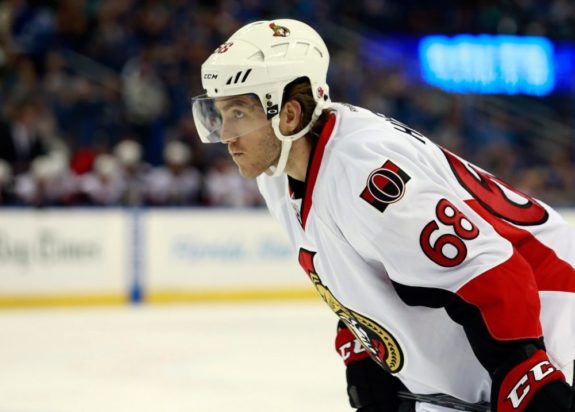 The players that Ottawa has already parted ways with, and those that may follow, make sense for Tkachuk to jump to the NHL now as well. Mike Hoffman has been traded to the Florida Panthers and Alex Burrows has retired. Matt Duchene and Bobby Ryan are involved in the many trade rumors surrounding the team. There may be many holes in the Senators lineup next season, and Tkachuk has the skill to fill one of those positions.
As mentioned above, Tkachuk has said he's in no rush to make his decision. It's likely that he will let the summer play out and see how the team is looking closer to the season. A good sign for Sens fans who can't wait to see their newest first-round pick play is the recent news that he has started training with fitness guru, Gary Roberts. Also, at the Senators' 3-on-3 prospect tournament this month, Tkachuk was awarded the Jonathan Pitre Award as the hardest working player, along with Parker Kelly. The winger is looking very promising in the early stages of his NHL journey.
The Brady Tkachuk era is coming to Ottawa. For now, it's just a question of when.
Starting out as an Ottawa Senators contributor for The Hockey Writers, Josh is now an editor and at-large contributor, focusing on prospects, the NHL Draft, hockey history, and breaking news stories.