It's a trade that didn't have to happen. To put it simply – it makes no sense.
Pierre Dorion sent Ottawa Senators fans into a tizzy Monday afternoon, pulling the trigger on a highly contentious trade with the Vancouver Canucks that sent prospect Jonathan Dahlen to Vancouver in exchange for Alex Burrows. Burrows will be 36 in April, while Dahlen is 19 and has been tearing it up in Sweden's second-tier league.
There are numerous reasons why this trade was unnecessary, but the biggest one is unquestionably Burrows's usefulness.
Burrows Past His Prime
His age should tell you all you need to know. But beyond being in the twilight of his career age-wise, the production that was once a hallmark of his career just isn't there anymore for Burrows, whose days of being a consistent 30-point threat are long gone.
His decline began following the 2009-10 season, in which he posted 35 goals and 67 points – both career highs. Since then he has reached the 30-point plateau only three times in six seasons and is on pace for 28 points this season. And yet for some reason, Dorion felt compelled to not only trade for Burrows, but to make him part of Ottawa's long-term plans with a reported two-year contract extension.
Dorion says he expects to announce the extension tomorrow. #Sens

— Bruce Garrioch (@SunGarrioch) February 27, 2017
One of the most puzzling aspects of the trade is the Sens already have a Burrows-esque player in Chris Neil who is only one year older (though his status with the team going forward is shrouded in uncertainty). Bringing in someone almost identical to Neil – a physical pest near the end of his career – but with slightly more offensive touch is a redundant move.
Despite not bringing many unique and tangible qualities to the table, Burrows does have something few Senators can match: playoff experience. He appeared in 70 career postseason games with the Canucks, including a run to the Stanley Cup Final in 2011, which is third on the Senators only to Chris Kelly (whose Boston Bruins defeated Burrows and co.) and the aforementioned Neil.
Much of the immediate reaction to the trade online and on talk radio in Ottawa was that Burrows was brought in with a clear objective to help Ottawa's playoff chances. But playoff experience, while invaluable, can only do so much for a team – especially considering Burrows has combined to play in just 12 postseason games since 2011-12.
Moving the Farm
For as enraged as Sens fans were at Dorion for the trade, Canucks fans were equally happy, if not happier, with Jim Benning for landing the highly-touted Dahlen. A second-round pick in last year's draft, Dahlen has been lighting it up with Timra IK in the Swedish league this season, posting 41 points in 43 games to go along with a plus-14 rating.
Trading prospects is like playing the stock market in that there's so much volatility and unpredictability involved, which makes it hard to know what the Canucks are getting. Right now, all anyone has to go on is potential, and Dahlen looks to have lots of it – but then again, so did Alexandre Daigle when the Sens drafted him in 1993.
Knowing the Sens still have Colin White and Filip Chlapik, among others, in their system makes the loss of Dahlen a little easier to swallow. But given the fact Dahlen was one of Ottawa's top prospects, it stings to see him go, especially looking at the return (though perhaps the extension is Dorion's justification for the tradeoff).
In Dorion We Trust
As questionable as this deal was, there's no denying many of Dorion's personnel decisions have worked out favourably in his first season as GM. The biggest, and most notable of all, is the hiring of Guy Boucher as head coach, which has drastically improved Ottawa's defensive play and is one of the main reasons Ottawa figures to be back in the playoffs this season.
The acquisition of Derick Brassard has been positive overall, though he's been streaky this season and hasn't provided the desired chemistry with Bobby Ryan. Conversely, Mika Zibanejad has only 24 points with the Rangers this season (he did, however, miss a chunk of time with a broken leg).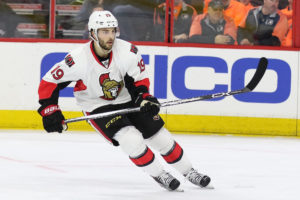 Even the signing of underrated Tom Pyatt has been a boon for the Sens, especially on the penalty kill where he has become a regular and effective player. The only move that hasn't worked out so well is the trade for Patrick Sieloff, who concussed Clarke MacArthur with a big hit in the preseason that would eventually end MacArthur's hopes of a comeback in 2016-17.
But just because most of the moves he's made have worked out well so far doesn't mean this one will too. Because not only will the Sens have to live with trading one of their best prospects, but they're also locked in for another two years to a player whose style of play is better suited to a 28-year-old than a 38-year-old.
Playoff Payoff
Burrows can bring all the character and leadership he wants to the Sens, but if he doesn't help the team win between now and 2019, then it will be hard to say the trade was worth it. With Ottawa's goaltending finally on good footing, Erik Karlsson in his prime and a group of forwards who can lead the way offensively, this could be Ottawa's time.
Dorion says for today "I'm done." Didn't rule out more. #Sens

— Bruce Garrioch (@SunGarrioch) February 27, 2017
It may take another piece or two to get it done, but Dorion is apparently willing to tamper with his team's future to try to win now.