Less than a week ago, Alex Ovechkin was named as the left-wing representative for the First NHL All-Star team. Jamie Benn held that position last year and was named to the Second NHL All-Star team this year. This could easily be an alternating battle for the next several years. Both players play a similar style of forward, having skill that goes almost unmatched while simultaneously being ultra-physical with their opponents. The question for this season is this: was Benn actually the better player and more deserving of the first team? Did Ovechkin's goal-scoring prowess edge Benn's Art Ross performance? Let's dig a little deeper into this showdown.
Even-Strength Statistics
Performance at even strength is an important indicator of how well a player is performing overall. These two superstars played comparable minutes at even strength this season. According to NHL.com, Ovechkin played just over 1,300 minutes at even strength this season while Benn finished the year playing just over 1,200 minutes. During that time, Benn finished the season with a significant edge over Ovechkin in many categories. Benn's 53 points at even strength were 16 better than Ovechkin's 37. They each scored 21 goals on even terms, but Benn doubled Ovechkin's assist total (32-16).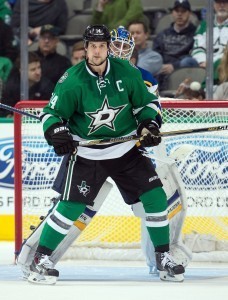 Possession-wise, Ovechkin and Benn were very comparable at even strength. According to War-on-ice.com, Ovechkin finished the regular season with a 53.70 Corsi-for percentage (3.40 CF%rel) while Benn finished with a 54.52 CF% (3.38 CF%rel). The scoring-chances for/against is where Benn has a slight advantage. He was at a 55.80 scoring-chances-for percentage (3.63 SCF%rel) and Ovechkin posted a 53.53 SCF% (1.92 SCF%rel). When it came to even-strength possession and scoring chances, Benn held a slight lead. That comes despite Benn having a 54.08 offensive-zone-start percentage compared to Ovechkin's 58.17.
While both players have been improving defensively, Benn once again has the edge. Again, all of these statistics in this section are at even strength. Benn has always had a knack for picking an opponent's pocket. He finished the year with 56 even-strength takeaways versus Ovechkin's 35. Benn gave the puck away just 36 times versus Ovechkin's 52 giveaways. Benn blocked more shots at even strength, as well. All of these numbers are impressive, considering Benn had 100 fewer minutes to work with on the ice. Overall, Benn has a solid lead over Ovechkin in terms of their play at even strength.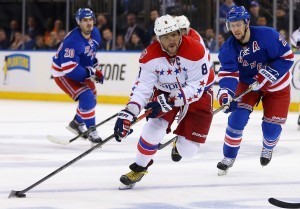 Special Teams
Now we have hit Ovechkin's forte, as nobody is more lethal on the power play than he is. Ovechkin's 33 power-play points crushed Benn's 23. Benn had five more assists on the power play than Ovechkin, but Ovechkin had 15 more goals scored. Both players played pretty comparable minutes on the power play, with Benn finishing with only 17 fewer minutes. Ovechkin is an absolutely dominating force on the power play, but there is another side to special teams, as well.
Ovechkin played just over one minute of shorthanded time this season compared to Benn's 121 minutes. During that time, Benn managed four shorthanded points including one shorthanded goal. the Dallas Stars gave up just eight more goals than they scored shorthanded while Benn was on the ice. Both players certainly performed well in their categories. The special teams edge goes to Ovechkin here for being borderline unstoppable on the man-advantage.

Who Deserved First-Team Honors?
So did Benn or Ovechkin deserve first-team honors for the NHL's left-wing position this season? You could easily make a solid case for both of them, as they each had incredible and unique seasons. It also depends on what the criteria is for being selected to the first team. Is it who the better player was or who had the better season? It seems as though the criteria was who had the better season, as evident by the Vladimir Tarasenko selection for right wing on the second team. I don't think many people would argue for Tarasenko being a better player than Patrick Kane, Marian Hossa or even Phil Kessel. But he had the better season, so he deserves the selection.
That brings us to the Benn versus Ovechkin argument. It's tough to argue that Ovechkin had a better season than Benn. Other than the power play (where your team has a man advantage), Benn had higher production while performing better on both sides of the ice. In fact, Benn out-produced Ovechkin at even strength by a larger margin than Ovechkin out-produced Benn on special teams. Benn had the better season in almost every aspect of the game.

In no way am I suggesting that Benn is a better player than Ovechkin. Ovechkin, for my money, is always the most dangerous player while he is on the ice. As of now, he is without a doubt the better player. However, in terms of first-team honors, Benn should have won it this year and that is evident by his performance in all aspects of the game of hockey. This battle will continue for many years; here's hoping it is as entertaining as it was this past season.
Jordan has been covering the Stars for The Hockey Writers since February 2015. He is originally from Iowa City, Iowa. You can follow Jordan on twitter @jordan_dix