So for starters, there are plenty of you who will have an issue with the fact that I'm even challenging the prospect of Alexander Ovechkin as Hart winner. You are Capitals fans. You have your right to be upset, but if you can't see any reason as to why he was the wrong choice, you'd better just save yourself the aggravation and stop reading now.
For those of you who are shocked Sideny Crosby didn't win, the same applies. I'll do you one better, Crosby didn't even belong on the ballot.
How John Tavares didn't capture the Hart Trophy this season is something I will not understand for some time.
And I'm a Rangers fan.
Plain and simple, when this season started, there was no scenario where the New York Islanders made the playoffs, none. Find me the reputable hockey source who picked the Islanders to make the playoffs; and I'll show you a leprechaun riding a unicorn.
The Hart Trophy is awarded to the player judged to be most valuable to his team. Read that again. Now imagine I put "his team" in italics. Am I emphasizing my point enough?
Let's look at the numbers:
Alexander Ovechkin: 48 GP, 32 G, 24 A, 56 PTS, +2, 16 PP
Sidney Crosby: 36 GP, 15 G, 41 A, 56 PTS, +26, 3 PP
John Tavares: 48 GP, 28 G, 19 A, 47 PTS, -2, 9 PP
Now some more numbers:
Washington Capitals: 48 GP, 27 W, 18 L, 3 OT, 57 PTS, 3rd place finish in Eastern Conference.
Pittsburgh Penguins: 48 GP, 36 W, 12 L, 0 OT, 72 PTS, 1st place finish in Eastern Conference.
New York Islanders: 48 GP, 24 W, 17 L, 7 OT, 55 PTS, 8th place finish in Eastern Conference.
For my money there are only a couple of elements to this discussion that are of merit. First, Sidney Crosby missed 12 games, and his team didn't miss a beat. Second, if Crosby plays those games, he blows Ovechkin out of the water in terms of production. Third, Tavares produced all season long, and if he doesn't produce at a point-per-game pace, his team misses the playoffs.
Here's why those are the three main points to discuss.
If you refuse to accept that the award goes to the player most valuable to his team, then the production quantity is the key element. If Crosby plays a full season he decimates Ovechkin in that category. You can't hold Crosby breaking his jaw against him, if anything, his production equaling Ovechkin's in 12 less games is all the more reason to vote for Crosby.
If you are capable of accepting the award's definition, then you're probably going to argue about the correlation between Ovechkin picking up his rate of production and the Capitals winning games. This marks the one and only possible counterargument to Tavares I've heard. Yes, in terms of the award's definition, at first glance, the former correlation in addition to his level of production over Tavares makes him a clear choice.
Only at first glance though.
Tavares plays on a really bad team. They are so bad, that they had to put Tim Thomas on the payroll so they could meet league regulations. For those of you who don't know, it was widely known before the 2013 NHL season that Thomas would not play. Maybe now is a good time to head over to www.bookmakers.co.uk to wager on him ever making a return to the NHL.
Funny right?
In addition, JT's cash-scrapped team also allowed PA Parenteau (he had 67 points with Islanders in 2011-2012) to walk in free-agency. Apparently, the $4 Million a year against the cap he incurred for the Avalanche was too much money for Long Island in 2012-2013.
Parenteau had 43 points in 48 games for Colorado this past season.
Long Island allowing Parenteau to go is the subject of another rant for another article. The point of all this is simple: Tavares' supporting cast decreased before this season started.
It didn't matter.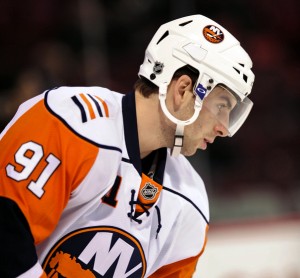 Night in and night out Tavares was a factor. He maintained the point-per-game pace he set last season even without Parenteau, and the Islanders made the playoffs for the first time since 2007.
For Ovechkin, there's no doubt he's a great player and the cornerstone of the Capitals' success.
Nicklas Backstrom, Mike Ribeiro, an Mike Green are all tremendous players in their own right. Having that kind of talent on the roster forces opposing teams to make a decision, who do you account for? Obviously Ovechkin is the guy you focus on, but you have to worry about the rest of those guys.
With the Islanders, there's no such dispute. You lock down Tavares, there's a good chance you walk away with a win.
They've done well for themselves recently, but opposing coaches don't lose sleep at night over the likes of Matt Moulson or Brad Boyes.
In the end, only one logical conclusion can be drawn about this year's Hart vote: Name recognition won out. Ovechkin just barely edged out Crosby with a total of 1,090 points to 1,058.
Tavares finished third.
If you're still not convinced of the name recognition travesty that was this year's Hart vote, consider this: Sergei Bobrovsky didn't even make the ballot.