The Calgary Flames have announced their acquisition of 22-year old center Corban Knight from the Florida Panthers in exchange for a fourth round draft pick. The news broke on the morning of Tuesday, June 18th and since then, the excitement on the Calgary Flames front is buzzing again.
So who is this relatively unknown player and why should the Flames and their fans be excited about getting him?
Corban Knight was born in High River, Alberta to Jack and Laurie Knight. If the name Jack Knight rings a bell, it's because Jack has had ties to the Calgary Flames organization as their hockey chaplain.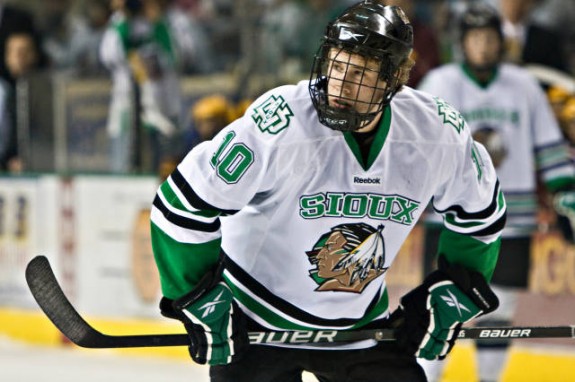 At 17, Knight played with the UFA Bisons Midget AAA Hockey Club, where he scored a league-leading 65 points. Moving on to the AJHL, Knight's 2-season stint with the Okotoks Oilers was an impressive one. During the 2008-2009 season, Knight led all rookies with 72 points (34 goals, 38 assists) in 61 games. In the post-season to follow, he scored 10 goals in 9 playoff games and was subsequently named to the AJHL South Division All-Star team.
In the 2009 NHL Entry Draft, Knight was taken in the fifth round (135th overall) by the Florida Panthers.
Knight continued his hockey career at the collegiate level with the University of North Dakota, where he excelled and quickly became known as a great leader on the ice and a humble and friendly young athlete off the ice. In the 4 seasons spent with the University of North Dakota, Knight has been consistently hovering at the top of the scoring race, and has received numerous awards for his leadership qualities and athletic excellence.
Most recently, Knight was nominated for the Hobey Baker Memorial Award for the 2012-2013 season. His college career has been compared to the likes of TJ Oshie and Zach Parise.
At 6'2 and 200 lbs., Knight is a complete player with a big on-ice presence and a lot of skill. It was doubtful that Knight would sign with the Panthers for the upcoming season, and seeing an opportunity for something in return instead of losing him to free agency, Florida had to make a move.
When it came down to it, Knight was faced with the decision of going with the Flames or with the Edmonton Oilers.
As per the Calgary Flames organization, Knight has agreed to a 2-year entry level deal with the team, and is slated to be seen wearing the 'Flaming C' by this fall.