Accepting a pass from Doug Weight while approaching center ice, he picks up the pace and bolts by Grant Ledyard who stumbles to the ice. Head up and nobody except the goalie in his path, the shot is placed high inside the far-post giving Andy Moog little to no chance for a save.
Todd Marchant brought the heroics in overtime of game seven against Dallas in the opening round of the 1997 postseason. In doing so, he united himself to a list of 31 players who have accomplished such a feat. Supporters of the Oilers will recall the moment in a heartbeat.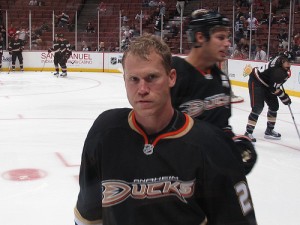 The veteran began implementing his craft as one of the league's premier defensive forwards in Edmonton. There, he was a highly preferred penalty-killer and an obstacle for the better centers facing the team on a given night. Ironically, he was dealt from the New York Rangers in 1994 for Craig MacTavish who would later become his coach after retiring.
Between 1999 and 2003, Marchant was awarded as the Oilers' Best Defensive Forward four separate times. For nearly a decade, he was one of the premiere symbols of Edmonton's conversion into becoming a spirited group.
Two teams and 12 years later, the 35-year-old is an unsung hero of sorts as an Anaheim Ducks member. Marchant's wheels will see their expiration date eventually, yet they remain noteworthy and critical to his design, especially in the new modernistic NHL.
Penalty-killing demands enduring movement to minimize the amount of breathing space a power play unit seeks. As age increases, so does the difficulty to follow the outlines.
What gives Marchant an edge over his younger counterparts is technique. Having fulfilled years of shorthanded duties, he knows what works and what doesn't. Keeping an active stick in the passing lanes for example and identifying moments deemed attack-worthy.
Utilized as a checker and valued for his leadership qualities, Marchant fully understands his role, hence the realization that he hasn't scored more than nine goals in the last five seasons. Ryan Getzlaf, Corey Perry and Bobby Ryan are the suppliers for that department.
Like he did that night in Dallas, Marchant can still be the hero on occasion. His only goal in this postseason came in the third overtime of game two in Detroit. What differed during that sequence was his back-checking which led to intercepting a Wings' pass to begin the counter-attack.
Earning the right to hoist the Stanley Cup in 2006/2007 with the Ducks was undoubtedly euphoric for him because of the countless heart breaks he previously witnessed as an Edmonton Oiler during the early segments of his career.
Retiring shortly after cherishing the reputable trophy is ideal for veterans. Marchant doesn't see it panning out that way in the near future.
"Retire? Come on. Are you kiddin' me? Look how young I look," Marchant told the Orange County Register just over two weeks ago. "How old is (Chris) Chelios? I have another 12 years in me. Why not? I feel like I can still contribute and play this game to the highest level possible. Shame on you. Retirement? Come on."
If only there were more players who resembled Marchant's clear passion for the sport. The days of his blazing speed showcased at a top-notch level are in the past and yet his legs continue to keep up the efficiency alongside his teammates.
As long as the former seventh-round draft pick remains a respectable skater (as he currently is), who's to venture a guess at how long he can continue his career? Set to become an unrestricted free agent this summer, Anaheim would be wise to realize the value of his sticking around.
A classy performer who can pass on some of his intelligence to the Ducks' youth, a salary under $3 million shouldn't be too much to ask for. Anaheim pushed the Detroit Red Wings to the limit of a seven-game affair in the Western Conference Semi-Finals.
Players with experience, grit and heart factor heavily in this type of a series, someone like Marchant. By no stretch of the imagination did the Red Wings cruise comfortably as they did against Columbus and Chicago.
While Todd Marchant's contributions won't always necessarily be presented on the score sheet, they will certainly have an impact on the final result.