By now, everybody knows about the trio of Auston Matthews, Mitch Marner and William Nylander in Toronto. The Maple Leafs drafted each of them in the top-10 of the NHL Draft – Matthews first overall in 2016, Marner fourth overall in 2015 and Nylander eighth overall in 2014. The production between the three was outstanding, and as a result, the Maple Leafs were able to find themselves in the playoffs giving the Washington Capitals a run for their money.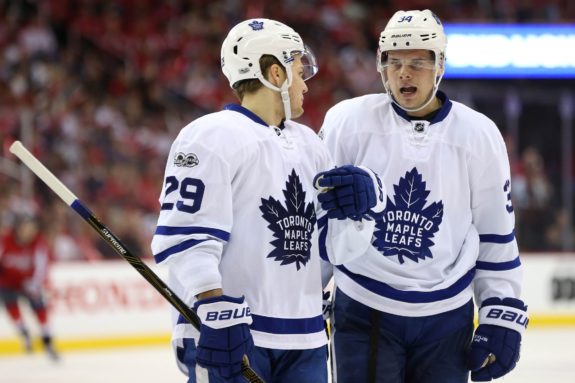 In 2016, Matthews made his NHL debut and scored 40 goals and 69 points in 82 games. He proved to be an elite forward who could score, play well with and without the puck and showed durability – all admirable traits. Marner also made his NHL debut, scoring 19 goal and 61 points in 77 games. Though undersized, Marner has proven to be a legitimate offensive powerhouse at every level he's played at. Nylander played in 22 games last season, scoring six goals and 13 points before breaking out in 2016-17. In 81 games, the 21-year-old scored 22 goals and 61 points while skating alongside Matthews.
To go over these three rookies and analyze what the expectations were for the 2016-17 season and what the new expectations will be for the 2017-18 season and beyond, The Hockey Writer's Maple Leafs writer Andrew Forbes was interviewed. Find Andrew on The Hockey Writers here, as well as on Twitter @AndrewGForbes.
---
Forbes on Auston Matthews
BSC: What expectations did you have for Auston Matthews this season?
Forbes: Honestly, I didn't expect the season he had. I thought 25 goals and 50 points would be a success – even a reach. I know when he scored his first four goals in his first game the expectations of Leafs fans sky-rocketed. The same way that when he didn't score a goal in nearly a month, people were talking about how he wasn't living up to expectations. But 40 goals and 69 points to lead the team, nobody could've expected that. On top of that, he showed that he could do it come playoff time and that's something to look forward to for Leafs Nation.
BSC: What do you expect from Matthews next season?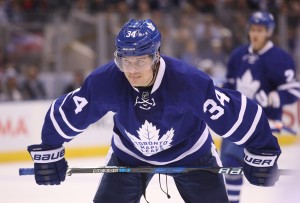 Forbes: Like everyone, I hope to see a step forward. Look, the fact is that he already knows how to play a 200-foot game. He took strides in the right direction as a top end center and all this while leading the team in scoring.
With that in mind, I'd like to see him become a 60% face-off guy and maybe hit that 75 to 80-point plateau. That, to me, would be a success. Having made the playoffs this year, I think most expect the Leafs and Matthews to take the next step in 2017-18 and get to the second round. That could be tough as there will be more competitive clubs next year, but that's something they have to strive for as a team.
Expectations High for Matthews' Career
BSC: Do you think Matthews has the potential to be one of the all-time Maple Leafs?
Forbes: Without question. He's one of those players that I think comes with a type of modesty. He's the type that can see themselves playing with one club for the majority (or all) of their career. That being said, it's on the organization as well to make sure that this game changer can become one of their all-time greats.
If the Leafs can build around him, there's no question that Matthews could see his statue erected outside of the Air Canada Centre in the future. I know it's far too early to talk about it, but the Hall of Fame isn't that far from the ACC either.
Forbes on Mitch Marner
BSC: What expectations did you have for Mitch Marner this season?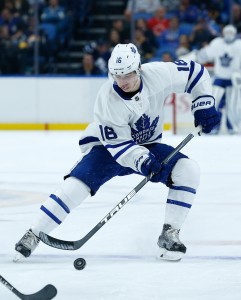 Forbes: To be perfectly honest – none. I figured he would make the team from what I saw in his final year with London last season, but didn't expect him to be overly dominant. I was wrong. His ability to possess the puck made him an important player for the Leafs.
He helped Bozak to a career year and helped JVR have a resurgence of types this season. He set a record for assists in a season by a Leafs' rookie and showed that even with his size he can compete with the best of them at the NHL level. Had he not missed out on a few games, I think he would've had a better chance at being in the Calder discussion.
That being said, he has a lot of room to grow and should only get better as his career moves forward.
BSC: Do you think his size made any difference in his rookie season or do you think he's figured out how to overcome that at this point in his career?
Forbes: I think he's figured out how to overcome it. Sure, he gets hit hard from time to time, but he threw his body around a fair amount this year. He knows how to protect the puck using his body – which we saw on a breakaway goal earlier this year.
On top of that, he loves to get in the corners and isn't afraid to get into the grimy areas on the ice. His speed and puck-handling skills only improve his game. The one thing I would like to see more is him shooting more often. I feel like he gave up a number of chances this season trying to pass rather than picking a corner.
Marner Right Where He Belongs
BSC: Was Marner the player you wanted coming out of his draft class?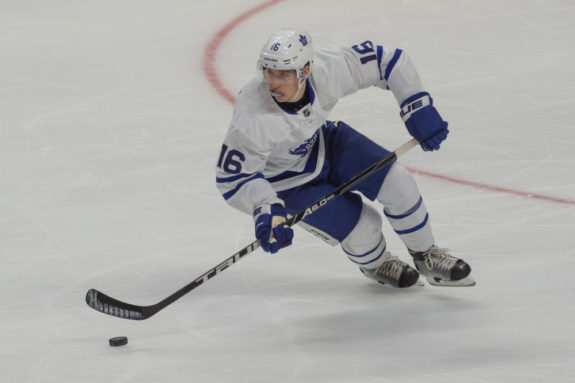 Forbes: I think so. I don't think the Leafs really wanted Strome and I think the Hunter connection really adds to what the Leafs got in Marner. Sure, he's small, but it's a talent game now rather than size specific. Some positions, like goalies, still look a lot at overall size, but I think we see it with guys like Tyler Johnson, Patrick Kane and now Marner that size isn't the sole deciding factor anymore.
Sure, you look back on it and would've loved to have one of those top two guys in 2015, but would the Leafs have wanted anyone that came after? Provorov? Hanifin? Maybe. But not over the quality of player they got in Marner. The one guy that I think has really taken off from that draft that was picked behind Marner is Zach Werenski. But who knew he was going to be THAT good?
BSC: What do you expect from Marner next season?
Forbes: More shots. I think he did a great job of seeing the ice and helping his linemates shine in his rookie season, but I want more shots.
If I'm Babcock talking to him this offseason or in the out interview prior to the offseason, I'm telling Mitch to shoot that puck. I think he missed out on some great opportunities this season because of his want to create rather than score. But he has an excellent shot too and should use it for the Leafs next season.
Forbes on William Nylander
BSC: What expectations did you have for William Nylander this season?
Forbes: I thought he was going to be a 50-point guy. He showed what he had in limited play at the end of last season, but I didn't really get to see enough from him to really have high expectations. I think he lived up to them, but he definitely tailed off come playoff time. Whether that was fatigue or just the competition level, he'll need to find a way through that to remain a major factor come spring hockey next season.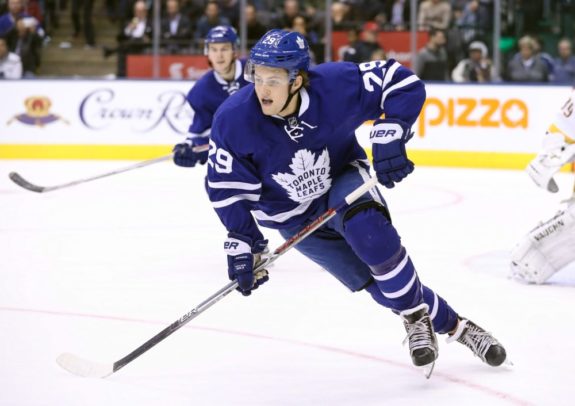 BSC: Do you see any similarities between himself, his father or his brother's games?
Forbes: The skill level is similar between the three, but I think that Michael and Alex play a more physical game. William tends to shy away from the physical game more, but I think he has a little more upside when it comes to the possession ability with the puck.
He's a smaller guy so I understand his intent on staying away from the physical play, but sometimes you have to take a hit to make a play to help your team. I find Jake Gardiner is much the same where they try to role off the hit rather than take it and make the play and sometimes it proves costly. Sometimes they force a play and it leads to giveaways in their own end which never helps your club.
Is Nylander Underrated?
BSC: Do you think Nylander was a little bit underrated coming out of his draft class?
Forbes: Not necessarily. I mean, you get hidden gems in every draft. Nylander was taken eighth overall, which is a pretty good spot for him. So far, he's made it look like he'll be a slight steal for the Leafs at eight, but I would only put him over Haydn Fleury, Jake Virtanen and maybe Michael Dal Colle in that draft – at this point. That could obviously change either way.
But his draft had guys like Ehlers go at ninth. Pastrnak was taken at 25 – which is one of the biggest first-round steals in my opinion. Even a guy like Brayden Point going at 79th in that draft is a good pick for Tampa. To say Nylander was underrated coming out of that draft, might not be the right word. He was a solid pick at number eight – that's for sure.
BSC: What do you expect from Nylander next season?
Forbes: Like all of them, you want him to take the next step. Does he start playing center? Or would you keep him on a line with Matthews – Nylander playing the wing? I'd like to see him hit that 75-point mark. I think he possesses that ability and that talent.
But I think he needs to become a 200-foot player too. The Leafs didn't get enough from him on that end of things and with his skating and stick-handling, he has that in his game to be that type of player. So, it should be interesting to see what happens.
---
The Maple Leafs future is bright. Fortunately for those in Toronto, that future has already started to rear its head. Outside of this trio, the Maple Leafs have even more talented young players doing their part. The team made the playoffs this season – the sky is the limit for the future.