Last week saw Tampa Bay Lightning forward Nikita Kucherov give a ground-breaking interview to a Russian newspaper, in which he seemed to call out his teammates, Lightning head coach Jon Cooper and the organisation as a whole.
Though the Kucherov camp later backtracked, attributing the outburst to "frustration", this is far from the first time a Tampa Bay player has butted heads with the current Lightning regime, led by general manager Steve Yzerman.
Kucherov, thru agent, said quotes came out of frustration from no playoffs. Respects staff, SY, but didn't feel every player on board to win

— Joe Smith (@TBTimes_JSmith) April 26, 2017
Martin St. Louis
St Louis, the superstar captain of Yzerman's Lightning was inexplicably left off Team Canada's initial roster for the 2014 Winter Olympics in Sochi – a team that Yzerman himself headed up. St. Louis, known for his skating and offensive prowess – not to mention his career accolades, looked to be a shoo-in for a tournament played on the larger, Olympic-size ice surface. Actually, considering he won the Art Ross Trophy as the NHL's leading scorer a season previous, he was a shoo-in for any tournament played anywhere.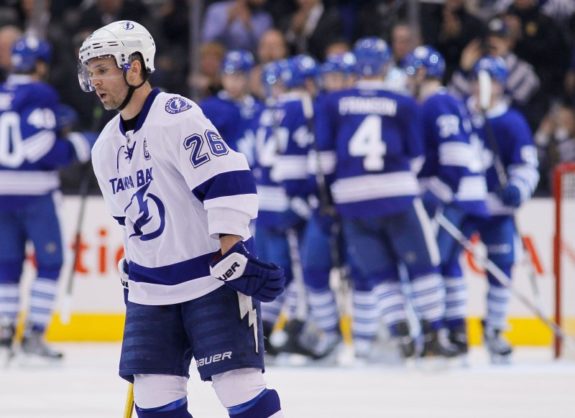 Either Yzerman did not want St. Louis on the team, and or did not want to overrule others who felt the same, resulting in a sizeable snub. St. Louis was only added later as a replacement for injured Lightning teammate Steven Stamkos.
What happened afterwards is unclear. All we know is St. Louis requested a trade and Yzerman obliged, sending him to the New York Rangers in exchange for Ryan Callahan. Did Yzerman fail to properly explain himself to St. Louis? Was St. Louis just being a diva? Or did the trade have nothing to do with the Olympics at all?
Jonathan Drouin
The highly touted yet rarely used Drouin requested a trade out of Tampa Bay in November of 2015, a request made public in January of the following year. He was also suspended by the Lightning organisation for failing to report to their American Hockey League affiliate, the Syracuse Crunch.
Drouin had little leverage in his holdout, and drew mixed reactions for his (or his agent's) power play. However, for a young, talented player to feel so disheartened and ill-used that he requests a trade away from a team contending for the Stanley Cup, it stands to reason that things in Tampa must have been pretty bad indeed.
Steven Stamkos
Scrutiny of Jon Cooper with regards to his use of Steven Stamkos is not a new topic. There was the criticism of his sparse use during the 2015 Stanley Cup Final. There has been puzzlement with regards to who is put on his line. And there has long been talk Stamkos does not care much for Cooper's insistence he play the wing.
All of this nearly came to a head last season, when Stamkos was without a contract extension until Jun. 29, 2016 – a mere two days before free agency. Maybe Stamkos, as one of the elite goal-scorers of his generation – if not of all time, simply wanted to do his due diligence and test the waters by waiting for the pre-free agency negotiation window to entertain pitches from prospective suitors.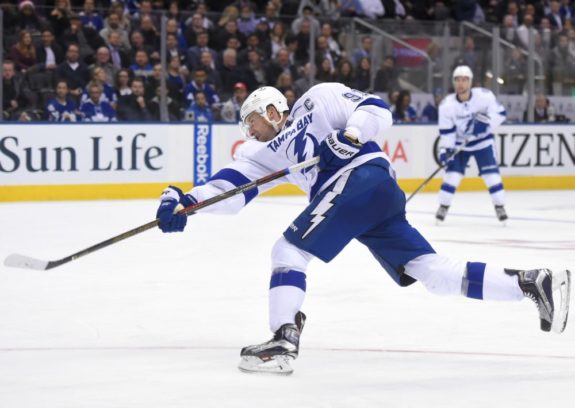 Or maybe he really did want out. After all, who could forget the time(s) he "liked" a post on Twitter linking him to the Toronto Maple Leafs. Regardless, he ended up re-signing with the Lightning for eight years at $8.5 million per season (if that seems a little low, it is. That said, it should be noted that Florida has no state income tax). It is undoubtedly a move that gives him the best shot to win now. But so long as Yzerman and Cooper are in charge, there will always be those who question if Tampa Bay is really where his heart is.
Nikita Kucherov
And finally we come to Kucherov.
After a summer-long holdout as a restricted free agent, Kucherov signed a three-year contract with the Lightning at $4.77 million per season. Yes, you read that right: Kucherov, he of 98 goals and 215 points over the past three seasons, makes less than $400 thousand dollars more per season than teammate Alex Killorn, who has 48 goals and 114 points during that same span. No offense to Killorn, but I can certainly understand why Kucherov switched agents.
In his recent interview with Sovetsky Sport – and the clarifications that followed, Kucherov expressed frustration with the Lightning's line combinations and with underperforming teammates who, in his view, were not always giving their all. Perhaps most joltingly, he confessed he signed the unfavourable contract so as not to jeopardise the chances of his Cup-contending team. Unfortunately, it seems as though his consideration for the Lightning was met with indifference and disrespect.
A Storm Brewing?
Yzerman has been lauded as many things during his admirable assembly of a Stanley Cup contender. "Jedi", "wizard", "ninja"… Is there anything the man can't do? Well, if the reports are to be believed, his successes in team composition are juxtaposed by his failures to handle personal situations with grace, tact and, most worryingly, respect.
Ninja GM Steve Yzerman clears big salary that helps clear cap crunch created by Ninja GM Steve Yzerman

— Bruce Arthur (@bruce_arthur) March 1, 2017
Likewise, head coach Jon Cooper is seen as one of the best bench bosses in the game, having tirelessly worked – and won – his way up the North American coaching ranks. However, his usage of – and relationships with – players, particularly his stars, has been called into question time and time again.
Some might argue that the failings of these two unquestionably great hockey minds are merely a reflection of hockey's propensity to value the team over individuals. But teams are made up of individuals, and if the individuals aren't happy, the team's on-ice performance will suffer.
So, with all that said, is this just a tempest in a teapot? Or is there a real storm brewing in Tampa Bay.