The Providence Bruins fell 3-1 to the Bridgeport Sound Tigers in their second preseason game in two nights. Christian Hanson scored the only goal for the P-Bruins, who engaged in three fights for the second consecutive evening.
The night started-off with some significant pugilistic activities. Within four minutes of puck-drop Bobby Robins, Tyler Randell and Kelsey Wilson all engaged with Sound Tigers. First-up, 24 seconds into the game, Robins and Bridgeport winger Blair Riley threw down. A little over a minute later, Randell took-on Brett Gallant in a battle of the #44's. Finally, former Bruins' farmhand Nathan McIver danced with Wilson.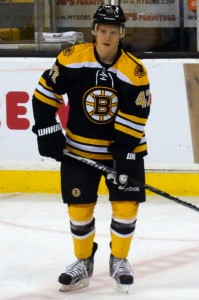 Afterwards, no more gloves were dropped, but the game remained chippy and extremely physical right up to the final whistle.
The fistic action inspired the Baby-B's first (and only) tally of the evening. Justin Florek and the B's forwards pushed a 3-on-2 break-in. Gaining the zone on the right wing, Florek looked for an option before dropping it to Hanson, who one-timed the puck high stick-side less than three minutes into the opening frame.
Florek said Hanson called for the pass, "It was a great play by him, I just kinda hit him where he was and great shot by him." He felt that the fighting got some energy going for the P-Bruins early success:  "Those guys that fought really set the tone for the game. I really give a lot of credit to those guys, they play their role and it gives a lot of momentum for us."
Unfortunately for the P-Bruins, that's where their scoring ended. Goaltender Anders Nilsson stopped 34 of their 35 shots and the Bridgeport defense kept Providence's attack to the perimeter. It didn't help that of coach Bruce Cassidy's announced 'top-six' forwards, only Max Sauve was skating
But the Sound Tigers offense' did have many of their big guns– including Kirill Kabanov and Nino Niederreiter. Bridgeport's attack produced a goal in the first: Jason Clark ripped one point-blank past Niklas Svedberg to even the score. Later in the first, the Sound Tigers ripped another into the net, this one courtesy of Mike Halmo.
Niederreiter extended the lead in the second. New goaltender Adam Morrison misplayed a puck outside the trapezoid allowing Nino an excellent opportunity unmolested in the slot. He found the goalie's five-hole and that's all the Sound Tigers would need. Cassidy called it: "A lucky one that happens about once a year."
Among the top performers for Providence was Torey Krug. While his game wasn't spotless, he looked great on the powerplay and moved the puck like a pro. After the game, critical of himself, Krug noted several times he failed to deliver the puck perfectly. Still, he said "…we're going to get a bit more comfortable as time goes by… but we did a good job moving the puck around and we had a lot of grade-A chances."
In a game this physical, the 5'9 defenseman didn't look out-of-place: He took his fair share of collisions, but stood up and pushed-back and even leveled the 6'3 Kabanov when the latter went in for a big hit on Krug.
"If I'm going to let guys push me around, they're going to do that all game. So, the second they see me step back and hit 'em back, [they'll think] 'OK, this kid's come to play.' That's just my competitive nature."
After the game, Cassidy said, "He's creative, he does a good job in the offensive blueline… a good job breaking pucks out, he sees the ice well… I think he defends well, too, he's just going to need a bigger partner." Cassidy lauded Krug's transition game and hockey-IQ as well.
"For him it's a matter of: How's he going to battle bigger players below the goal line, how's he going to establish and keep his position…"
Regarding the roster going-forward, Cassidy said: "Well, I think they were clear going-in, I'm not going to lie to you – guys have contracts, right? Now, what isn't clear is who's going to be in the lineup on opening-night… I think what won't be clear right-up until next week is who'll be those [spots such as] sixth defenseman, backup goalie and maybe twelfth forward."
Notes:
Svedberg & Morrison – The two Bruins' 'tenders faced an equal number of shots: Svedberg stopping 15 while Morrison denied 16. They both made some solid saves and neither deserves to be blamed for the loss by any account.
Cassidy said, "Svedberg's issues are fighting through traffic; how far to challenge… he's going to have to be strong on the post, but it's a learning-curve…. Morrison's (I don't think he saw a lot of rubber tonight) been good in training-camp… he look sharp when he was tested."
Justin Courtnall – He had a nice rush late and played solidly throughout. Courtnall seems like a borderline 'plus' physical player and has a thunderous wrister – I've been impressed with his progress during camp.
Tommy Cross – Showed some quality recovery-speed, catching up with Sean Backman after the latter blocked a shot from the blueline. Later, he displayed a bit of nasty, roughing-up Niederreiter after he took a shot following the whistle.
Colby Cohen – Had some good rhythm with Krug, made some excellent passes in the offensive zone, but made his share of bad decisions too. In the second, his bad penalty (preceded immediately by a turnover) led immediately to the game-winning powerplay goal.
Florek – Tallied his second point of the preseason after the goal he scored on Wednesday. He needs to work on his physical game a bit more, but it's coming along. His speed is at least 'above-average' for his frame – and arguably better. If he's able to score and hit up-to his athletic potential, he could surprise many.