We're only about 30 games into the 2015-16 NHL season and over that time it's safe to say that Kyle Palmieri has been one of the best players on the any team's ice that changed teams during this past summer. His presence on the power play has been absolutely crucial to the New Jersey Devils early season success, as well has his prowess in 3-on-3 overtime – in addition to becoming the top-6 forward that the franchise has been so desperate to find. With his previous employers, the Anaheim Ducks, Palmieri rarely saw any ice-time on the power play, as he was stuck behind players like Corey Perry, Ryan Getzlaf, Matt Beleskey, Jacob Silfverberg, Teemu Selanne, Bobby Ryan, etc; perhaps rightfully so.
The Ducks' loss has been the Devils' gain though. Through 29 games with New Jersey, Palmieri already has 23 points (13g-10a) which is eight points off of his career-high of 31 points in 71 games in 2013-14; he's also one goal off his career-high and has tied a career-high with five power play goals, in 29 (twenty-nine) games. Following a 3-2 come-from-behind win over the Detroit Red Wings in which he assisted on the game-tying goal and scored the winner in overtime, his coach pointed out that the root of his success has been the hard work he has put in, as well as the increase in ice-time, which he has earned.
"Kyle's been…we knew coming in he was going to have an opportunity to play, minutes that he would earn. He's been in situations where now he's been able to produce for us, you can see a confidence level in him," said head coach John Hynes of the New Jersey-native. "Whether it's on the power play or some situations like 3-on-3, he's scored a couple of game-winners in those situations, so it's nice to see. We knew he had the ability coming in, he's really worked at his game and he deserves to be put in the situations he's in and he's finding a way to capitalize."
When The Hockey Writers suggested to the 24-year-old that things have worked out pretty well playing for his hometown team so far with him being one goal away from a career-high, he almost nonchalantly shrugged it off. "Hopefully I get to that sooner rather than later here, but I'm just trying to make an impact on this team and obviously I was brought in for a reason; so I just want to go out there, work hard, and just try to be an impact player on this team."
As mentioned earlier, Palmieri had barely saw the ice during power plays in Anaheim; now in New Jersey, he sets up at the point and his shot has been a lethal weapon for a Devils power play that ranks 8th in the NHL (the Ducks are currently 22nd by the way). His 11 points on the power play is tied for 12th in the league, four points behind the league leaders (Patrick Kane/Patrice Bergeron). Not bad for a guy acquired for a second and a third round draft pick at the NHL Draft this past summer.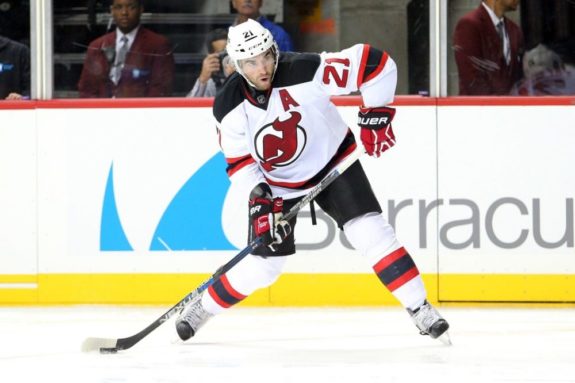 FIRE IN THE HOLE!
"He's not afraid to shoot it. He puts everything he has into every shot. Sometimes guys slap it or they try to wrist it through or they try to pick their spot," said New Jersey goaltender Cory Schneider who faces Palmieri's shots often in practices. "It just seems like every time it comes to him, similar to Mike Cammalleri — they're shooters — they get the puck and they want to shoot it. You'd be amazed at how they hit things, they get to the front of the net and the rebound goes in, or they put it in themselves. When you get guys like that who are always cocked and ready to shoot, anything can happen, and Palms is one of those guys."
Palmieri admitted exactly what his teammate described when THW asked him what it is about his shot that has been so special this season. "I try not to hold back," he said with a smile. "I think sometimes there's opportunities where you are shooting for sticks and stuff like that, but to be on the backside (at the point), one-timer, I just try to basically shoot it as hard as I can and put it on net. It just causes chaos, even if the goalie stops it we have guys going to the net so it can create some rebounds and a little bit of chaos in front of their net – that's what good power plays try to do."
In the win over the Red Wings it was Palmieri's shot on a power play at the tail end of the third period that Sergey Kalinin was able to deflect into the net to send the Prudential Center crowd into a frenzy. "I saw Sergey's stick get up there; obviously that wasn't exactly where I was trying to shoot the puck. But I looked and we looked at the replay again – it could've maybe gone either way – I couldn't really tell where it exactly hit his stick. I like the call," he added with a sly grin. "I'm not going to complain about it."
The crowd would erupt again in overtime when the Montvale, New Jersey kid cashed in on an alley-oop pass from Lee Stempniak for his second winning goal at home during a 3-on-3 situation; he now has three game-winning goals this season. "Lee made a nice play along the boards there, I saw he got the puck on his stick – he was on his backhand and a little bit flat-footed – so I saw him put it up in the air and I tried to beat my man down the ice."
WELCOME TO THE SHOW KID
Palmieri has given the Devils a dimension they have severely lacked since the departures of such players like Ilya Kovalchuk and Brian Rafalski, whose shots from the point were lethal for the team at times. Also of note in the game was that New Jersey played without the services of their top-two centers – Adam Henrique and Travis Zajac – who were out due to injury, making the win even sweeter; especially for Joe Blandisi, who made his NHL debut in the game.
"I thought he fit in great. Obviously it's tough, especially going up against Henrik Zetterberg and Pavel Datsyuk isn't the easiest thing to do in your first NHL game," Palmieri said of the rookie who was his center for most of the night against Detroit. "He went out there and he played with composure and played great in our D-zone; which is something that maybe isn't as glamorous as you think. You want to go out there in your first NHL game and you want to score a hat trick every time, but he did some great things and obviously he has a lot of talent; there's a reason got called up here. Hopefully he keeps it up."
"There's a lot of character in this dressing room, I could see it when I was here in training camp (in September)," Blandisi said following the game, "and again tonight. The leadership is really good here, this is something to build on and we're definitely excited about this win. For me, I just tried to play my game and keep it simple, keep everything the same. I just looked at it as another hockey game, but now definitely looking back on it, it's an honor to be out there with those guys (Zetterberg, Datsyuk)."
Blandisi likely will finish the season in the AHL when/if Henrique and Zajac are healthy again, but for Palmieri (or Palms as his teammates call him) the sky is the limit in New Jersey where he is already becoming a huge contributor on the ice and a humongous big fan favorite.
Dan Rice can be reached via Twitter: @DRdiabloTHW or via Email: drdiablo321@yahoo.com. 
Dan Rice is in his 9th year of reporting for THW & has covered NJ Devils home games for 15+ years at various websites. He began his journey working for legendary broadcaster/writer Stan Fischler from 2002-04 & completed an internship at the ECHL; he also has been writing features for the NWHL (nwhl.zone) website since 2016.