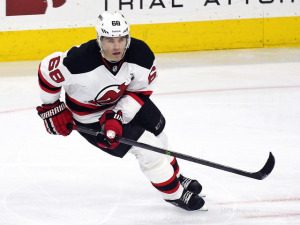 On Thursday night, New Jersey Devils GM Lou Lamoriello made his first big move trade of the season by trading 43-year old Jaromir Jagr to the Florida Panthers in exchange for a second-round pick in 2015, and a conditional third-round pick in 2016. New Jersey has the choice on which third-rounder they receive, as it will be either Florida's pick, or the pick Florida received from the Minnesota Wild in the Sean Bergenheim trade on Wednesday.
Will Jagr be happy?
The trade comes as no surprise, even with New Jersey's recent stretch of games where they have won four of the last five. Jagr though, has voiced his displeasure because his playing time has been drastically reduced since the coaching change. Jagr hadn't scored a point with New Jersey in the past eight games, while seeing his ice time drop under 13 minutes a game on recent nights.
Jagr said recently, "If I stay here and we're not going to have a chance to make the playoffs, I don't think I'm going to play at all, and I still like to play. I like this team, I love this team, but if it's going to be after the trading deadline and we're going to be (out of the playoffs), it's going to get worse, I know that."
While the Jagr felt he was going traded at some point, I don't think Florida was the destination he envisioned. What makes the trade weird is it's not like this trade solidifies Jagr a playoff spot. Florida is two points out of the final playoff berth with 65 points behind the Bruins 67. With New Jersey at 59 points, in hindsight, Jagr only got six points closer to being in the playoffs instead of being traded to a team like Pittsburgh or Montreal where they're locks for the post-season.
Here's one of his best moments in a New Jersey uniform.
Did New Jersey Get Enough?
From a Devils perspective this is a great trade. New Jersey has one of the weakest prospect pools in the league. Being able to bring in picks as high as these for a 43-year old player who simply wasn't working out for them anymore shows that Lamoriello isn't ready to pack it in yet.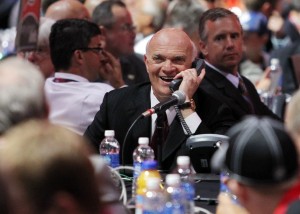 Over the past few years, Lamoriello has been able to take advantage of bad situations. The Roberto Luongo, Cory Schneider saga in Vancouver reached an almost toxic point where Lamoriello was able to jump in and make a great trade for the teams now #1 goaltender. He's done the same thing here where even though it's his own team this time around, he didn't give away Jagr for nothing. Lou knows the price on his players, and that he not only got a second-round pick, which many people speculated was his worth, but a third-round pick as well, makes this a very nice move for the Devils.
Re: Jagr deal. Very nice return for NJD. Didn't think they could get that much. It'll be interesting to see how Jagr fits in FLA

— EJ Hradek (@EJHradek_NHL) February 26, 2015
Jagr has definitely been a great soldier on a team that needed someone to bring good vibes to the room. He was great with the fan, media, and the organization. His tenure ended on a rocky note, but I'm positive that everyone will wish Jagr the best of luck with Florida.
Panthers Came out of Nowhere
This trade is also a win for the Panthers. The main reason that this is a win for them is that they didn't have to give up any of their young pieces to get Jagr. No doubt Lamoriello asked on several of Florida's young players, which GM Dale Tallon wasn't going to bite on from anyone. The Panthers are a team that's only getting better. While picks are nice to have, Florida needed a veteran like Jagr for this season, far more than drafting more young players.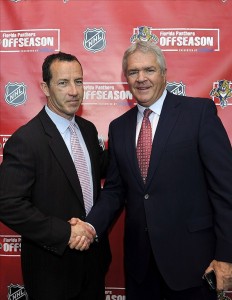 Tallon has done a marvelous job of taking advantage of a bad situation. Sean Bergenheim obviously wasn't working out. So being able to work out at the time, an under the radar trade with the Wild, and then turning that trade into getting a player like Jagr, that's great maneuverability from Tallon.
No question that this was a trade that needed to happen. In the long run, obviously depending on what New Jersey does with the picks will decide who won the trade. However, in the short-term, for a team looking to get back to the playoffs, while trying to get excitement into a market like theirs, which we all knows needs it, is great.
Who do you think won the trade?
Corey Spina lives in Wayne, New Jersey. He is a senior at Centenary College, and is majoring in Communications/Journalism. Corey is in his second season covering the New Jersey Devils for The Hockey Writers, he completed a sports journalism internship with TAPinto, and he is the Host/Producer of the Sports Buzz on WNTI.org.