San Jose Sharks forward Patrick Marleau certainly isn't scoring like he used to, but those who constantly criticize him simply don't understand context nor value to a hockey team. Of course, it doesn't help Marleau's case that fellow 36-year old teammate Joe Thornton is having an MVP-caliber season, but No. 12 is still playing extremely effective hockey for the Sharks despite just 10 points in his past 28 games.
When we're talking about context, there are a couple of points to note when it comes to breaking down Marleau's performance over this two-month hot stretch for San Jose. First and foremost is that while yours truly admits to being a die-hard Sharks fan, anyone who knows me or has followed me for a long time knows that I'm not a big Marleau guy. My Marleau articles over the years have often been more negative than positive. Ergo, there is no bias to my defending the Saskatchewan native's current level of play. The second biggest context point is that as great as Thornton has been, he has gotten to play all season with arguably the second best goal scorer in the entire NHL in Joe Pavelski. Marleau meanwhile has been playing this recent hot stretch mostly with third line wingers in Matt Nieto and Joel Ward.
It's Not All About Points
Over his first 38 games this season, Marleau accumulated 29 points, an 82-game pace of 61 points. Comparatively speaking, just 10 points in his past 28 games is an 82-game pace of merely 30 points. Ergo, producing offense at only half the rate in the second half must mean Marleau needs to "get going" right? Wrong.
General consensus among lots of hockey people I've talked to lately is #SJSharks look great, but "Patty needs to get going."

— Kevin Kurz (@KKurzNHL) March 9, 2016
What some hockey analysts out there are missing is that points aren't the be all end all of playing quality hockey. In reality, despite far fewer points, Marleau is actually playing significantly better hockey here in the second half than he did in the first.
For the average fan, I'll start out with the basic plus/minus statistic that many hockey fans bemoan. While it does have its problems as a statistic, it is useful in the context of an individual improving the category while the team around him remains largely the same. During the first half of the season when Marleau was picking up points at double the rate, his plus/minus was minus-14. That is an extremely disappointing number when Marleau's usually around an even zero for his career and most of his Sharks teammates have far better ratings. However, in the second half of the season, Marleau has been back to his normal plus/minus rating of an even zero. This is extremely impressive.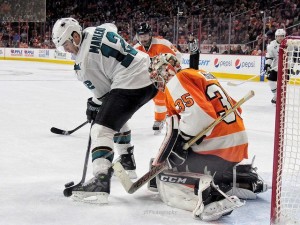 Even though neither Marleau nor his linemates are scoring, they are still winning their matchups. Scoring wise they are drawing even in their matchups, but Marleau, Nieto and Ward are spending considerably more time in the offensive zone than their opponents. That zone time makes a difference, playing defense is far more tiring than playing offense. As you can see on war-on-ice.com, Marleau's score-adjusted Fenwick-for percentage through the first 38 games was 50.2. Over the past 28 games since then, that number has risen to 53.3%. Marleau isn't getting on the scoresheet nearly as often as he was earlier in the year, but he's spending far more time in the offensive zone.
Marleau's Fancy Stats Trending Up
At even strength, Marleau has been an incredibly strong performer here in the second half. Sure enough, his plus/minus actually deserves to be higher than an even zero. His goals-for percentage is actually an extremely impressive 55% since Jan. 9. At even strength in the first half Marleau was on the ice for 19 goals for and 29 goals against. Since then, he's been on the ice for 11 goals for and only nine goals against. That is a significant turnaround from 39% to 55%. It is simply astonishing how stingy the Sharks have been with Marleau on the ice at even strength over the past two months. His even strength numbers have improved dramatically even with his goals-for per 60 going down slightly from 2.2 to 1.7. The improvement overall has been made possible because of the absolutely staggering improvement in goals-against per 60. Through the first 38 games, Marleau's GA/60 was an extremely high 3.4 but has somehow knocked off an entire two goals per 60 minutes over the past 28 games. His GA/60 is down to a minuscule 1.4.
Marleau's turnaround defensively hasn't come with easier minutes either. He has averaged 25 shifts per game for the season and is the Sharks' third most used forward at even strength. Over the past 28 games, he has only averaged half a shiftless per game than his overall mark. With the Sharks rolling three strong centers down the middle, Marleau has no doubt seen a decent amount more third pair defenders from time to time than he has in the past. However, any slight decrease in quality of competition is basically evened out with the fact that has been playing with significantly less skilled wingers.
The point to be had is that anyone who suggests Marleau "needs to get it going" really isn't paying attention to context. Sure, he isn't scoring points like he did in his prime or even in the recent past, but he is playing and thriving in a key depth role for this team. Not to mention, he is still third on the team in goals with 19, that's not too shabby. San Jose has been on quite a roll these past two months and Marleau is still making significant contributions to their success if you look closer at the numbers and understand what you're watching on the ice. Points aren't everything. The vast majority of shifts in a hockey game don't include a goal scored at either end, but how those shifts are played is extremely important. Most of Marleau's even strength shifts during this Sharks hot streak have been really, really good.
Can't get enough hockey? Want to talk about it with our writers, and fellow fans? Join The Hockey Writers Group on Facebook today for the best hockey conversations on the web!