There are numerous players nearing the end of their days in the NHL and the question of their all-time greatness is being investigated. This goes hand in hand with the players who already have one foot out the door such as Ray Whitney, Daniel Alfredsson and Martin Brodeur as well as recently retired Teemu Selanne. One player who is often overlooked in this discussion of great NHL players since the turn of the century is Patrick Marleau. One of the biggest reasons is due to the presence of his teammate, Joe Thornton. His company since coming to San Jose in 2006 has overshadowed the exploits and accomplishments of Patrick Marleau.
Regular Season
Playoffs
Players
Age
Points
Games
Points per Game
Points
Games
Points per Game
Jaromir Jagr
42
1760
1479
1.19
199
202
0.99
Joe Thornton
35
1201
1214
0.99
100
132
0.76
Jarome Iginla
37
1171
1317
0.89
68
80
0.85
Marian Hossa
35
996
1095
0.91
127
171
0.74
Martin St. Louis
39
987
1067
0.93
83
88
0.94
Patrik Elias
38
986
1161
0.85
125
162
0.77
Patrick Marleau
35
940
1254
0.75
103
147
0.70
Vincent Lecavalier
34
914
1109
0.82
54
70
0.77
Brad Richards
34
868
987
0.88
90
118
0.76
Shane Doan
38
866
1320
0.66
28
55
0.51
One Word: Consistency
Above is a comparison of the ten active leading scorers in the NHL today. Patrick Marleau is among the top ten in games played and points both for the regular season and playoffs. It would not be surprising to see at least half of these players inducted into the Hockey Hall of Fame one day. Excluding Shane Doan, all of these players should eclipse the one thousand point mark putting them in a very elusive club as only 79 players have ever reached that mark at this moment. Given his career, Patrick Marleau most certainly belongs in this considerable group. While Joe Thornton is beginning to win over the argument of being "worthy" it should be noted that Patrick Marleau still holds far more franchise records for the San Jose Sharks. With his age and consistent health through his career there is a good chance that "Patty" will finish with more points than both Elias and St. Louis.
With nine points in the first seven games of the season he isn't showing any signs of slowing down. Since the 2005 lockout Marleau has scored over 60 points in all but two seasons one of which was the 2013 shortened season. He already has 441 goals to his name and may reach the 1,000 point mark by the end of the season.  If he continues to maintain this consistency through his career he should finish with over 1,200 points and 500 goals before he retires. It goes without saying that nearly all players who eclipse those marks for points and goals are already in the Hall of Fame. Furthermore, if Marleau maintains his health and plays until age 40 he will have played over 1,600 games in the NHL which is good enough for tenth all time.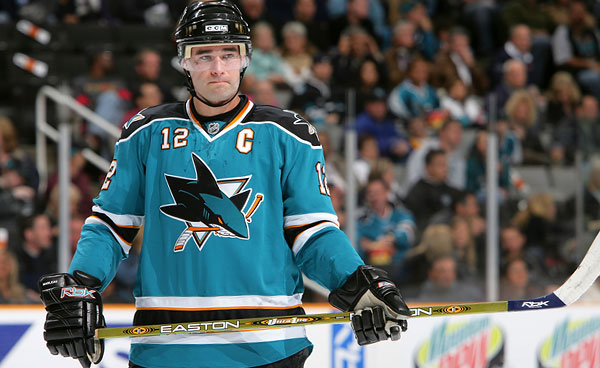 Resume
While Marleau is still seeking to bring the first Stanley Cup to San Jose there are numerous things he can put on his resume. He boasts two gold medals with Team Canada in 2010 and 2014. He also won a gold medal at the World Championships and a trophy at the World Cup of Hockey. During his long tenured career Marleau has never won any NHL awards but he has been nominated for the Lady Byng twice and been on numerous All-Star teams. Like Thornton, he can claim to have accomplished just about everything except for that cagey Cup.
In 2013, he tied a 96-year-old record for multi goal games. In 2004, during the height of the Dead Puck Era he managed to score two hat tricks during the playoffs. The list goes on and on.
Knowing there are some great hockey players not in the Hockey Hall of Fame today I would not go so far to say Marleau is a lock to get in. Still, it wouldn't be a stretch to imagine the legacy he will leave behind if he continues his torrid pace until retirement. That being said, Marleau could be a first ballot Hall of Famer or one of the best players to never be inducted.